Internet and Mobile Trends for Business
by Blair Evan Ball on November 7, 2017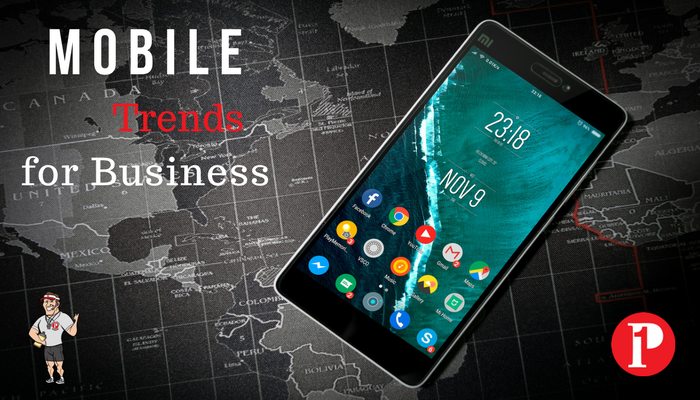 Will the pace of business slow down or speed up over the next 5 years?
Will mobile and the internet play a more prominent role in marketing?
The web is always growing and changing to suit, and even to shape, the needs of consumers. Their tastes and online habits can change quickly. While some new directions may turn out to be fads; those trends which provide online users genuine and continuing value can permanently alter the way the internet is used.
Increasingly, digital consumers are relying upon their smartphones for easy and instant communication, research and entertainment.
To better serve your existing clients
Expand your reach
Attracting new customers; your business web strategy needs to keep pace with this, and other swiftly evolving trends.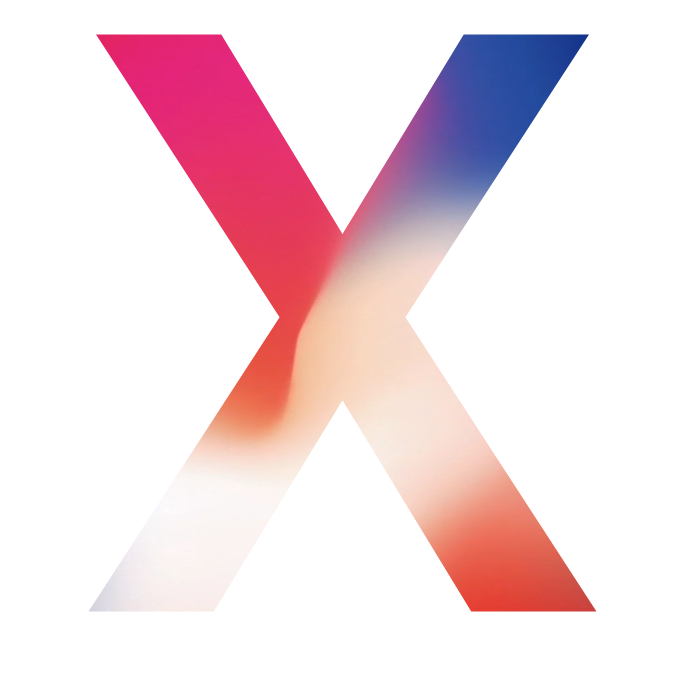 Apple's vision has always been to create an iPhone that is entirely screen. One so immersive the device itself disappears into the experience. And so intelligent it can respond to a tap, your voice, and even a glance. With iPhone X, that vision is now a reality. Say hello to the future.
INTERNET USAGE
Internet Usage (Engagement) = Solid Growth…+4% Y/Y… Mobile >3 Hours / Day per User vs. <1 Five Years Ago, USA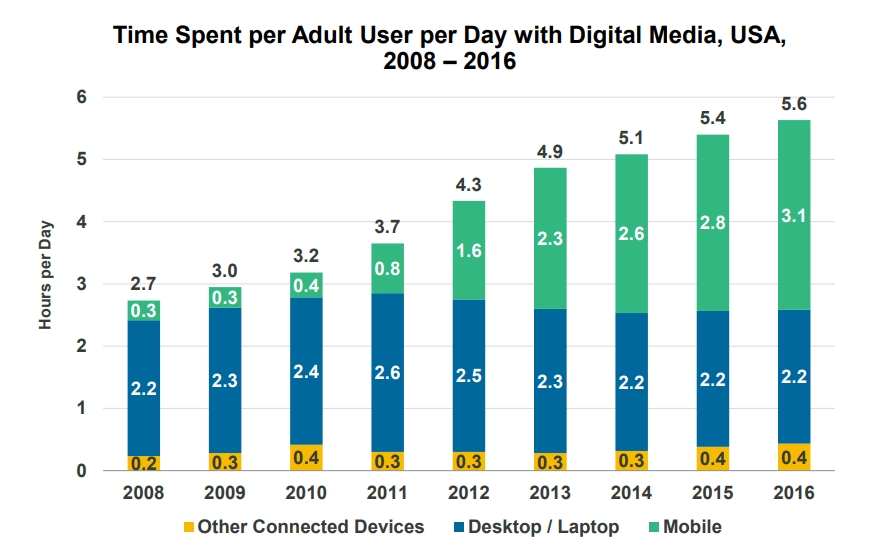 ONLINE ADVERTISING (+ COMMERCE) =
INCREASINGLY MEASURABLE + ACTIONABLE
Ad Growth = Driven by Mobile
Online Advertising = Growth Accelerating, +22% vs. +20% Y/Y…
Mobile $ > Desktop (2016) on Higher Growth, USA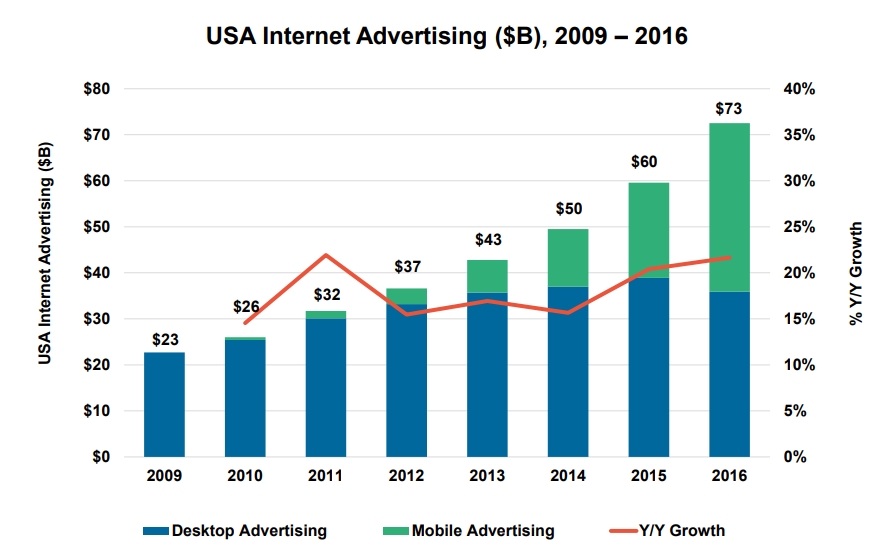 Advertising $ = Shift to Usage (Mobile) Continues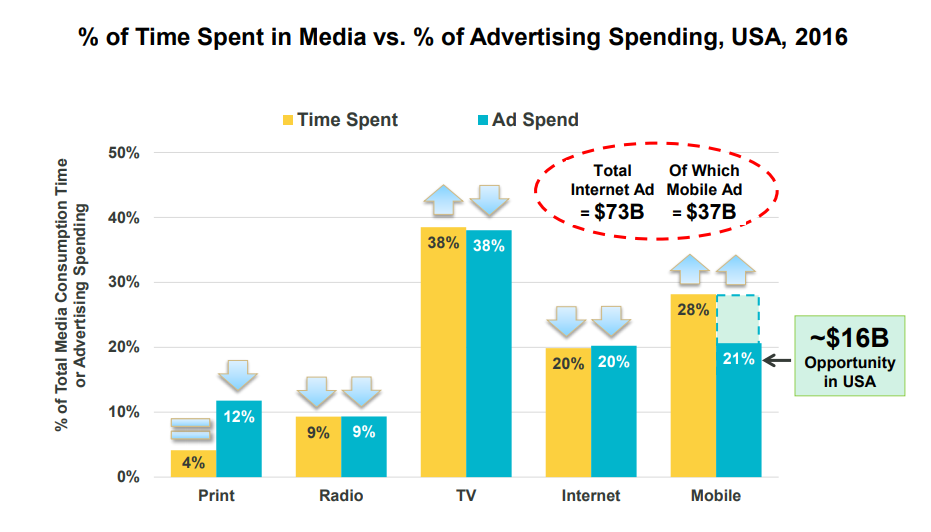 Google + Facebook = 85% (& Rising) Share of Internet Advertising Growth, USA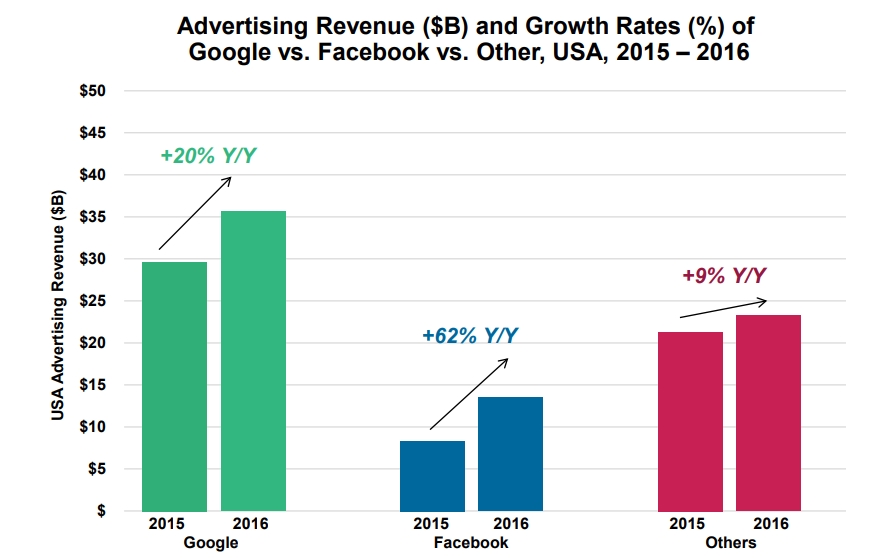 HYPER LOCAL SEARCH
According to Google, "nearly one third of all mobile searches are related to location, and that number is growing". Given the growth in "near me" searches, it's no wonder that Google is always refining their local search capabilities. Instead of local search including only cities or towns, it can now include smaller locales like neighbourhoods, streets or even city blocks.
This gives local small businesses ample opportunity to reach nearby customers.  Google reports that 76% of people who search on their mobile devices for something nearby visit the business within a day. Twenty-eight percent of these searches result in a purchase. As long as your business and website are fully optimized for location searches, your business can directly benefit from Google's improved hyperlocal search algorithms.
Advertisers = Like Measurable Engagement Metrics But…
Some Find Measuring ROI Challenging (as with Offline)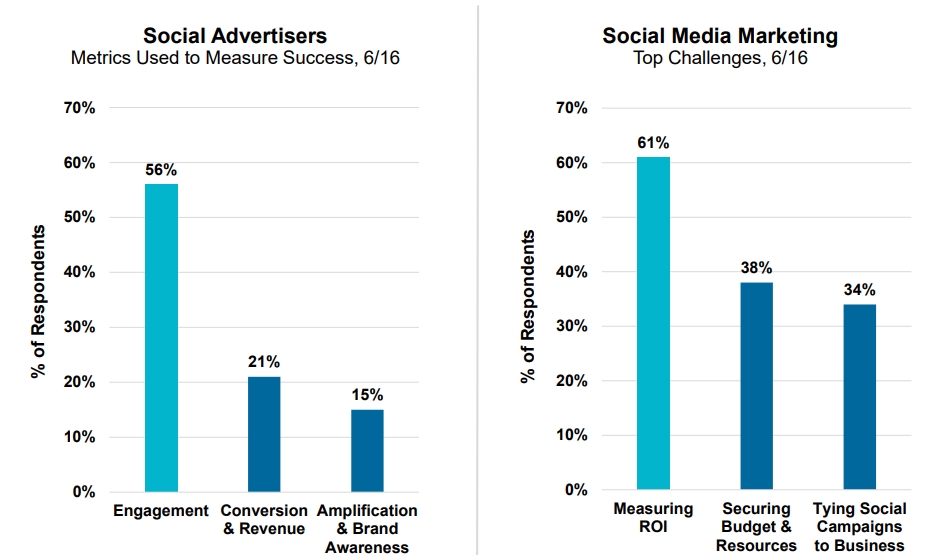 Ad Blocking = Growth Continues…Especially in Developing Markets…
Users Increasingly Opt Out of Stuff They Don't Want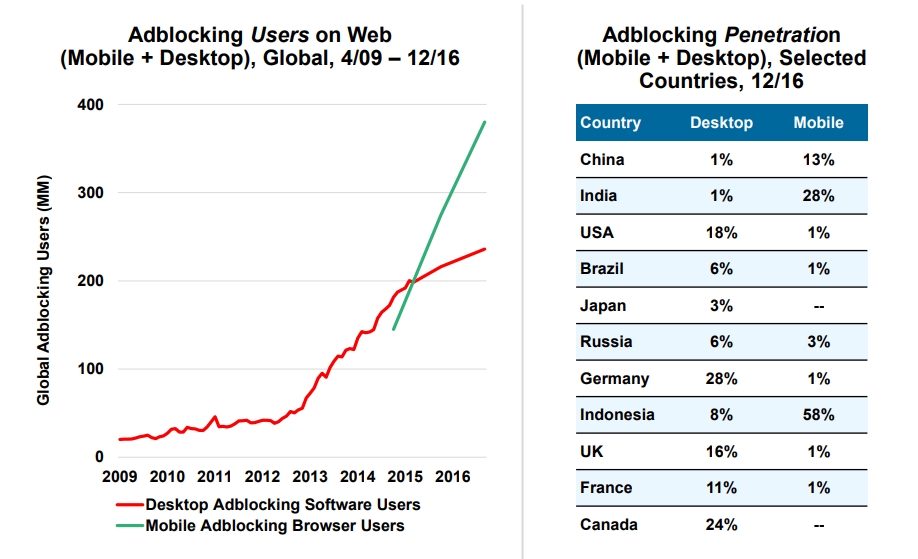 Leading Online Ad Platforms = Providing More Ways to Target + Measure Ads

Contextual Ads (Facebook) = Driving Direct Purchases
Clearly research shows that people are buying from Facebook Ads. Graphics and video play a big part as well as targeted demographic ads. You must know your customer.
Why Do You Need Facebook Ads Research?
FACEBOOK NEWSFEED EXPOSURE
It comes as no surprise that your Facebook Newsfeed Exposure is trending downward, and has for the last few years. Being a public company now for 5 years and shareholders to please, has changed the way Facebook approaches business.
After all it's free to us. Right?
Marketers are now faced with decreased Facebook News Feed exposure, and must find ways to boost exposure. For those without a advertising budget, it will be hard to sustain any traction.
Let's take a look at Facebook Advertising.
Conducting thorough Facebook ads research takes at least a couple of hours. However, most of the time, you'll get worthwhile rewards for your effort.
When it comes to Facebook advertising, market research has three main benefits:
Identifying opportunities — Ad research is a great method for gathering new campaign ideas and expanding the existing ones.
Idea validation — Once you've got a cool idea for your next Facebook ad campaign, you can look for proof whether similar tactics have worked for others.
Lowered risk — You might be able to avoid mistakes made by other brands by evading your competitors' blunders and focusing your effort on what works.
Moreover, research could help to overcome your cognitive biases — so that you won't run with the first idea that's looking brilliant at the moment, but later turns up to be your greatest flop to date.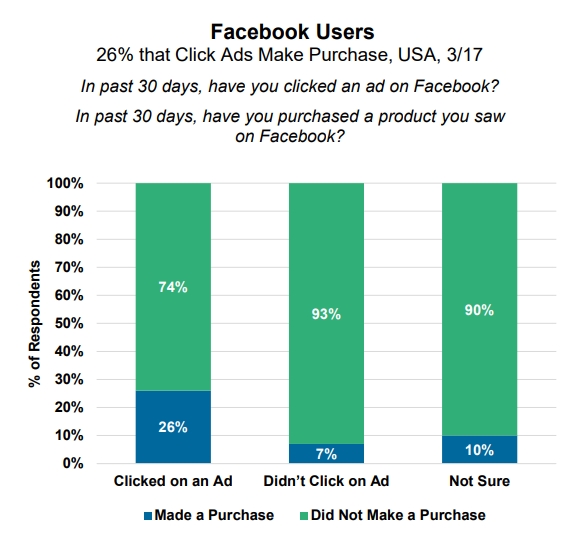 Here's a list of useful questions that you can ask when doing Facebook ads research:
Which ad types have the highest engagement? Newsfeed ads, Video ads, Lead ads, Page Like ads, Carousel ads, etc.
Which ad placements are my competitors using? Desktop, Mobile, Right-hand column, etc.
What types of ad images are working for your competitors? Are they using stock photos or custom designs? What are the most prominent colors used in competing ads?
Are there any smart ad design elements that you can apply to your future campaigns?
What are your competitors' strongest value propositions and how do these messages differ from yours?
Which offers are your competitors promoting on Facebook – direct sales, lead nurturing, remarketing, or other types of promotional messages?
How many Facebook ad tests are the competitors running and what are they testing?
What about the landing pages? How well do the landing pages align with the ad offers? Are there any golden ideas to steal?
Use Facebook as a Spy Tool
Every time you see a sponsored post on Facebook, you can click on the arrow icon in the top right corner and ask "Why am I seeing this?"
Facebook's answer could be a golden gateway to uncovering an advertiser's audience targeting methods and adding new ideas in your marketing stack.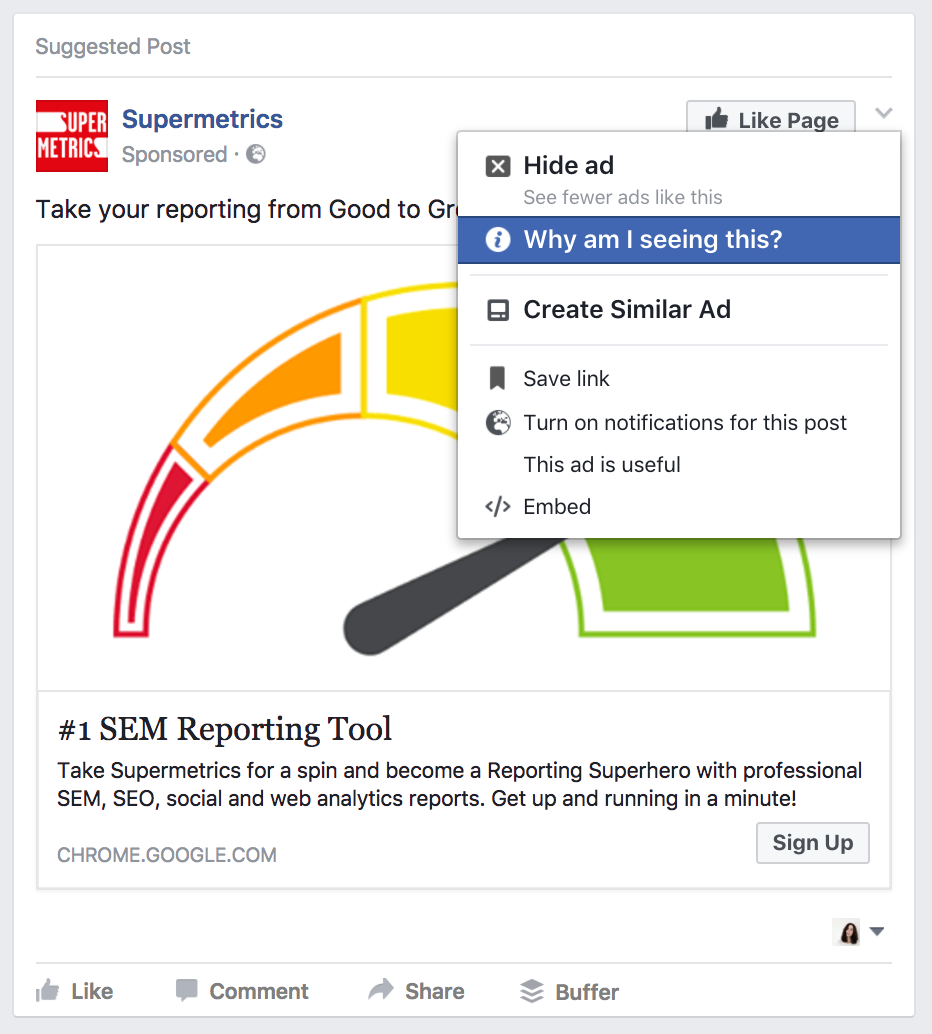 Facebook will show you one or more reasons why the ad is displayed in your Newsfeed.
Analyze Your Competitors' Facebook Pages
Use a tool like Fanpage Karma to see information about your competitors' Facebook Page performance and fans.
You can benchmark multiple Facebook Pages against each other to detect the high-performers among your competitors and see how you compare to them.
As you select a Facebook Page, you'll be able to see the prime posts that have received the highest engagement and also the worse-performing shares.
Notice that each post also has a posting date, meaning that you could uncover the best posting times by analyzing the ads with most likes and shares.
When looking at your competitors' Facebook posts, examine the topics and tone of voice. Moreover, see how other brands communicate with their Facebook fans and engage people to participate in conversations.
If you notice a successful competitor talking about a specific subject over and over again, it may be a good idea to target this interest in your ad campaigns or add it to your content marketing strategy.
A lot of the future of search is going to be about pictures instead of keywords.
– Ben Silbermann, Pinterest Founder / CEO, 4/17
…Social Media = Can Drive Accountability…
82% of Customers Stopped Doing Business with a Company After Bad Experience vs. 76% in 2014, 8/16

…Retail Store Closings May Break 20 Year Record While…
Amazon Opens Retail Stores…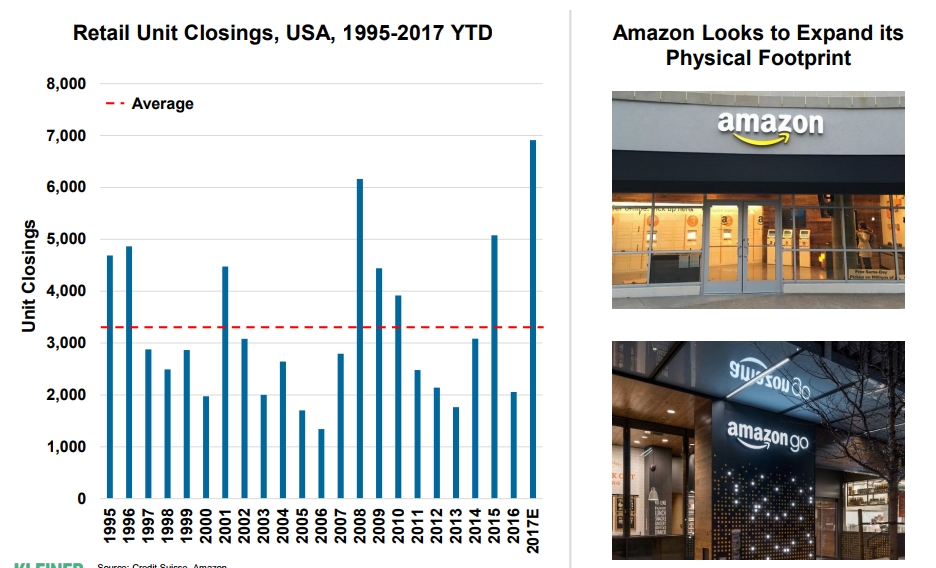 More / Faster Than Ever = Great Products Find Customers…
Customers Find Great Products…
Process + Data Collection + Intermediaries = Changing @ Torrid Pace…
…World's Largest Offline Retailer (Wal-Mart)…
Getting Aggressive Online…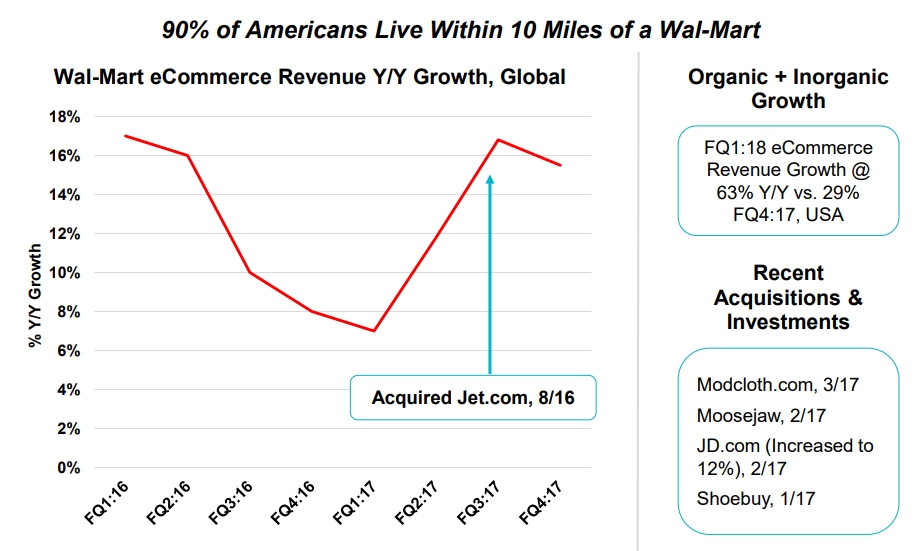 Internet Bigs Expansion / Growth = A Long Way from Where They Started

SOURCE: Kleiner Perkins Caufield & Byers | Internet Trends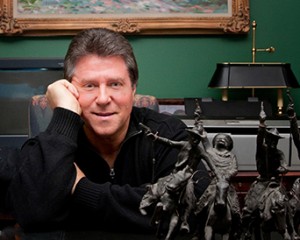 Blair Evan Ball is a Social Media Coach and founder of Prepare1, a company that works with businesses, individuals and non-profits. He is a former executive with a Fortune 50 company, and his national division did $1Billion+ in sales annually.

Blair has written three e-books: Facebook for Business Made Easy, Facebook Pages for Business Made Easy, and WordPress Blog Setup Made Easy.
Blair also educates, trains entrepreneurs and business professionals how to amplify their brand, increase revenues, and raise more funds.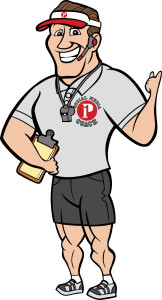 The Race is ON! | PREPARE | Get into the Game and WIN!