5 Killer Content Ideas for Facebook Live Video
by Blair Evan Ball on August 10, 2017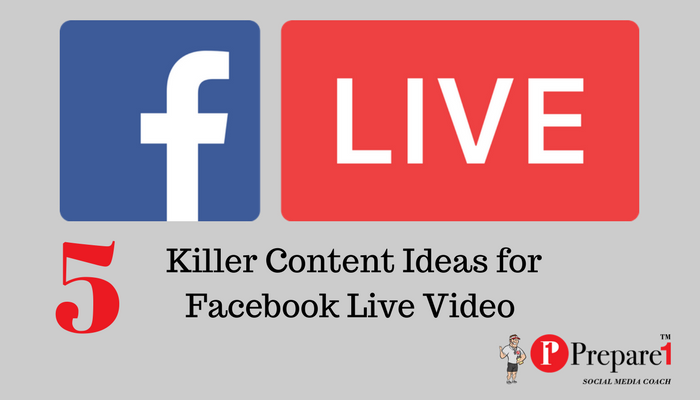 Are you using live video in your marketing?
Has the fear of live video held you back?
With video marketing on the rise, coming up with a catchy and attractive video can be a huge challenge for those who lack the time (and money).
That's where the beauty of Facebook Live comes in. Making its debut in 2016, the service has enabled users to make videos that stream live using only a minimum of your smartphone's camera to capture it.
Brands and video marketers who want to step up their live content game don't need to look any farther than Facebook Live. The broadcasting platform, which was officially introduced in April 2016 to all Facebook users, has become a favorite destination for the site's users when they're looking for live content to entertain and inform them.
However, the same type of content that works on YouTube Live, Instagram Live, or even Snapchat or Twitter won't necessarily be what works best on Facebook Live. Depending on your particular brand, you'll want to tailor a strategy specifically to the streaming platform to maximize your reach and marketing potential, and make the most out of your Facebook Live video content.
But as intimidating as streaming live might be, there is a variety of brand-boosting benefits to using the service that will only make you seem more trustworthy and credible as a company.
One of the most amazing opportunities Facebook Live offers is the ability to engage with your followers. With reactions, comments, and viewer numbers shown in real-time, you can prompt responses by asking and answering questions in your broadcast.
Facebook's newsfeed algorithm also favors Live videos so if you've got an important message to get out, this is likely a better option than a traditional text update.
Here are 8 tips for better live video broadcasts.
1. BEHIND THE SCENES
Nine times out of ten, consumers only see the forward-facing side of your brand, the side that markets to them and wants to impress them enough to purchase your products or services. But if you use Facebook Live to take them behind-the-scenes, you'll find brand loyalty and interest will grow.
You can do this by showing them preparations for a red carpet event, revealing the process of how their favorite product is made, or by letting them follow along with a particular employee's daily duties.
Example: Dunkin' Donuts hosted a live stream for Valentine's Day where it took viewers on a tour of its test kitchen. The archived clip has more than 44,000 views.
2. EVENTS OR APPEARANCES
The biggest problem with events and appearances used to be their localized nature. But now brands can use Facebook Live to stream such events to viewers around the world. Bringing a big event or celebrity appearance to your Facebook page means you're reaching consumers who might otherwise not be able to attend the event in person.
Example: The American Music Awards teamed with Coca-Cola to broadcast live from the red carpet and interview celebrities before the November 2016 awards ceremony. The first video of the night-long series pulled in over 171,000 views alone.
3. RETAIL
In this day and age, more and more people are looking for motivation to stick to their diet and workout plans (especially during colder seasons).
Luckily, Kohl's understands that struggle and decided to help those looking for encouragement in 2017.
Kohls teamed up with 'Tone it Up' to host a live workout for their #GetActiveWithKohls campaign. The women behind Tone it Up took to a stage for basically a live workout video. Pulled in over 35,000 views.
4. PRODUCT & SERVICE ANNOUNCEMENTS
Much in the way live streaming events and appearances allows viewers to tune in regardless of their location in the world, product and service announcements can also be made via Facebook Live to immediately inform consumers of your newest offering. You'll get to see fans' reactions in real time, and answer any of their questions within chat to help them better understand the new product or service.
Example: Chevrolet used Facebook Live during its CES 2016 announcement of its new electric vehicle, the Bolt EV. Over 58,000 people have tuned into the archived video as of this writing.
5. HOW TO – DEMONSTRATIONS
While how-tos might be one of YouTube's most-searched video types, they've become incredibly popular on Facebook Live, as well. You can use the live streaming platform to not only demonstrate how your own product or services work, but also to show how to perform tasks related to your industry. Doing so builds your reputation as a helpful, trustful brand.
Example: Tastemade, a top culinary brand, broadcast a live video of tiny food preparation in a tiny kitchen, and viewers went nuts. The clip has over 3.8 million views to date, and almost 8000 comments, and 18,000 shares.
HOW TO USE FACEBOOK LIVE FOR BUSINESS
Facebook Live's growing popularity, especially among younger users, makes it a great tool for small businesses. What's important for businesses is to understand how best they can use it to engage their audience.
By making this tool part of your digital marketing strategy, it is possible to leverage a sizable social media community. But before you get started, acquaint yourself with the tool and understand how its features can benefit you.
Once you have a thorough understanding, you can explore different ways in which you can use it to market your business. Whether it's promoting an upcoming event or teasing a new product, Facebook Live can make a real difference.
FINAL THOUGHTS
One-fifth of the videos shared on the site are now Live videos.
With viewers spending on average 3X longer watching live video broadcasts than native video uploads, including Facebook Live video in your social video marketing strategy is becoming vital for generating engagement on the site.
It has been a year since Facebook made it possible for all its users to broadcast live. And within this period, the daily watch time for Facebook Live broadcasts has grown by more than four-times.
That's quite an achievement considering Facebook has confronted serious competition on this front. Twitter, for example, made a big push into video when it acquired live streaming app Periscope.
But it was Facebook that ultimately managed to reach the youth demographic with exciting live streaming features.
In a recent eye-tracking test, Facebook discovered that people gaze FIVE TIMES longer at video than at static content on Facebook and Instagram.
"Getting from a live video broadcast to ROI is a process:
Engage
Distribute
Convert
and close.
Using a live video platform, you can distribute a live stream's URL through ad units across the web.
Each ad unit has a cookie that tracks view time, engagement, conversions, etc. Then, marketers can track click-through rate, conversions, and other metrics within the platform's dashboard and use those insights to inform their next action."
Are you ready to take the next step to Facebook Live?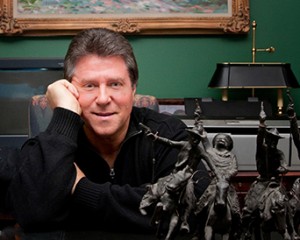 Blair Evan Ball is a Social Media Coach and founder of Prepare1, a company that works with businesses, individuals and non-profits. He is a former executive with a Fortune 50 company, and his national division did $1Billion+ in sales annually.

Blair has written three e-books: Facebook for Business Made Easy, Facebook Pages for Business Made Easy, and WordPress Blog Setup Made Easy.
Blair also educates, trains entrepreneurs and business professionals how to amplify their brand, increase revenues, and raise more funds.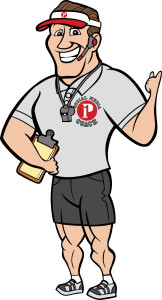 The Race is ON! | PREPARE | Get into the Game and WIN!