Live Streaming the Future of Social Media
by Blair Evan Ball on April 8, 2016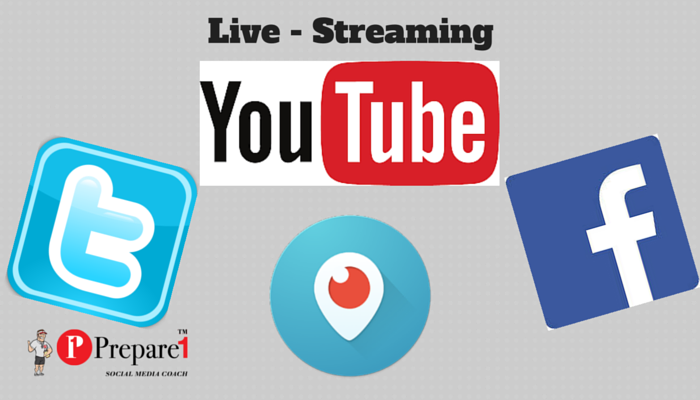 Have you heard of Live – Streaming?
Do you realize that Facebook recognizes this as the next big thing in content marketing?
For Facebook C.E.O. Mark Zuckerberg, live-streaming is the future. He said in a town-hall-style Q&A session that live video is "one of the things I'm most excited about." Sources close to Facebook livestreaming-making-live-a-top-priority-at-facebook/that Zuckerberg has been "obsessed" with the concept of live-streaming and has made it a priority at the company.
FACEBOOK LIVE VIDEO
Facebook just showed the world how serious it is about live video. On Wednesday, the social-networking giant announced an update to its mobile app that puts its live-streaming services front and center, literally and figuratively.
Now, when you open Facebook, you'll see the center tab that used to be dedicated to Facebook Messenger replaced with its live video hub. Facebook has dipped its toe in these waters before, letting media publishers and celebrities broadcast live video, but now anyone can do it.
With Facebook Live you can use your phone to share a moment instantly with the people you care about. This means your friends, family or fans can be there with you, and you can respond to their comments and see their reactions.
Facebook rolled out the ability to go live in Facebook Groups and Facebook Events. Live in Groups allows you to broadcast to just the people in the Facebook Group – so you can go live in your family group, or share a workout plan in a fitness group.
Interactive Features: Live Reactions, Replay Comments, Live Filters
Live Reactions makes it easy for your viewers to express their feelings in real time during a live broadcast. Using the same reactions we launched in News Feed, viewers can select Love, Haha, Wow, Sad or Angry, and the reactions animate right on top of the video.
Facebook rolled out this week a set of five Live Filters, and coming soon you'll have the ability to draw or doodle on your video while live.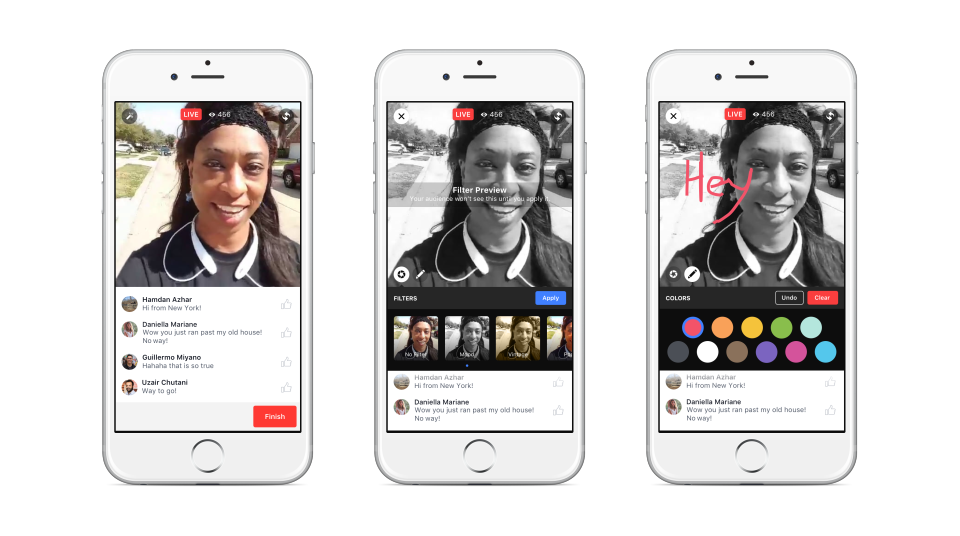 Photo: Courtesy of Facebook
Facebook Live Map
Finally, if you want a visual way to explore public live broadcasts that are currently happening around the world, just realeased Facebook Live Map on desktop.
TWITTER
Twitter wins rights to stream NFL Thursday night games. Twitter went head to head with Facebook in a bid to win the NFL rights and WON!
Periscope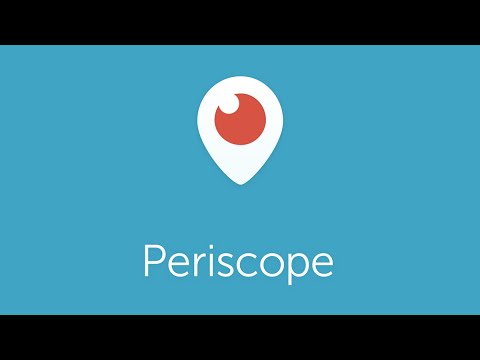 Periscope, meanwhile, has hosted more than 100 million broadcasts since its debut in March 2015. The app had more than 10 million registered users last summer and reportedly had more than 4 million daily active users in January.
YOUTUBE CONNECT
Google has quietly been building a new live streaming app called YouTube Connect. This service highlights the company's efforts to double down on live video while also placing it in a position to compete directly against Twitter's Periscope and Facebook Live. YouTube Connect will be available on both iOS and Android devices.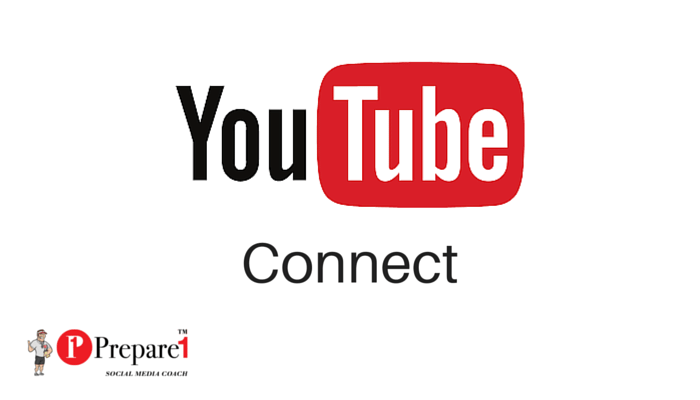 YouTube Connect has much of the same functionality that you'd already find with Periscope and Facebook Live. You can log into the app using your Google or YouTube account and immediately begin streaming from your mobile phone.
There are chat and tagging features, and a "news feed" that features the latest clips from your friends or those that you've subscribed to on YouTube.
Why this matters:
YouTube is the top video platform right now, but Facebook's audience for video is right behind Google, according to ComScore's U.S. desktop online video rankings for February. Twitter is also gaining ground, sitting in tenth place in the U.S.
YouTube can't afford to risk sitting still and let Facebook and Twitter move in on a potentially popular mode of user-generated video.
SNAPCHAT
You've probably heard about Snapchat.
Snapchat, which has become hugely popular among young people, lets you share images or video clips to your friends. But there's a twist: They can only be viewed for a matter of seconds.
Snapchat is also a fun messaging app. You can take a photo or a video with it, then add a caption or doodle or lens graphic over top, and send it to a friend. Alternatively, you can add it to your "story", a 24-hour collection of your photos and videos, which you broadcast to the world or just your followers.
Snapchat has 8 Billion Video views the equivalent of Facebook.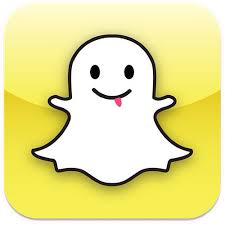 Snapchat's Live Stories feature reportedly attracted 10 to 20 million viewers per day in January, and CEO Evan Spiegel called attention to the "instant" and "in the moment" aspects of Snapchat in a video last summer.
CONCLUSION
It seems clear where Facebook will eventually go with this: right at traditional broadcast. The company already made a play to win the rights to stream the NFL on Thursday nights (Twitter won these). It has reportedly been in discussions with celebrities about paying them to make Live video.
And if someone can generate the same kind of audiences on Facebook Live as they can on a cable channel (and they can), why bother investing in much more expensive television broadcasts?
A broadcaster's choices may be infinite, but your attention is not. And while Live may not signal the end of live television as we know it, Facebook Chief Product Officer Chris Cox is correct: It definitely feels like the beginning of something.
Still, live video is far less common than pre-recorded video and it may take time to catch on broadly.
"Live is not something that has been fully embraced by consumers yet."  "It's still a relatively new phenomenon."
Where do you see this going?
About Blair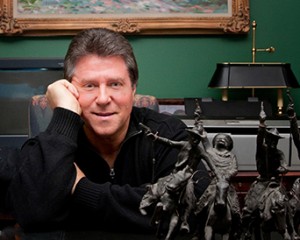 Blair Evan Ball is a Social Media Coach and founder of Prepare1, a company that works with businesses, individuals and non-profits. He is a former executive with a Fortune 50 company, and his national division did $1Billion+ in sales annually.

Blair has written three e-books: Facebook for Business Made Easy, Facebook Pages for Business Made Easy, and WordPress Blog Setup Made Easy.
Blair also educates, trains entrepreneurs and business professionals how to amplify their brand, increase revenues, and raise more funds.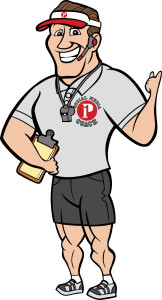 The Race is ON! | PREPARE | Get into the Game and WIN!