Organic Reach Surpassing All Other Methods for Website Traffic
by Blair Evan Ball on October 2, 2014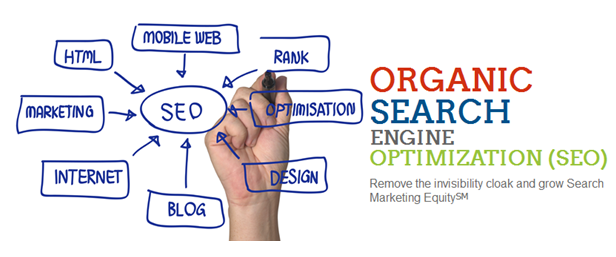 Would you like more traffic to your website?
How would you like more brand awareness that attracts new clients?
Your next customer could be a click away!
CUSTOMERS ARE LOOKING FOR YOU
93% of people today are searching the internet for a product or service. How will you be found?
Is your website optimized and search engine friendly?
Search is a rare marketing method, because your customers are looking for you or a product like yours. With SEO, you scientifically target the people who are already looking for what you have to offer.
With other marketing efforts, you basically throw your money to the wind and just hope your message reaches the right people at the right time. If someone is searching for "Memphis Hotel" and you are not coming up on that search, you have potentially lost that sale.
When it comes to driving internet users to a website, nothing beats organic search. According to data from
BrightEdge:
Organic search drove 51% of website traffic referrals worldwide during June and July 2014.
Display, email and referred search ranked second, with 34% of referrals.
Paid search or PPC ranked third at (10%).
Website traffic referral share varied by industry, and organic dominated the business services space the most, fueling 73% of all site referrals. Organic's share of traffic referrals huddled around 50% for media and entertainment, technology and internet, and hospitality sites, while retail rounded out the list (42%).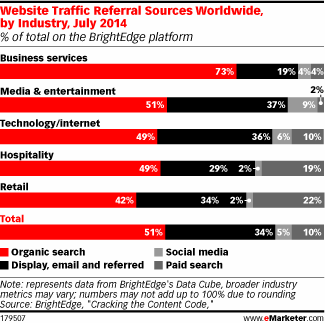 WHAT IS ORGANIC SEO
Organic SEO is the natural listings of website URLs on search engines. Keywords and keyword phrases play an important role in organic search. At the top of the list are quality links that link to your website.
The order represents the most popular reader preferences. These listings are found on the left side of most search engines with Pay Per Click listings, usually down the right side of a search engine results page.
Directories are a good first step and may be all you need if your key word term is not competitive.
They can also be a good source of relevant traffic.
Directories are a human edited trusted link source.
Look for directories that have a good reputation and are well established.
The benefits of organic SEO are that the people who browse the internet click more on the site that has been organically optimized. Is your website optimized for search? Most clients I work with are unaware that their website needs to meet certain criteria and coding for the search engines. If your web page is relevant to the search it will appear automatically on the search engines like Yahoo, Google and Bing without having to make payment of any sort.
Organic search takes time and commitment. If you are the inpatient type, than paid search may be better for your business.
BENEFITS OF ORGANIC SEO SEARCH TRAFFIC
PPC or  pay-per-click advertising has its place, but organic (i.e. unpaid) search traffic has more value than traffic that is generated through paid click ads. Here's why:
Cost. The most obvious benefit of organic search traffic is a cost advantage. Pay-per-click ads are guaranteed to put your company's links in front of potential site visitors. Once you stop paying for ads then search results go away. Producing your own search engine optimized content over time adds up, everything counts.. Once you've implemented sound SEO strategies and tactics, the cost-per-click for organic search traffic  goes to zero, giving your company an edge over competitors who are trapped in a pay-per-click model.
Competition. Here's something else to consider: when pursued consistently and aggressively, organic search traffic can effectively block your competitors' online presence. The more effort you invest in improving organic search traffic, the higher your site appears in search rankings — pushing competitors farther down the list.
Credibility. Companies that take an exclusively paid approach to site traffic are often behind the market in presence and credibility. Organic search results are perceived by the customer to be more trustworthy.
KEYWORDS
Keyword research is the process of selecting words and phrases that members of your targeted website audience might use when conducting a web search. The goal is to target the RIGHT keywords and phrases that will generate the most traffic that are not yet so competitive – millions and millions of results are returned for those keyword phrase – that despite your best website SEO efforts your website has little chance of getting top placement in the organic search results.
Unfortunately, many website SEO efforts begin with just selecting keywords to target without researching their popularity and competitiveness. Additionally, the popularity and competition levels of keyword phrases changes over time, so it helps to revisit your targeted keyword phrases from time to time.
In analyzing different clients we come up with a list of up to 100 keywords and keyword phrases for businesses to use. The main difference is the KEI or Keyword Efficiency Index, we communicate to the client the keywords which will be best for their businesses. This analysis is based up popularity, competitiveness, and paid search.
WEBSITE REVENUE BY SOURCE
Organic search was the top source across all industries except media and entertainment. There, display, email and referred sources won, grabbing a 45% share, compared with 41% for organic. Again, organic search saw the most success with business services, accounting for 55% of all website revenues in the space. Paid search saw its largest share in the hospitality industry.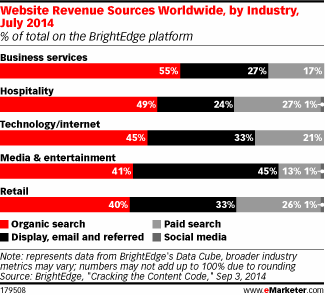 CONVERSION OPTIMIZATION
You've got the prospective client to your site…Now what?
What action do you want them to take?
Once searchers arrive on your site, you'll want to take the necessary steps to follow through and…
Make a purchase
Attend an event
Take advantage of an upcoming special
Sign up for a newsletter
Register for a drawing
Whatever other desired action you have defined for your visitors
SEO HAS LASTING IMPACT
When you spend time and money getting your site listed organically, it doesn't dry up instantly when your money does. SEO works best when it is worked on continually AND consistently; however, if you do find that your marketing budget has been cut, it will take some time before your site completely drops from the search engines.
Once in place, a properly designed and optimized site stays for a long term in the rankings compared to the pay per click (PPC) option. In today's up and down economy that's a big benefit.
However, keep in mind that at some point you will lose your rankings once you quit a SEO program, Internet changes constantly. I've got some content out there that is still on page 1 of Google for some of my keywords and keyword phrases.
SUMMARY
My experience in working with clients is that they want control. Organic reach gives you total control over how and what you optimize. Organic reach has longevity, if done correctly and consistently. Most that fail at this is they give up, live happens or they were never committed in the first place.
One thing is for sure…we live in an Internet world. People are searching daily for solutions to their problems through products and services. You need to be found, it's not rocket science once you know the strategy and tactics to execute.
Get in the game, play it to win.
Source: BrightEdge
Be sure to check out our upcoming seminars.
SOCIAL MEDIA SEMINAR SERIES
1. Google My Business – Better Search Results in Google! [Sept. 17]
2. Tools & Apps for Business – Gain more hours. [Sept. 24]
3. YouTube & Video – Business Branding [Oct. 15]
4. Blogging – Generate leads & get new customers [Oct 29]
5. Twitter for Business – The fastest way to spread content [Nov. 11]
6. Facebook Ads – How to create, implement & gain sales [Nov. 19]
About Blair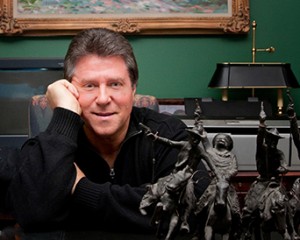 Blair Evan Ball is a Social Media Coach and founder of Prepare1, a company that works with businesses, individuals and non-profits. He is a former executive with a Fortune 50 company, and his national division did $1Billion in sales annually.

Blair has written three e-books: Facebook for Business Made Easy, Facebook Pages for Business Made Easy, and WordPress Blog Setup Made Easy.
Blair also educates, trains entrepreneurs and business professionals how to amplify their brand, SEO, increase revenues, and raise more funds.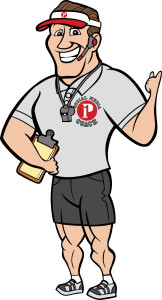 The Race is ON! – Get into the Game and WIN!