Key Drivers of the Coming Digital Transformation
by Blair Evan Ball on October 6, 2017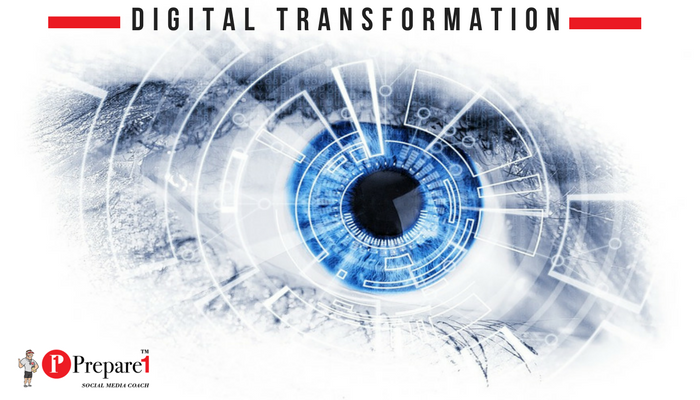 Are you ready for the digital transformation taking place?
Would you like to know what's coming?
Do you have the endurance to keep up?
All companies are operating faster and faster, and all types of businesses are becoming technology companies.
Hundreds of millions of people worldwide use smartphones and other digital devices to communicate, buy and sell, learn, and be entertained, but many companies still have not made critical investments to be digitally competitive and consumer responsive as this global shift happens.
The challenge is clear: the game is no longer the same. And winning it requires developing a different set of strengths, not just a crash diet of apps and tactics.
In the new report, "The 2017 State of Digital Transformation," Altimeter surveyed more than 500 executives and digital strategists to understand the current challenges and opportunities they are facing as they undergo a digital transformation.
Key insights from the report include:
While businesses cite "evolving customer behaviors and preferences" as the top driver of digital transformation, fewer than half invest in understanding digital customers.
Some executives are beginning to own digital transformation efforts, and the Chief Information Officer (CIO) is most often at the helm (28%). As all companies increasingly become "technology companies," the roles of the CIO and IT department are more important than ever — but true success in digital transformation is an enterprise-wide, cross-functional endeavor.
Companies and their change agents still face big challenges in the pursuit of digital transformation, including a lack of digital talent and expertise (31.4%), the perception that digital transformation is a cost center and not an investment (31%), and general culture issues (31%).
While companies are making attempts to modernize employees' skillsets for a digital economy with new training programs (62%), only about half are investing in new digital talent. The employee experience is a crucial, yet often overlooked element of a successful digital transformation.
How Social Media will Change in the Future.
DIGITAL TRANSFORMATION'S EVOLVING DEFINITION
"The investment in and development of new technologies, mindsets, and business and operational models to improve work and competitiveness and deliver new and relevant value for customers and employees in an ever-evolving digital economy."
SIX DISTINCT STAGES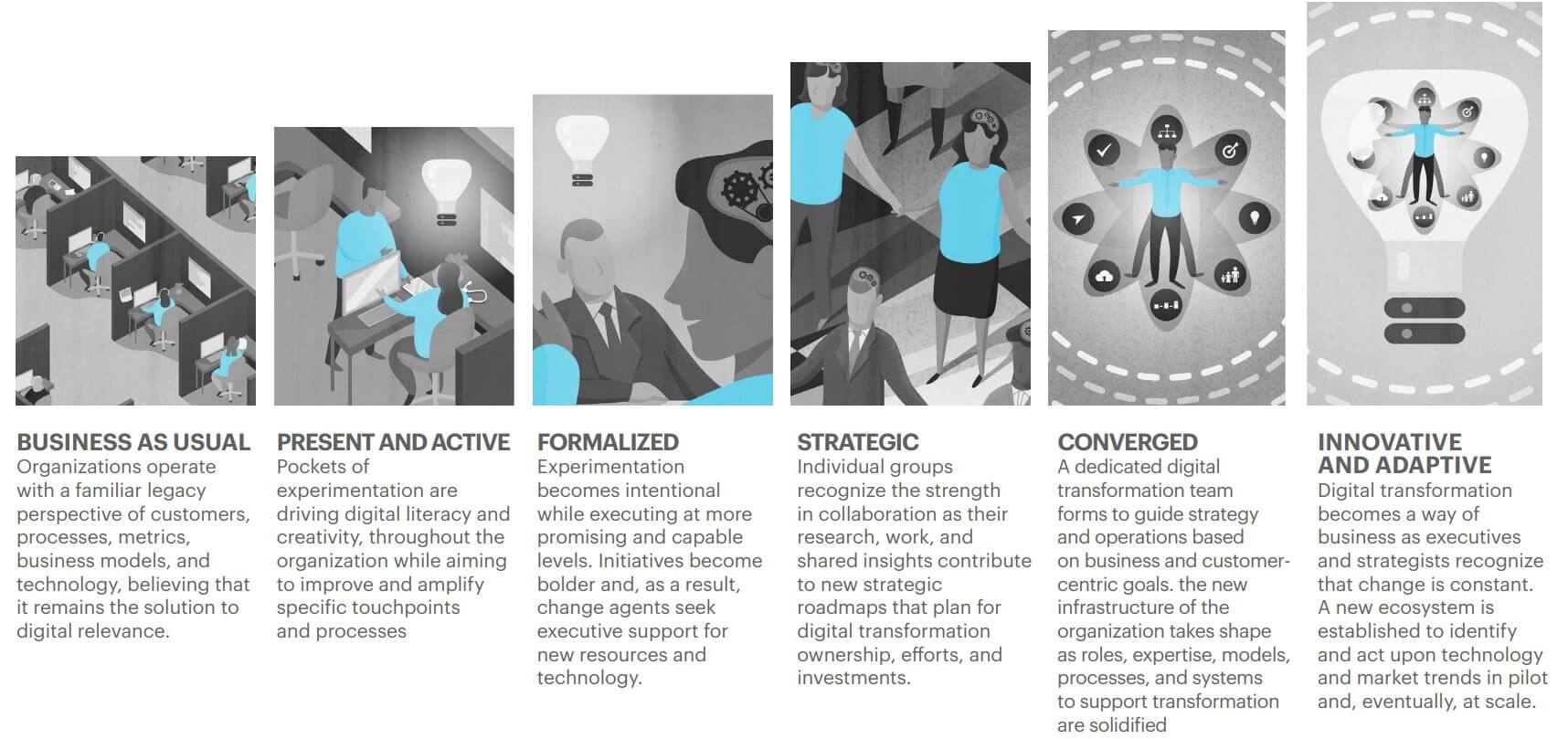 KEY DRIVERS OF DIGITAL TRANSFORMATION
Technology has introduced new kinds of marketing tools that take the guesswork and grunt work out of marketing. Specifically, and thanks to data and analytics, marketers have a much more intimate picture of who their customers actually are.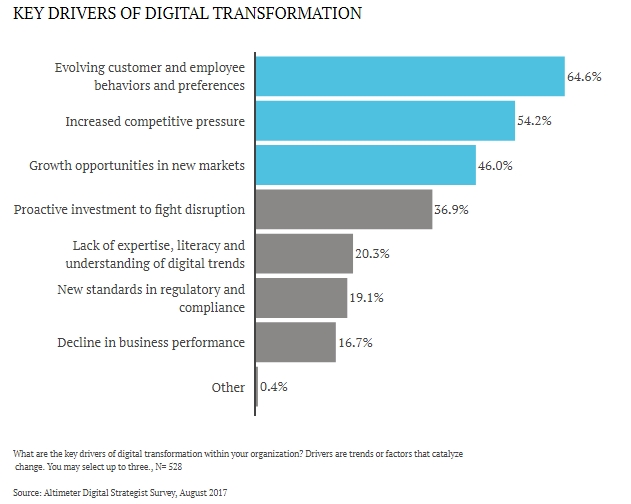 IT department leapfrogs marketing to lead digital transformation initiatives.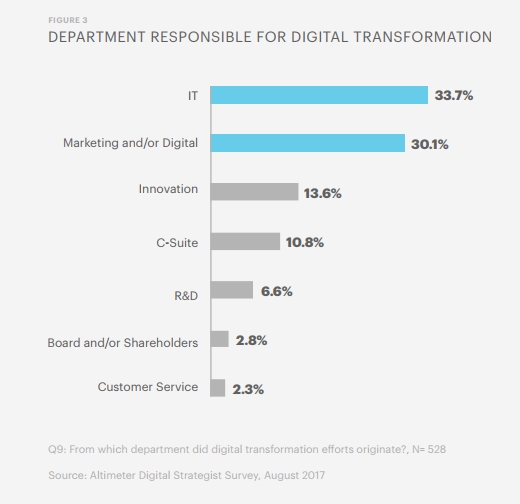 IT ranked ahead of marketing/digital at 33.7% versus 30.1%, respectively. We also observed the rise of the "innovation" department, which represents responsibility for 13.6% of digital transformation.
Corporate innovation is vital to uncovering new means and opportunities to better compete.
2. AI Goes From Newbie To Mainstream
"Yeah, yeah, I know — artificial intelligence." That's likely the response you'll get when talking about AI in 2018. With everyone from toddlers to seniors using Alexa, Siri, and customer service chatbots, it's no wonder AI may soon begin to feel like old news—at least to mainstream users. On the business side, however, so much power remains in AI — in everything from customer service and robotics to analytics and marketing.
Companies will continue to use AI to surprise, connect, and communicate with their customers in ways they may not even appreciate or realize. This includes faster, cheaper, and smarter automation of everything from emails and content generation to industrial manufacturing.
3. Digital transformation needs change management.
The "digital" in digital transformation implies technology-centric metamorphosis. Many of the challenges are no stranger to business evolution. They're often human and require management and shepherding to guide change from the perspective of the organization and individuals.
The red flags in this year's State of Digital Transformation report signal the need for more businesses to develop and realign priorities and operate with a sense of purpose and urgency.
4. 5G
Just as the amount of data produced by the IoT will force data to the edge, it will also force mobile providers to move faster than ever — toward 5G. The level of hyper-connectivity expected by users today leaves little room not to move forward on the 5G path, but don't get too excited.
The move to 5G won't happen overnight, and it will likely be patchy at best throughout the coming year. This year we are seeing  Gigabit LTE (the stepping stone between current LTE and 5G) making leaps with devices from Samsung and Sony leading the way.
Today much of the Gigabit LTE movement is being powered by Qualcomm Snapdragon technology, but others will certainly seek to become involved in this rapid growth market for mobile.
5. TOP CHALLENGES
So what was the most surprising result from the digital transformation study?
"What surprised us most is just how far behind companies are in their digital transformation efforts," Solis said. "In fact, when executives benchmark the status of their efforts against our maturity model, 'The 6 Stages of Digital Transformation', they consistently peg themselves further along than they really are."
There is a shift in power when it comes to digital transformation.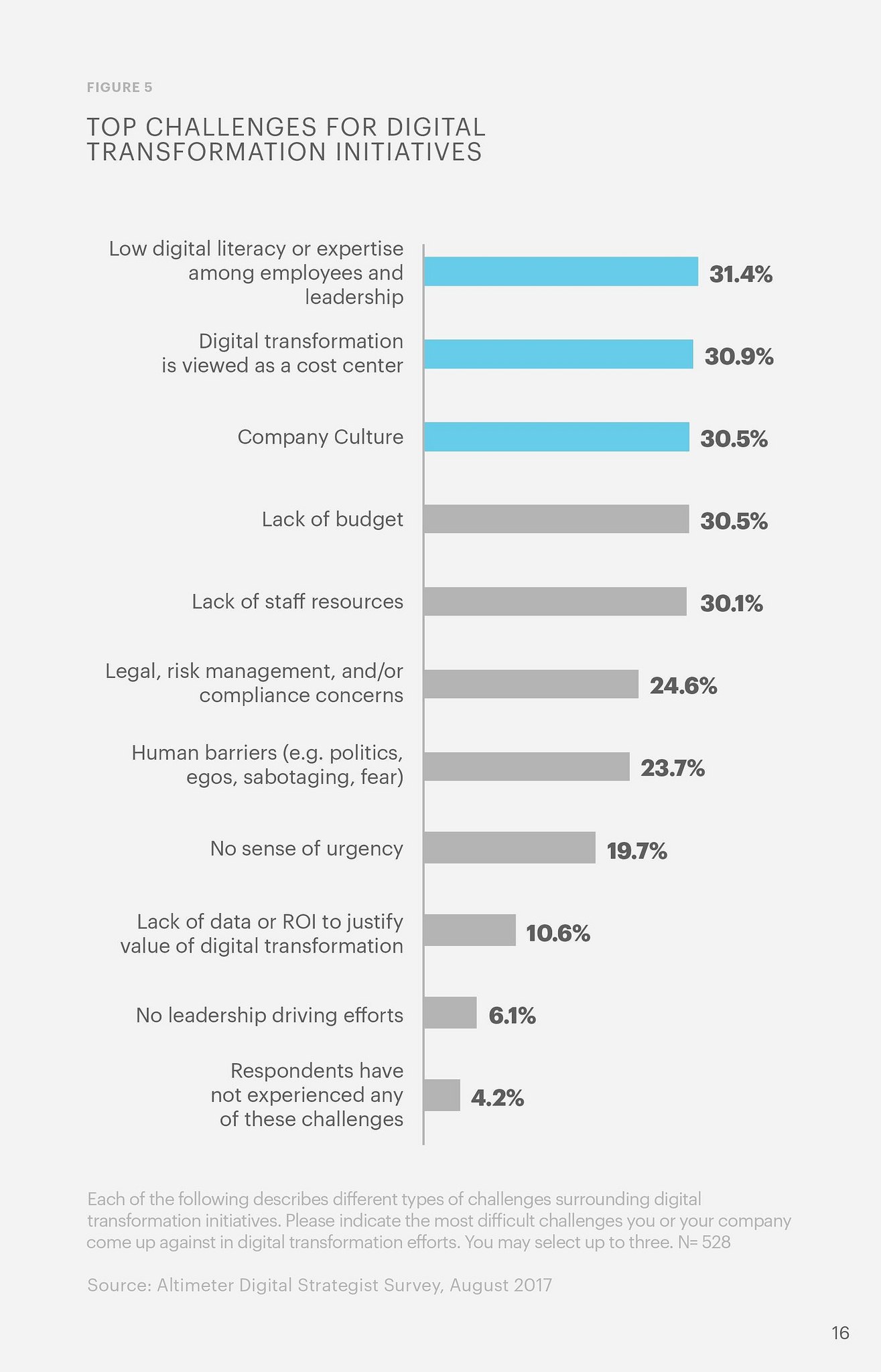 ALL COMPANIES ARE BECOMING TECHNOLOGY COMPANIES.
METRICS USED TO MEASURE DIGITAL TRANSFORMATION
For digital transformation to excel through the Six Stages, executive support and budget depend on the link to ROI. In 2017, strategists are applying a business lens to capture and report business impact of digital transformation efforts.
The top four metrics above 50% are focused on deriving digital transformation's effect on the bottom line. Eight out of the 12 top metrics (or 66.7%), tie directly to a business' ROI.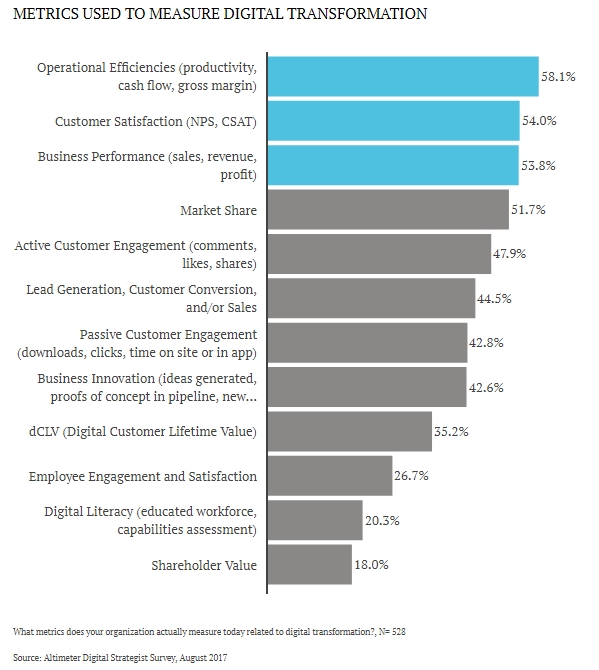 SOURCE: Altimeter Group | Brian Solis
FINAL THOUGHTS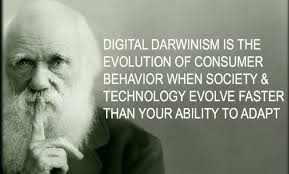 Every industry faces disruption. Digital Darwinism favors the adaptable. This fact makes digital transformation a critical opportunity and a viable threat.
Change requires bold vision and innovation not only to adapt, but also to establish new value propositions and competitive advantages in a dynamic economy.
It's time to invest in technologies, processes, and experiences that better cater to customer and employee expectations and behaviors. Teams are forming in organizations to champion and collaborate on key initiatives.
Companies also are demonstrating that innovation is critical to competitiveness.
Companies must explore current and future technology trends to become technology companies in their own right.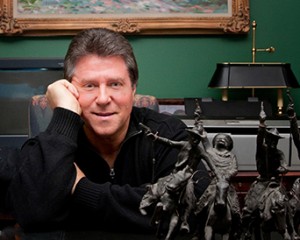 Blair Evan Ball is a Social Media Coach and founder of Prepare1, a company that works with businesses, individuals and non-profits. He is a former executive with a Fortune 50 company, and his national division did $1Billion+ in sales annually.

Blair has written three e-books: Facebook for Business Made Easy, Facebook Pages for Business Made Easy, and WordPress Blog Setup Made Easy.
Blair also educates, trains entrepreneurs and business professionals how to amplify their brand, increase revenues, and raise more funds.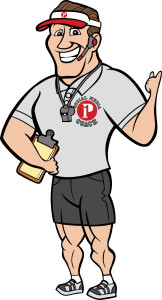 The Race is ON! | PREPARE | Get into the Game and WIN!