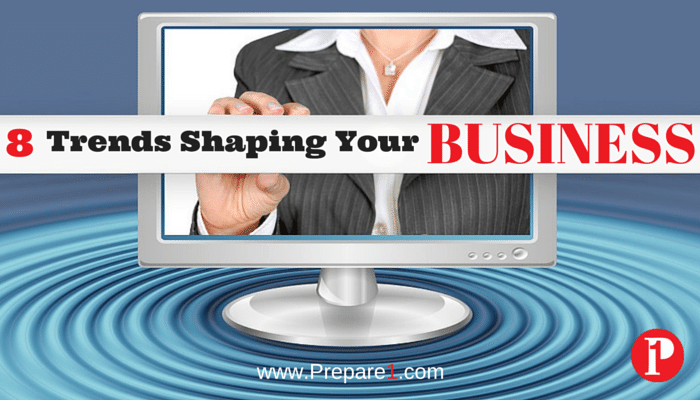 What are the trends right now?
How will they impact me?
How can I be prepared?
Venture capitalist Mary Meeker, a partner at Kleiner Perkins Caufield Byers, released her highly anticipated annual report tracking the hottest trends in technology and the internet.
This year, Meeker's report showed that mobile ads are growing significantly, especially benefiting Facebook and Google, and that smartphone-sales growth is starting to level off in North America and Europe (maybe because many people have one).
Taken together, they tell a remarkable story about how better and cheaper information technology disruption is transforming market economies, giving consumers powerful new leverage in the process.
Let's take a look at some of the top trends that will shape you and your business.
1. GLOBAL INTERNET USERS
Almost half of the planet is not connected to the Internet, but the growth is slowing.
Global Internet Users @ 3B Growth Flat = +9% vs. +9% Y/Y…+7% Y/Y (Excluding India)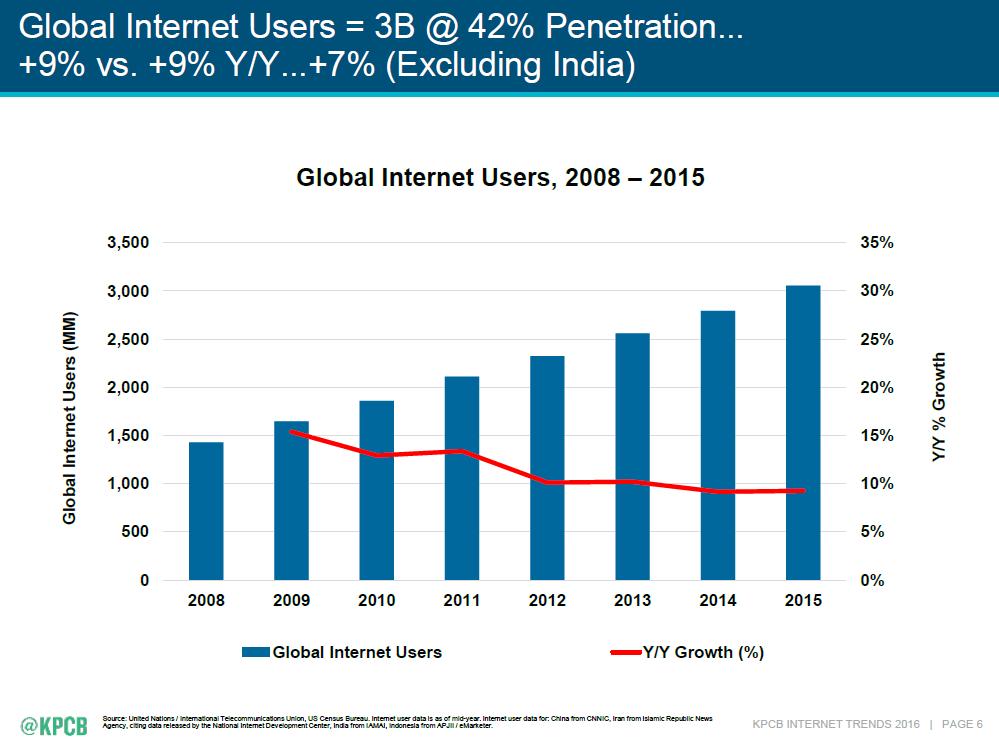 India Internet User Growth Accelerating = +40% vs. +33% Y/Y…@ 277MM Users…
India Passed USA to Become #2 Global User Market Behind China
New Internet Users – Continue to be Harder to Garner Owing to High Penetration in Developed Markets.
The top 20 Internet companies, Meeker reports, now have a market value of nearly $3 trillion.
Thanks to a long-standing U.S. policy of "permissionless innovation," over half are American companies, and seven are Chinese — the result of an admittedly very different industrial policy.
In a fragmented and highly-regulated European Union, not one from either last year's list or this years makes it.
2. GLOBAL SMARTPHONE GROWTH
Smartphone-sales growth is slowing, and people are starting to catch on to voice commands, Mary Meeker wrote in her 2016 Internet Trends report.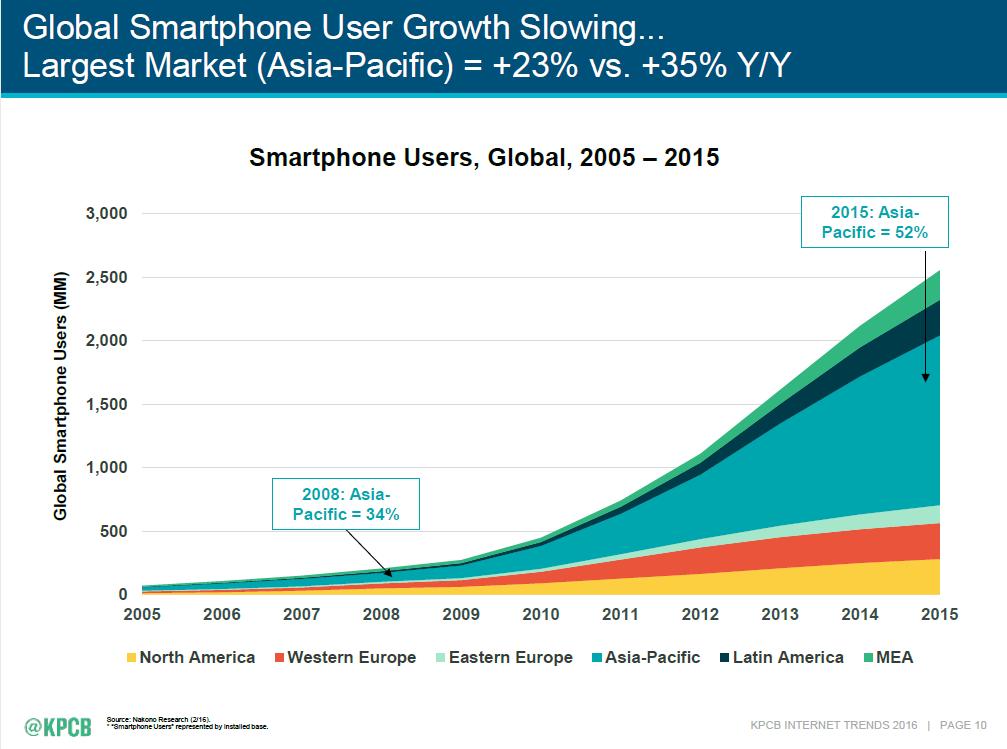 Global Smartphone Users Slowing = +21% vs. +31% Y/Y
Global Smartphone Unit Shipments Slowing Dramatically =+10% vs. +28% Y/Y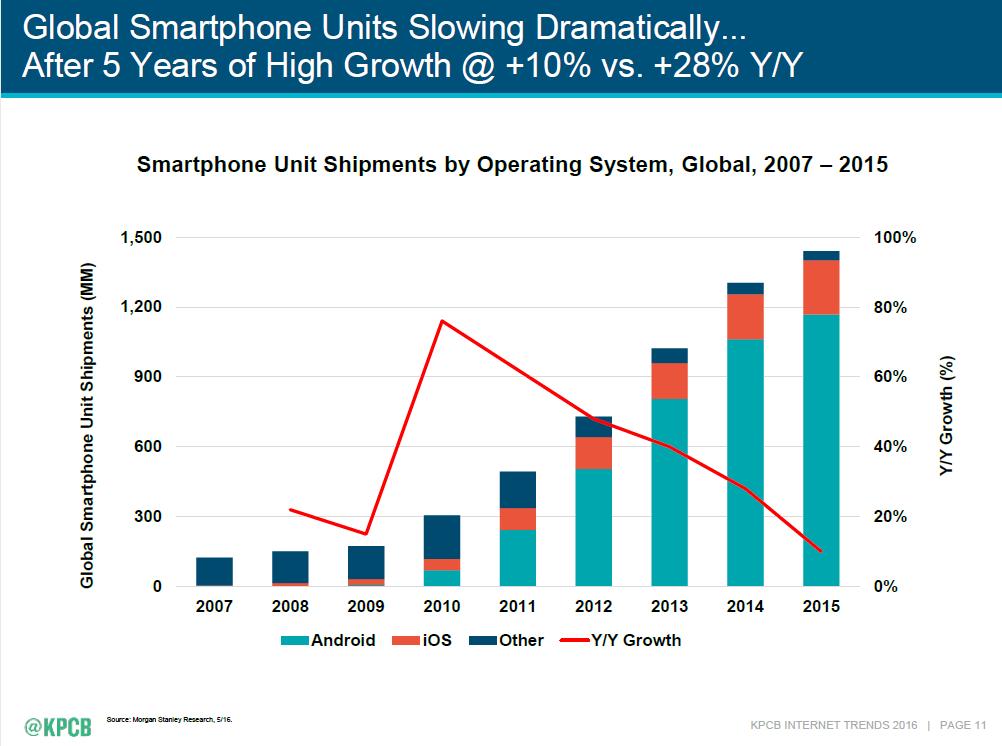 This is a telling graph for the state of IOS Apple Phones. Year over Year growth is declining, Apple has done a good job of penetrating the US. Now China has two top phone companies to compete with Apple.
Tim Cook believes the growth will be coming from India, and with their price point, that spells trouble in penetrating that market. Apple will need to compete better on price, thereby putting pressure on margins.
Android on the other hand continues to grow throughout Asia and Europe outpacing Apple.
3. INTERNET ADVERTISING
The Internet economy is fueled by advertising, which has gone from $0 to $60 billion in just 20 years.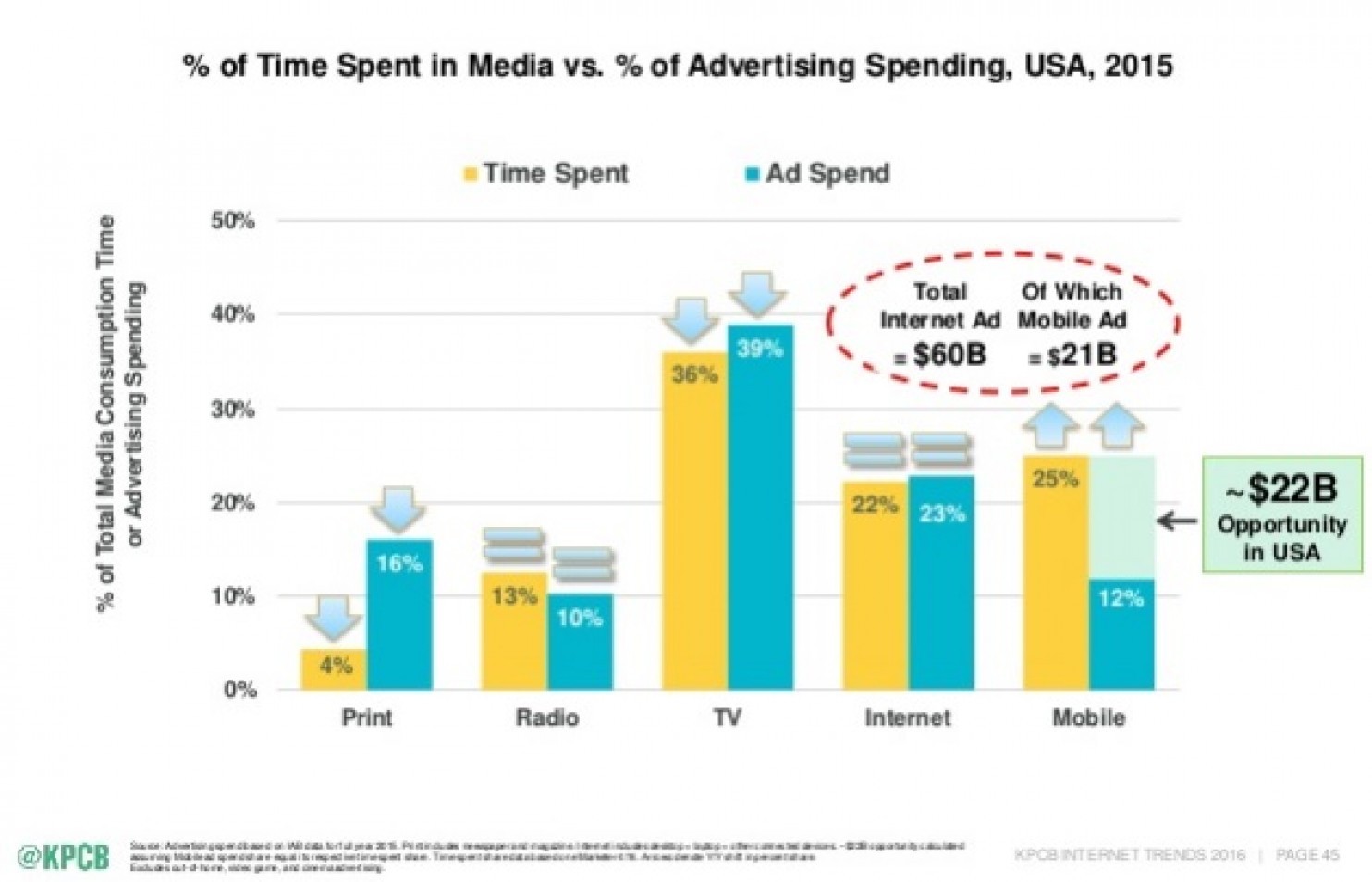 To date, Internet advertising revenue is dominated by Google and, to a lesser extent, Facebook.
Google alone controls nearly half of the market, which it and others guard jealously from potential new entrants, including ISPs, who are now being threatened with new FCC rules that will make it impossible for them to compete.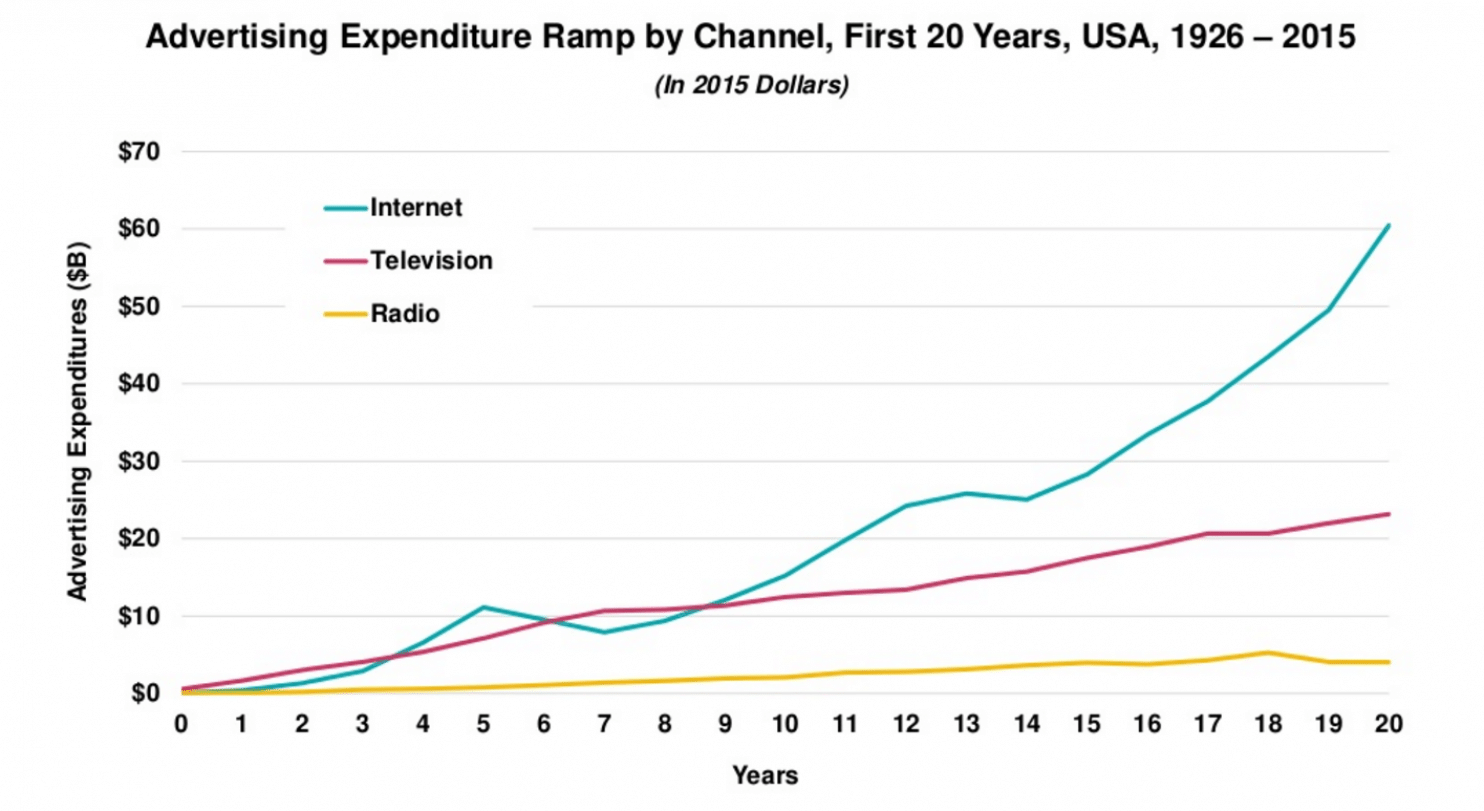 The ramp up in Internet advertising dwarfs the development of advertising in earlier media including radio and television, whose rapid expansion seemed equally shocking in their day.
If you're a small business, it's become necessary to budget Internet Advertising ad dollars. Staying relevant in a noisy world is paramount.
4. GLOBAL GROWTH
Why does this matter?
Not too long ago the USA could go it alone. Now economies around the globe are intertwined, each affecting others to the magnitude of their size. China for example has been a big driver of growth globally over the last 20 years.
Now their growth has slowed dramatically and is impacting the US and other countries.

THEN AND NOW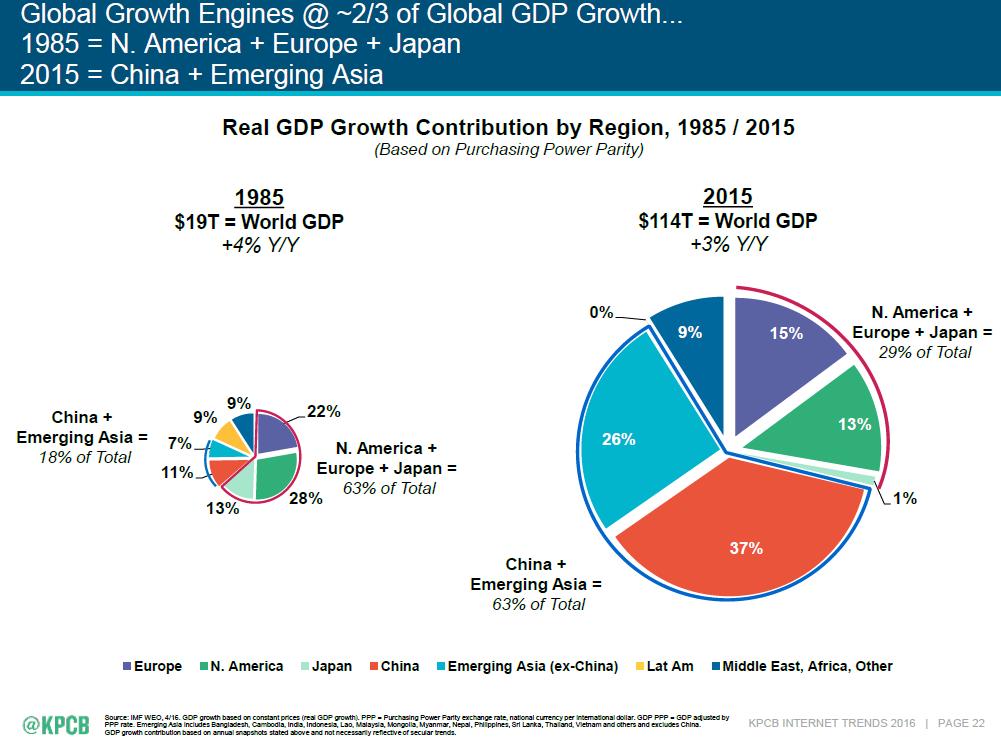 Notice the change in the US from 1985 to now. Basically we had 63% market share with Europe+Japan. Now that has dwindled to 29% while China and Emerging Asia now account for 63%.
China's Gross Capital Formation (Capital Equipment /Roads / Buildings…)
Past 6 Years >Previous 30 Years
Unfortunately there is nothing on the horizon that will turn global growth around. Until and unless policies and business environments change.
5. PHOTOS
Billions of photos are shared every day.  Facebook and Snapchat dominate the market, but what is the "market" and why does it matter?
Photos on Social Media Platforms are still the #1 engagement tactic.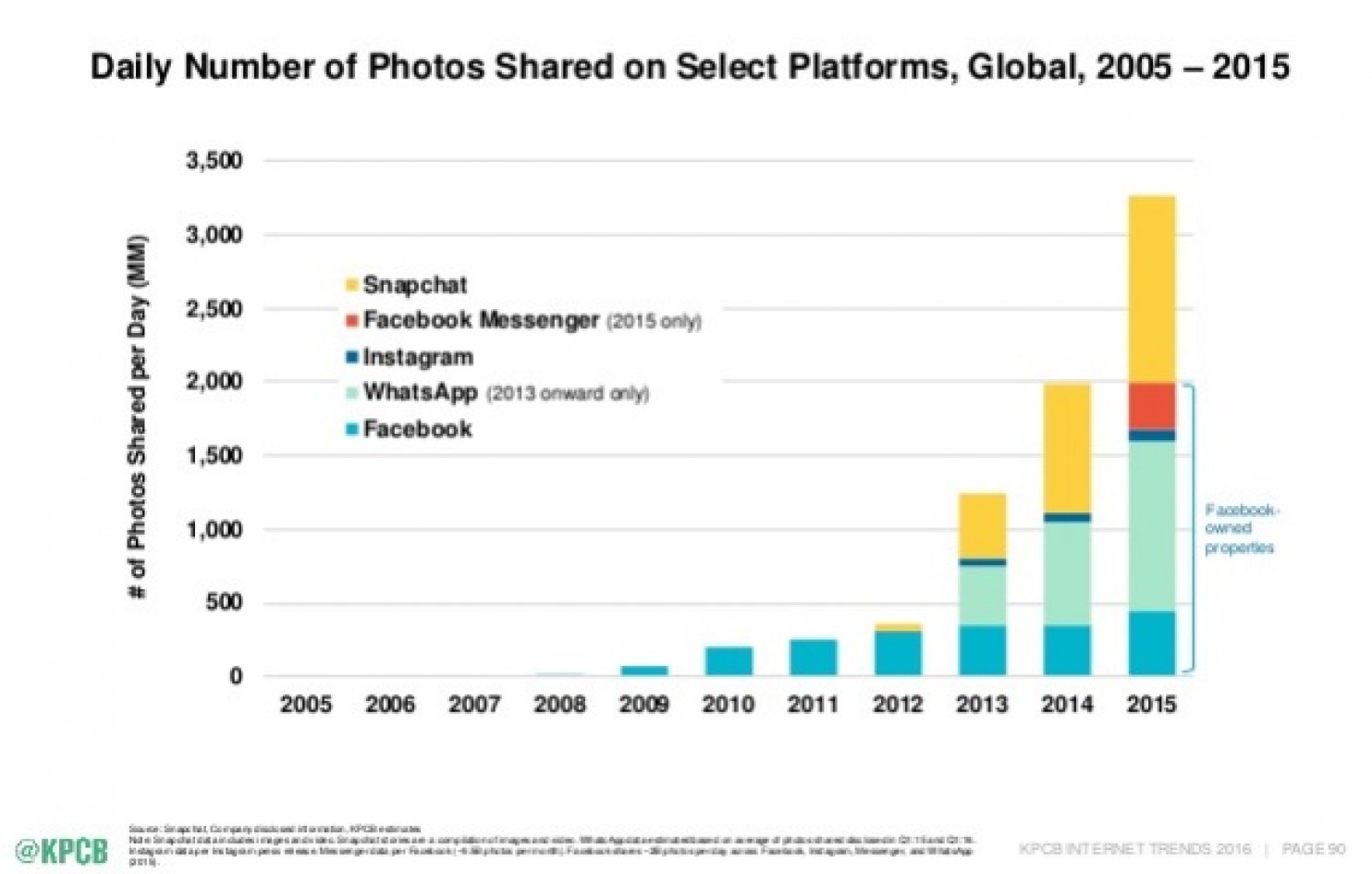 Image Usage / Sophistication / Relevance Continues to Grow Rapidly
Images = Monetization Options Rising
Even more than photos, user-generated video content is redefining marketing.  As Meeker notes, Candace Payne's viral video in a Chewbacca mask, viewed over 150 million in just one day, twice mentioned Kohl's department store. The result? The company's app leapt to the top in the iOS app store.  No planned (and expensive) campaign could have hoped for such an outcome.
6. FUTURE OF VIDEO
What does the future of video really look like?
Visual (Video + Image) Usage Continues to Rise
The combination of ubiquitous devices, high-speed networks, and falling prices for key components including memory, computing power and cloud storage point to the rise of a dramatically different, user-driven media landscape.
The rise of Live Stream Video in Facebook has changed the video landscape.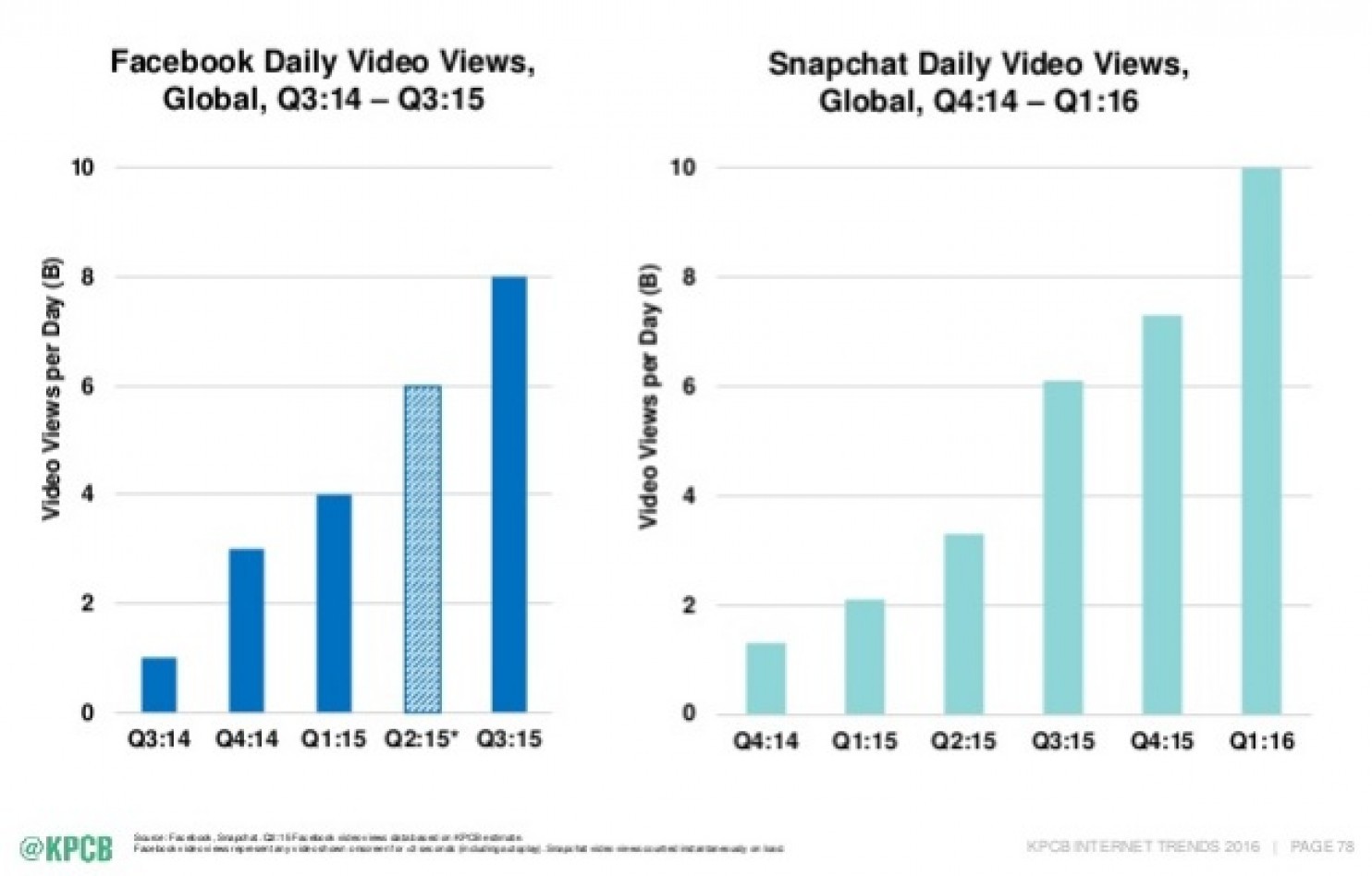 Viewers will seamlessly combine live video with contextual information, then annotate and socialize it on the dominant platforms.
Live events become social experiences, with richer interaction for those not actually in attendance.
Advertisers / Brands =Finding Ways Into… Camera-Based Storytelling + Creativity + Messaging / Sharing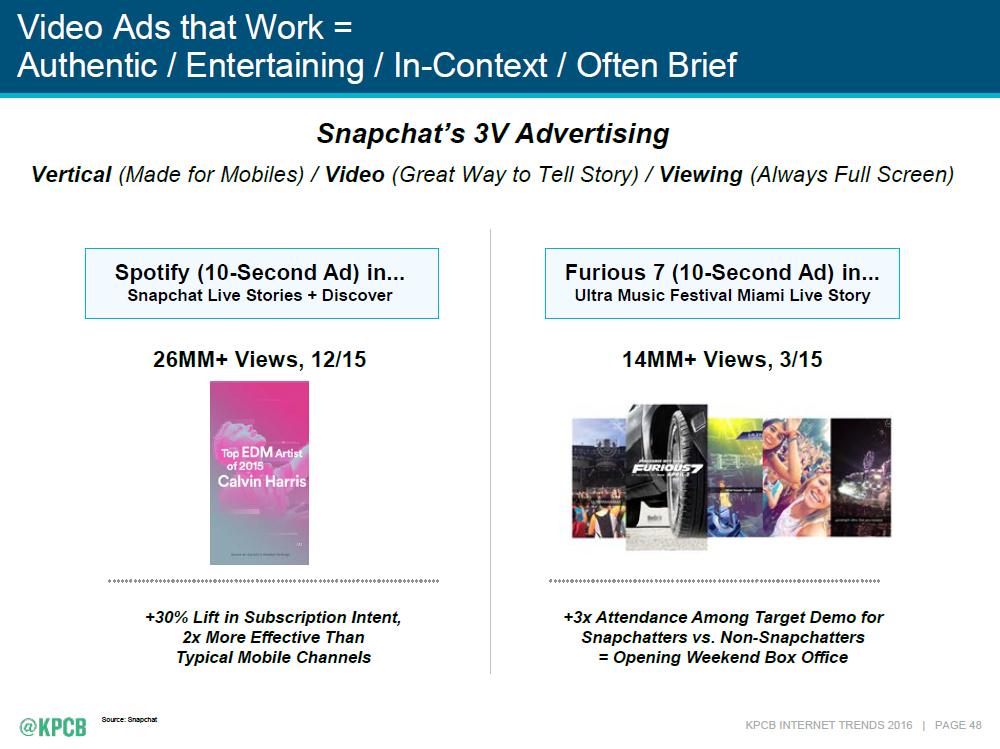 7. CONSUMER PREFERENCE
Marketing Channels Evolve With Time… Shaped by Evolution of Technology + Media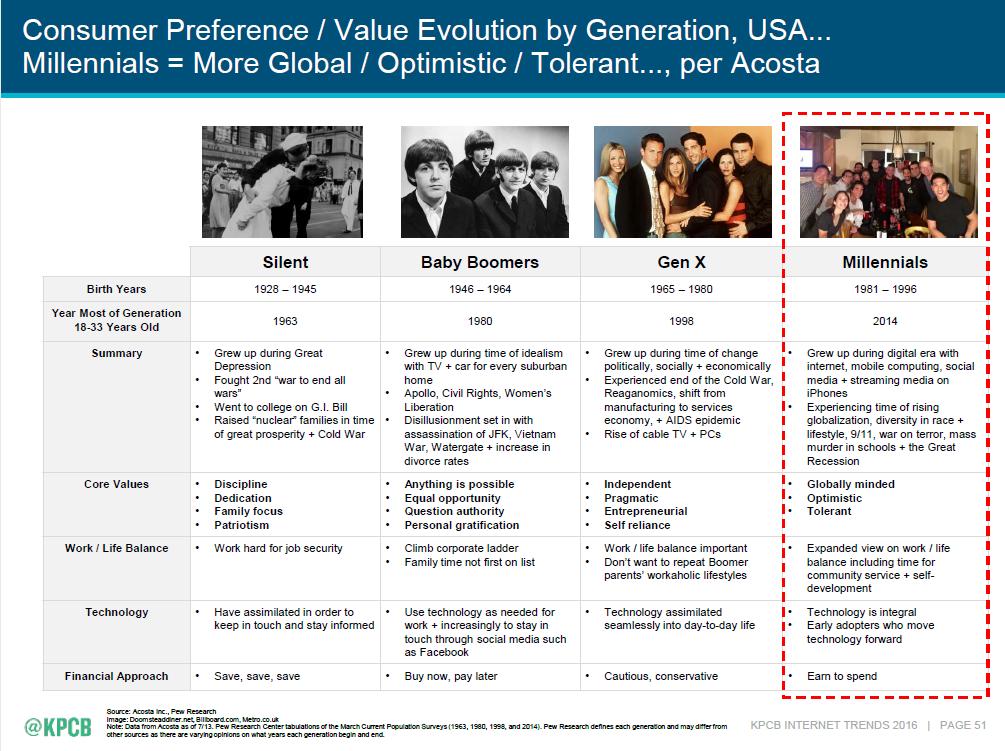 The rise of consumer-driven marketing translates to what economists call a friction less market, where buyers have near-perfect information about sellers based not on what companies say about themselves but what other consumers report—a far more reliable source.
Increasingly we have the very rapid rise (and sometimes fall) of new brands and new products.  For the winners, the market can be very generous.  For everyone else, it can be brutally efficient.
8. RE-IMAGINING VOICE
Re-Imagining Voice = A New Paradigm in Human-Computer Interaction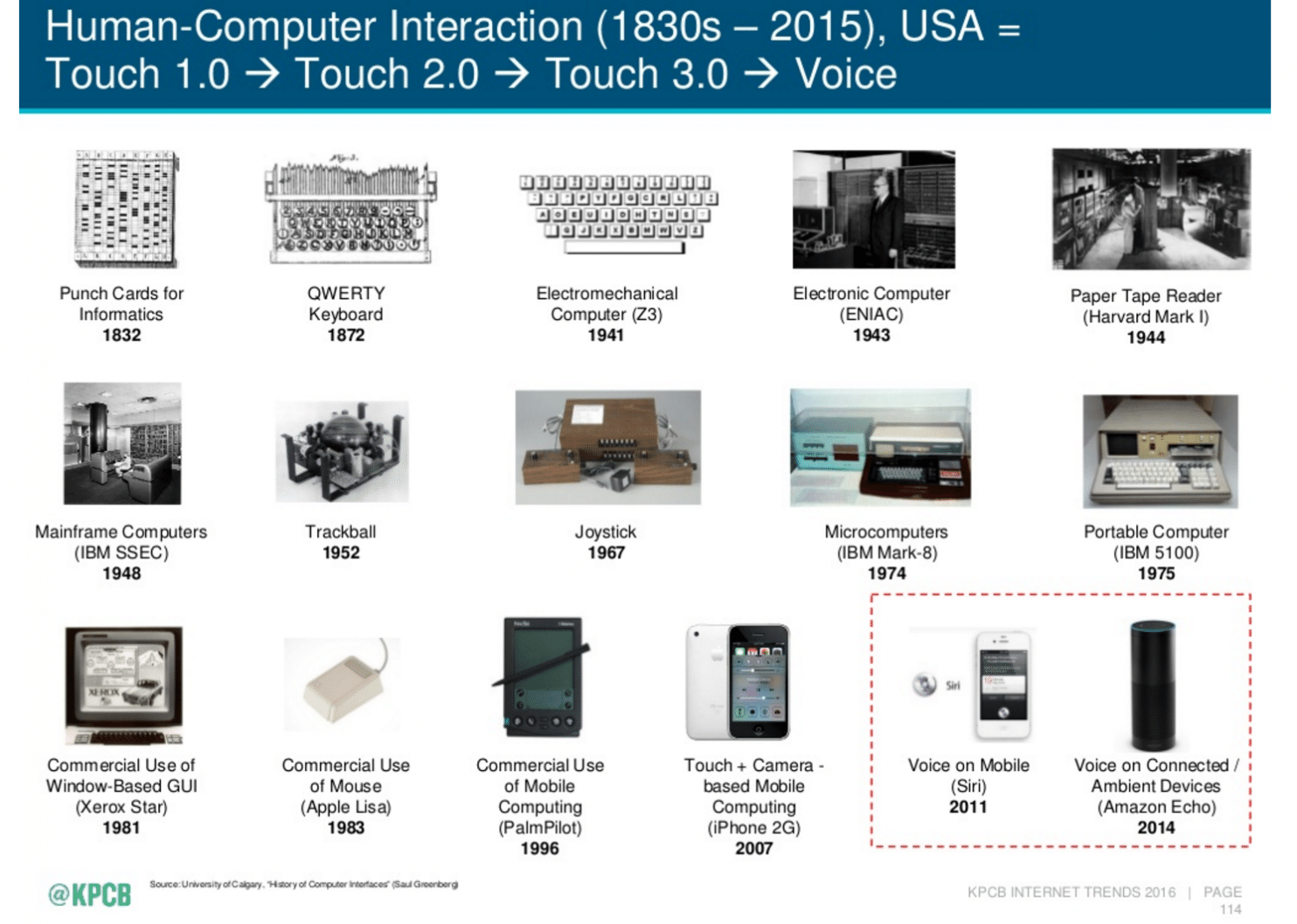 Voice as Computing Interface = Why Now?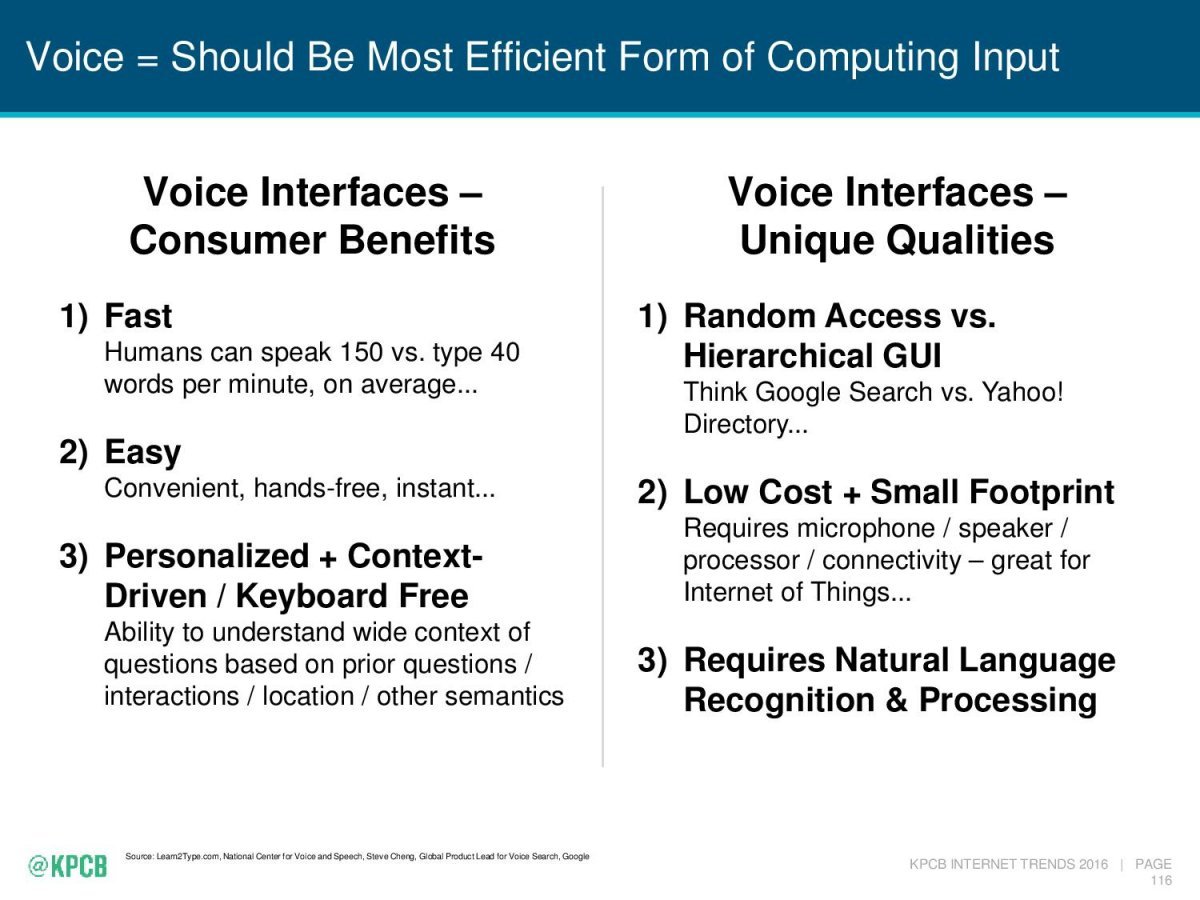 As speech recognition accuracy goes from say 95% to 99%, all of us in the room will go from barely using it today to using it all the time. Most people underestimate the difference between 95% and 99%
accuracy – 99% is a game changer…
No one wants to wait 10 seconds for a response.
Accuracy, followed by latency, are the two key metrics for a production speech system.
Meeker says it's a sign of bigger things to come for voice assistants like the Echo. The technology has finally gotten to the point where it's reasonable that a person can talk to a gadget like an Echo and get an intelligible response  — without having to wait more than a couple seconds for an answer.
And for customers, the promise of the Echo, along with future competitors like Google Home or the rumored souped-up Apple TV, is a more natural interface. After all, humans can talk faster than they can type, and it doesn't require you to stop what you're doing.
FINAL THOUGHTS
Although internet and global growth are slowing. There are numerous opportunities for disrupters in the marketplace. It takes courage and vision to change and adapt. Most companies and individuals are in the comfort zone. Content at the business and life stage they are in. Yet…out of left field, sooner than later a disrupter will challenge the status quo.
Meeker gave a shoutout to Bellevue startup OfferUp in the report. The startup, which raised $73 million last fall, makes a buy-sell app that allows users to upload photos of items they want to sell in their area.
Meeker included the company in a series of slides that shows how photos are used to grow e-commerce sales. OfferUp, which has an almost Pinterest-like feel, reported users spend about 25 minutes on the site each day, compared to 13 minutes in 2014.
OfferUp employs 90 people in its Bellevue offices and said its app has been downloaded 18 million times.
"The real enabler for all of this is the smartphone," OfferUp CEO Nick Huzar said Thursday. "Why I think OfferUp works so well is we kind of re-imagined selling through the lens of a smartphone and by taking pictures."
What trends are you going to ride?
About Blair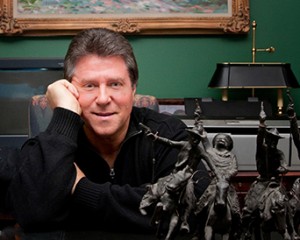 Blair Evan Ball is a Social Media Coach and founder of Prepare1, a company that works with businesses, individuals and non-profits. He is a former executive with a Fortune 50 company, and his national division did $1Billion+ in sales annually.

Blair has written three e-books: Facebook for Business Made Easy, Facebook Pages for Business Made Easy, and WordPress Blog Setup Made Easy.
Blair also educates, trains entrepreneurs and business professionals how to amplify their brand, increase revenues, and raise more funds.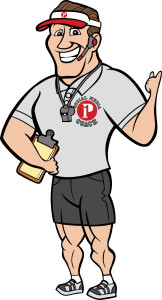 The Race is ON! | PREPARE | Get into the Game and WIN!