The Best Length for Updates on 10 Social Media Sites: Infographic
by Blair Evan Ball on February 20, 2015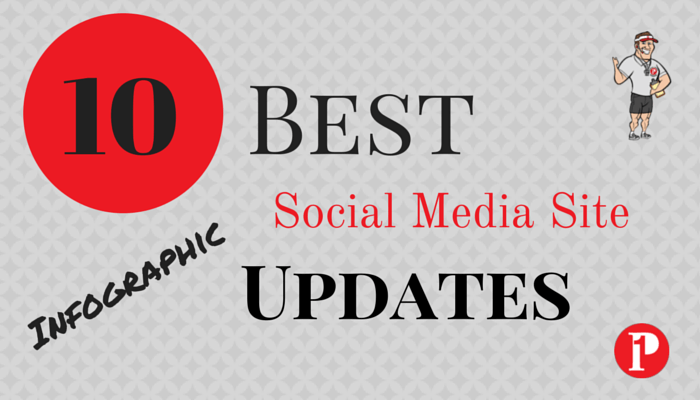 Do you give consideration to how long a Facebook post should be?
What about the right length of a video to post?
Or how about the length of your title?
SumAll came up with this great data and insights with Buffer and posted it into a fun infographic. The good, the bad and the ugly is that this is a snapshot in time. As Social Media continues to grow and evolve, I suspect this information will change as well. Be clear about your goals and objectives, but remain FLEXIBLE.
SumAll is one of the top social media tools. They do social media tracking better than anyone we've found—all your data, all in one place, for free.
These are great starting points. Check it all out below.
FACEBOOK
Now that Facebook organic reach has plummeted, many business owners are looking for ways to increase organic reach. For those that have the money, they are doing Facebook Ads.
Is longer or shorter better?
Shorter and 40 characters seem to be the sweet spot.
Here's what 40 characters looks like now
As you can see with the sentence above it isn't a whole lot of characters
People skim today, so be brief
Data Studies
A pair of studies have each found that shorter is better on Facebook. A Buddy Media study of the top 100 retailers Facebook pages during a six-month period in 2011 is one of the most-cited sources. Also in 2011, BlitzLocal studied 11,000 Facebook pages over a seven-month period.
TWITTER
Twitter already allows for 140 characters which isn't much. I've come to enjoy the benefit of Twitter because it forces oneself to clarify your thoughts and words. You can't write the Magna Carta on Twitter.
One of the thing's I've learned about Twitter is to leave enough room for people to R/T (Retweet your message). Each character counts, so this is important.
Optimal length of a Tweet is 71-100 Characters. This use to be 110-115, so the trend for less is more is holding true at the moment.
This tweet is 92 characters.

Test and discover the right length for you, stick to the 71-to-100 character guideline, for now.
What makes this length optimal?
Tweets at this length get more retweets.
Have higher reply rate
Higher retweet rate
More engagement
Data Study
A pair of studies have found the 100-character mark to be the sweet spot for tweet length. Track Social studied 100 major brands (Oreo, Zappos, ESPN, etc.) for a 30-day period in the fall of 2012. Buddy Media studied 320 Twitter handles from major brands for two-and-a-half months at the beginning of 2012.
GOOGLE+
More and more businesses are waking up to the fact that being on Google+ is giving them better search results. If your a LOCAL business, even better search results for Google My Business.
Optimal length of Title
60 characters
Here's a tip to optimize your title heading. Put * before and after your title. It will bold it like the example below.
Be aware that if you go over 60 characters it typically will go to the next line.

Data Study

Demian Farnworth of Copyblogger tested out the length with posts on the Copyblogger page.
He found that bold headlines could reach 60 characters before additional words would be bumped to the second line.
DOMAIN NAMES
It's much harder these days to get catchy and short domain names. Unless you want to pay some big bucks to those companies who reserve domain names for a living.
There are several characteristics of successful domain names.
8 characters in length
is short
is easy to spell
is easy to remember
has a .com extension
is descriptive or brandable
does not contain hyphens and numbers
I got the short part right but not the number.
BLOG HEADLINES
Since headlines are most important, we can all learn quite a bit from newspapers and their headlines. The number 1 goal of the newspaper is to get you to click on the article…right? In writing Blogs it's no different.
Copyblogger is one of the best around for writing good headlines. They also offer great tips and information on how to write compelling headlines.
I can already hear the angst about the length.
Why?
Our eyes tend to pick up on the first three words of a headline and the last three words.
Data Study
KISSmetrics author Bnonn cites usability research that confirms scanning of headlines. Also, Jakob Nielsen ran usability testing in 2009 based on the idea that readers typically consume only the first 11 characters of a headline.
EMAIL SUBJECT LINE
Email is not dead, but that's what you were probably thinking. Actually it's still growing, and still a consistent performer.
28-39 characters
This range shows up nicely when you look at your email inbox
Why? 
You may see a slight uptick in open rate and click rate at this length.
Data Study
HASHTAGS
Hashtags are most often misunderstood by many. So what is a hashtag? A hashtag is a word or an unspaced phrase prefixed with the hash character (or number sign), #, to form a label. It is a type of metadata tag. Words or phrases in messages on microblogging and social networking services such as Facebook, Google+, Instagram, Twitter.
Who can create a hashtag? Anyone, so in one sense it's like the wild West. Buffer has a great post about hashtags.
6 characters
Social Media Platforms like Google+ the optimal is around 4-6 total hashtags. Where Instagram is the winner where the sweet spot is 14-17 hashtags. Really? Yes
Data Study
The 6-character hashtag recommendation comes from a handful of Twitter experts and is cited by Hashtags.org, one of the leading sites on the data and usage of hashtags.
LINKEDIN
LinkedIn released publisher in March of 2014 to a select few. Prior to that date only Influences like Richard Branson of Virgin, of Jack Welch former CEO of GE were allowed to write/blog/post.
Now the exciting part is you can now become a thought leader and influencer on LinkedIn as well.
B2B
16-25 words for post description
B2C
21-25 words for post description
Why?
The results in the Compendium study tend to focus on click throughs as the basis for recommending best practices. It's safe to assume an ideal length of a LinkedIn post would be based on clicks, too.
Data Study
BLOG POST
It's not all about length, but sometimes it is
When it comes to web content, length is only one of the factors to consider. You've got to consider a host of other issues. Take into account how all these other factors affect the length of your post.
Substance – this is the most basic consideration. What are you trying to say? What's the substance? If you can say it in 100 words, then you may want to do so. If it requires 2,000 words, that's fine too.
Style – some writing styles lend themselves to content that is short, brief, and to the point. Other times, the style is more conversational and interactive. Style will affect your content length.
Frequency – how often you post affects how long your posts are. Some bloggers may post only once a week, but when they do, it tends to be a very thorough blog post. Other sites pop out short ones every day. It's just a matter of how much the content marketing team can manage. Good content takes time!
Format – the way an article is formatted has a massive impact upon its readability. I tend to use a lot of subheadings, a sprinkling of images, and short paragraphs. It's important to break up your content into chunks so people can scan it.
Purpose – every good content marketing plan has a purpose…many purposes, actually. The ultimate goal is conversions, but within this broad goal, there are sub goals. Other goals may be to spread brand awareness, drive social engagement, grow email lists, provide education or improve SEO. Different purposes will naturally mean differing length requirements.
Audience – a huge part of content creation is knowing your audience: their needs, their interests, their passions, and their problems. Your goal is to create content your audience is going to read.
Medium – not all content is words. When I post an infographic, sometimes it will be just a few words to over 2000 words to introduce the topic. The rest of the words are in the infographic, which don't really translate into an accurate word count metric. If you post a video, meme or infographic, word count becomes irrelevant.
Longer is Usually Better
If you look at the data below, you will have to agree with me. Longer posts usually perform better on every level.
Let's go through the reasons why this is true.
The first is the fact that a higher word count typically results in more search traffic. There are more than 200 factors that influence how your content ranks in the SERPs. Evidence suggests that the more content your page has, the better chance it has of a top position in Google results.
SerpIQ studied search results rank based on content length. Here's what they found: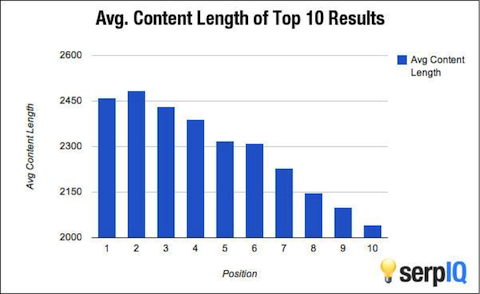 Image: SERPIQ
The higher the Google SERP position, the more content the page has. Notice that every one of these first page results has content exceeding 2,000 words.
YOUTUBE
Video continues to explode. Once we knew YouTube for music and entertainment. Today businesses are creating videos around:
Testimonials
How to
Branding
Events
Product and Service Launches
So how much time do you get to tell your story in a video? How long until someone loses interest and clicks over to the next link? These are big questions for video marketers who compile their content with timestamps in mind the same way bloggers compose with word count.
Optimal Length – 3 minutes
Why?
This is the average video length of the top videos on YouTube.
Data Study
In 2012, ReelSEO counted the length of the top 50 YouTube videos and found the average duration to be 2 minutes, 54 seconds. Google researchers from the YouTube team confirmed the ideal length to be three minutes as well, according to an interview with Clinton Stark.
Check out Infographic.

Sources: Buffer and SumAll
CHECK OUT OUR UPCOMING SOCIAL MEDIA SEMINAR SERIES
1. Google My Business – Better Search Results in Google! Jan. 21st
2. Visuals for Business – How to use visuals Feb. 4th
3. Facebook Ads – How to create, implement & gain sales Feb. 18th
4. Social Media Marketing for Realtors Feb. 25th
5. Tools & Apps for Business – Gain more hours. Mar. 4th
6. YouTube & Video – Business Branding Mar. 18th
7. Blogging – Generate leads & get new customers Mar. 25th
8. Twitter for Business – The fastest way to spread content Apr. 29th
About Blair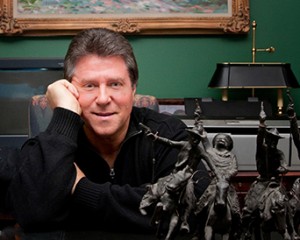 Blair Evan Ball is a Social Media Coach and founder of Prepare1, a company that works with businesses, individuals and non-profits. He is a former executive with a Fortune 50 company, and his national division did $1Billion+ in sales annually.

Blair has written three e-books: Facebook for Business Made Easy, Facebook Pages for Business Made Easy, and WordPress Blog Setup Made Easy.
Blair also educates, trains entrepreneurs and business professionals how to amplify their brand, increase revenues, and raise more funds.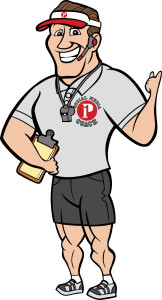 The Race is ON! |PREPARE | Get into the Game and WIN!