How to Measure B2B Content Marketing Goals
by Blair Evan Ball on June 22, 2017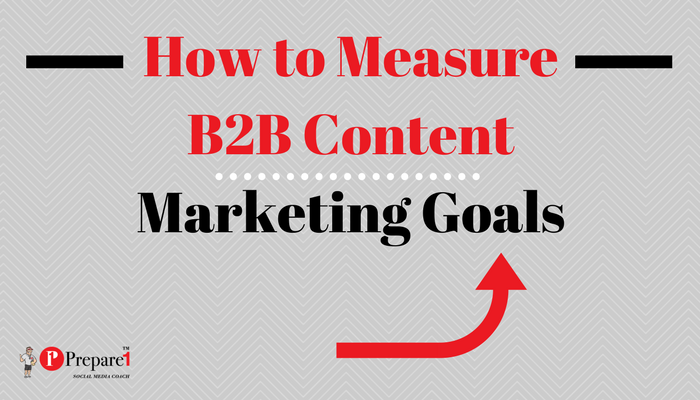 Are you measuring your B2B content marketing efforts?
If so…Which B2B content marketing metrics are you measuring?
Would you like to know what the most effective B2B companies are doing and measuring?
In fact, some of the top challenges for B2B content marketers is measuring the effectiveness of content and the ROI of their efforts.
More often than not when asked this question, marketers fall back on soft marketing metrics like "page views" and "shares," or anecdotes about how their content is working by way of feedback from the sales team.
Content marketing has come a long way in the past few years. Every year Content Marketing Institute conducts their annual study on content marketing. There are now definite content marketing metrics to answer this question, along with technologies that help quantify the return on your content marketing investment. 
GOALS AND METRICS
The latest report by Marketo reveals that 65% of marketers publish content at least once a month. According to Gartner's CMO Spend Study, marketing spend is on the rise for the third consecutive year. Yet Kapost's B2B Customer Experience Benchmark Report reveals only 12% of B2B marketers rate themselves as "very effective."
Where's the disconnect?
It's time to connect your content efforts to real results.
80% Will focus on lead gen as a content marketing goal over the next 12 months.
78% Use website traffic to measure how well their content marketing is producing results.
75% Can demonstrate how content marketing has increased audience engagement.
Looking at metrics as a whole can be an intimidating task. To make it easier to identify the content marketing metrics most relevant to your business, it helps to break them down into distinct categories.
If you look at the various content marketing metrics, you can answer many of your most pressing content marketing strategy questions:
Consumption Metrics:

How many people are consuming your content?
Which channels are they using?
How frequently and how in-depth is their consumption?

Sharing Metrics:

Which of your content pieces are being shared?
Who is sharing them?
How/where are they sharing?
How often are they being shared?

Lead Metrics:

How is content supporting demand generation in terms of lead generation and lead nurturing (middle-of-the-funnel)?

Sales Metrics:

How does your content influence bottom-of-the-funnel results?
Which ways does your content drive revenue?
How does your content fill the pipeline?
ORGANIZATIONAL GOALS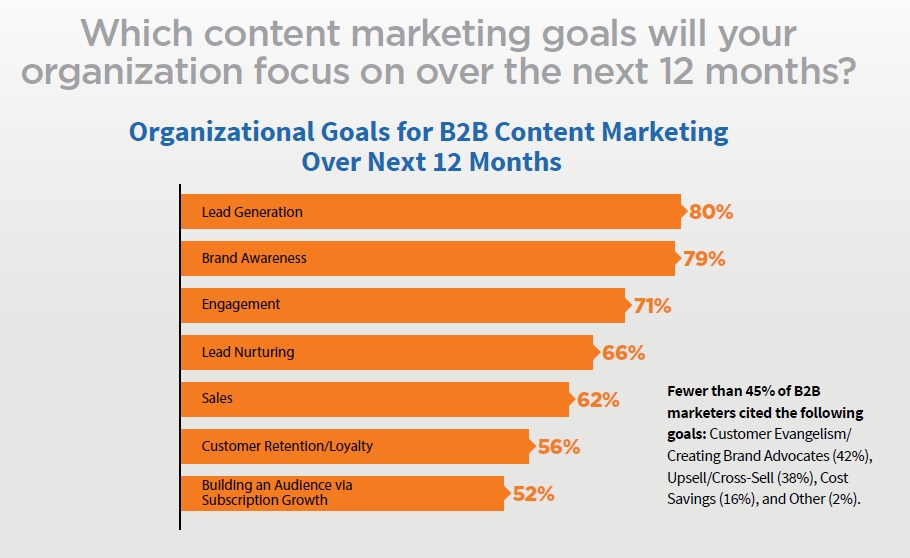 80% Will focus on lead generation as a content marketing goal over the next 12 months, followed closely by brand awareness. Engagement is third, not too far behind.
Interestingly sales is 5th, businesses are recognizing it is a process that leads prospective clients through in order to achieve sales. Yet, what I find interesting for most small businesses, they don't tie any social media to goals and metrics.
Typically a younger person will be doing the social media, which is what most love to do, yet they don't have the business knowledge and experience to make any real progress for most businesses. Most get lost in the noise. Be sure to tie your content marketing efforts to your goals and objectives for the business.
CONTENT MARKETING METRICS USAGE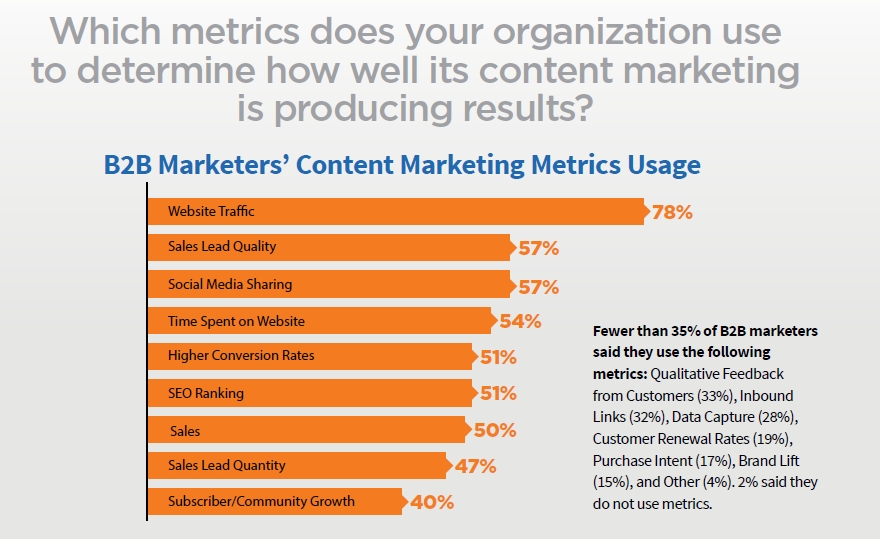 There has long been this debate about what is the hub of your content marketing. Is it rented land like Facebook and others? Or is your website the center hub and social media sites such as Facebook and Twitter are just spokes?
This would indicate that most businesses are relying on their own website traffic to measure their content marketing efforts. Sales lead quality jumps to #2 for metric usage and in a virtual tie is social media sharing.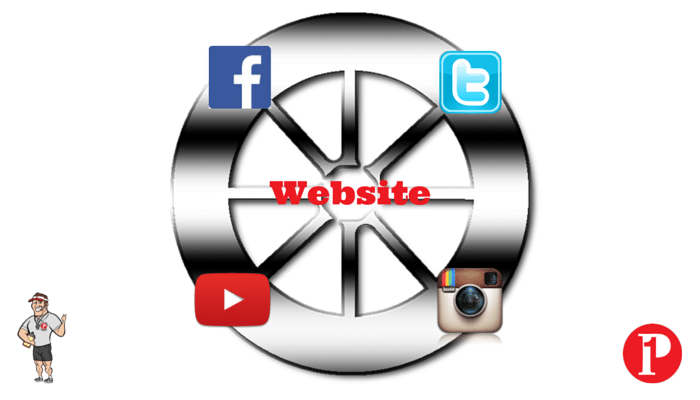 So how are you to be found in a noisy social media world?
Consumption Metrics
Consumption metrics can answer the following types of questions:
Are people consuming my content?
Which channels are they consuming my content on?
What are their content consumption behaviors and preferences?
Let's take a look at what the different consumption metrics are by channel.
SITE & BLOG
For a site or blog, the most important consumption metrics are page views, unique visitors, and average time on page:
Page view analytics tell you how many and which of your content pages your visitors are consuming.
Unique visitor analytics help you get a sense for the overall size of your audience and how much of your traffic is repeat visitors.
Average time on page analytics give you insight into how people are consuming your content. Are they reading or viewing the content thoroughly or are they quickly skimming?
 Each of these statistics is easily available via Google Analytics or a similar web analytics tool.
MEASURABLE RESULTS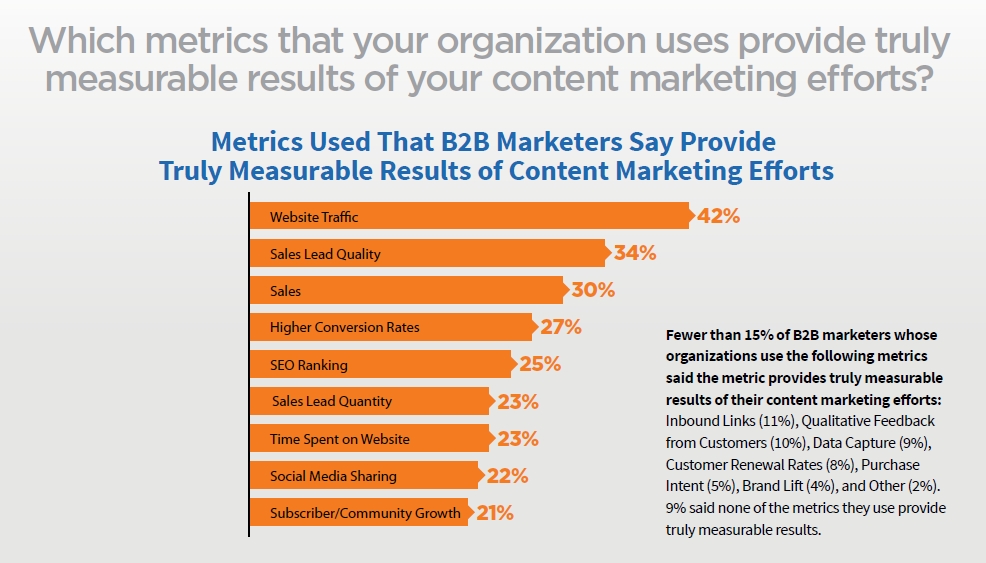 It appears that website traffic is the true measure of results for your content marketing efforts and comes in at #1 which matches up with expectations.
What is a clear disconnect is social sharing. While it ranks #2 in as a metric to track results, B2B companies are saying the truly measurable result for social sharing drops to #8. Ouch!
One of the reasons might be is not enough social sharing going on with their content? Possibly.
SOCIAL MEDIA
Comments and shares
Engagement is important in social media and the best way to measure it is through the comments and the shares on each post.
Likes may still prove that your content was appreciated by your audience, but as they are more common signs of approval, the other two are appreciated more, as they require further actions.
It's not just about clicking on the Like button, as users proceed to additional steps, whether they want to express their opinions over the topic through comments, or share the post to their own feeds.
This is the best type of approval and it shows that your target audience appreciates the content enough to feel the need to be involved in it.
Unfortunately, there isn't a completely accurate way to measure how many people viewed a particular social media post. Some social platforms and third-party management tools provide "reach" or "impression" stats. These attempt to measure how many people your content was potentially exposed to.
But just because a piece of content could have been seen, doesn't necessarily mean it was seen. Things move fast on social media feeds, content shelf life is short, and many posts go unseen by the majority of users.
You can, however, measure how many people clicked a link within a social media post, which serves as a fairly accurate measure of consumption. The easiest way to measure click-throughs is a link-shortening tool with analytics capabilities such as bit.ly. I'm a big fan of bit.ly and have been using it for years.
FINAL THOUGHTS
Set up and implement a dashboard that includes all the marketing metrics you hope to eventually measure. Start by implementing the ones at the top of the funnel (retention, engagement) and work down. Once all metrics are consistently measured, you can create the following changes to content marketing operations:
Incentivize your team. Hold your content marketing team accountable, right down to individual writers, for achieving not only a certain level of content output, but also a certain level of content performance.
Marry goals to social media.  Ensure whomever is doing your social media marketing and content distribution to align that with the companies goals and objectives. Just posting to post is wasting everyone's time.
Diagnose and troubleshoot. Content marketing metrics let you effectively diagnose when things don't go as planned. For example, if your data tells you content is effective at the top of the funnel, but isn't producing high quality sales opportunities at the bottom of the funnel, this may indicate you need better calls-to-action.
Create alignment between divisions. Walls between different functions suddenly crumble if there is a singular focus on one ROI-based content marketing metric—particularly if team members are compensated on it—and teams find new and more effective ways to collaborate.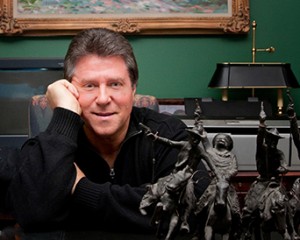 Blair Evan Ball is a Social Media Coach and founder of Prepare1, a company that works with businesses, individuals and non-profits. He is a former executive with a Fortune 50 company, and his national division did $1Billion+ in sales annually.

Blair has written three e-books: Facebook for Business Made Easy, Facebook Pages for Business Made Easy, and WordPress Blog Setup Made Easy.
Blair also educates, trains entrepreneurs and business professionals how to amplify their brand, increase revenues, and raise more funds.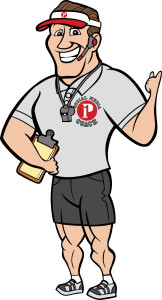 The Race is ON! | PREPARE | Get into the Game and WIN!