How B2B Businesses Choose Social Media Content
by Blair Evan Ball on June 24, 2016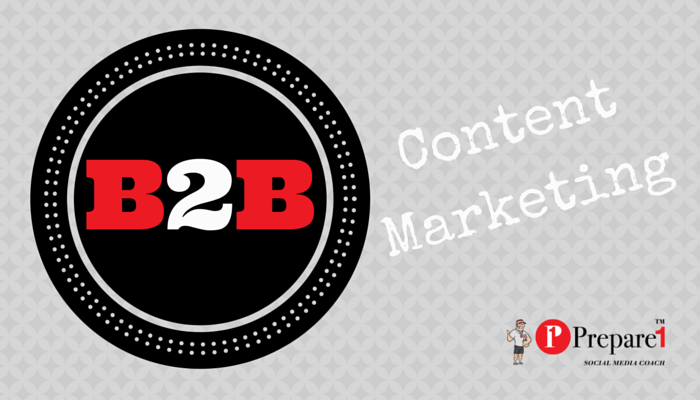 Which content offers does your organization ask its audience to subscribe to?
What are the businesses who say they are effective doing differently from the rest of us?
"What is the single most effective content marketing tactic or strategy for B2B companies and why?"
Content marketing used to be a secret weapon used by the smartest marketers. Now it's the default setting used by just about everybody.
What does this mean for you?
It means you can't just shoot from the hip anymore.
Now you need to take aim and get strategic.
What is the difference between successful B2B content marketers and those that seem to be lost in the wilderness?
Let's take a look at some recent research into B2B Content Marketing. This information will help you determine what Social Media Content is best for your business.
CONTENT CREATION & DISTRIBUTION
87% of respondents extend at least one offer. Even the most effective marketers and those whose content marketing level is sophisticated/mature tend to focus most on eNewsletters and blogs.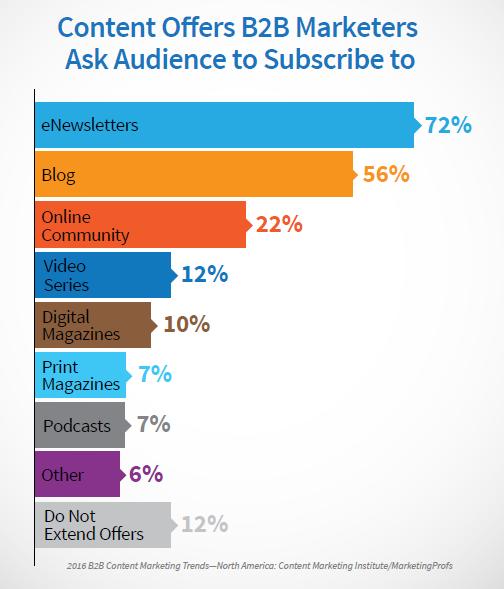 ORGANIZATIONAL GOALS FOR B2B CONTENT MARKETING
How important will each of these content marketing goals be to your organization in the next 12 months?
85% SAY LEAD GENERATION IS THE MOST IMPORTANT GOAL
Lead generation and sales, in that order, are the two most important content marketing goals of most B2B marketers, no matter what their effectiveness level is or whether they have a documented strategy and editorial mission statement.
The exceptions:
• Organizations that are in the first steps of their content marketing program place greater emphasis on sales (85%) than lead gen (78%).
• Enterprise marketers (1,000+ employees) say engagement is their most important goal (82%), followed by sales (81%), and lead gen (79%).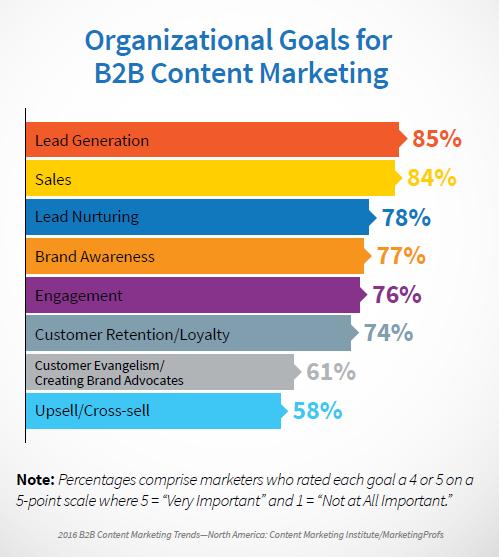 GOALS & METRICS
Capture what the business wants to achieve in the next 6-12 months.
How important are the metrics your organization uses?
Sales lead quality, sales, and higher conversion rates top the list.
Regardless of how effective they are at content marketing, B2B marketers consistently cite sales lead quality, sales, and higher conversion rates as the top 3 most important metrics.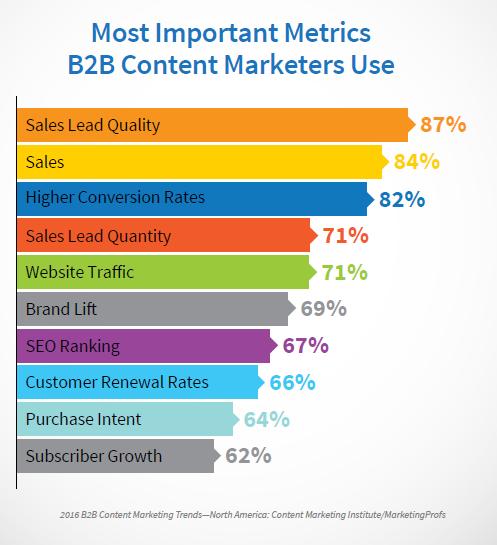 MOST IMPORTANT METRIC B2B CONTENT MARKETERS USE
What is THE MOST important metric your organization uses?
31% SAY SALES LEAD QUALITY
Most B2B marketers say sales lead quality is the most important metric. The exception is micro-size organizations (1-9 employees), which are more focused on sales (32%) than sales lead quality (24%).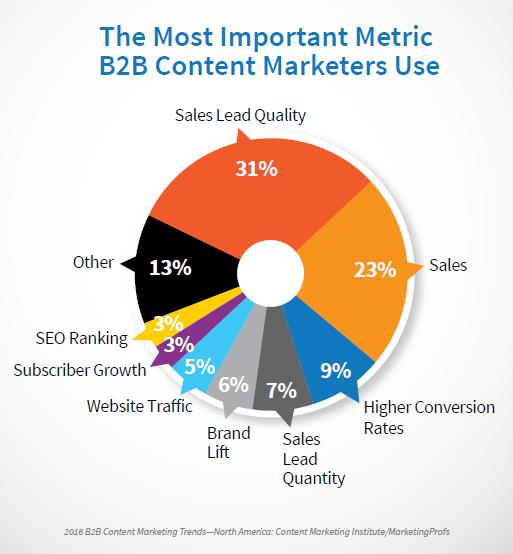 BUDGETS & SPENDING
Approximately what percentage of your organization's total marketing budget (not including staff) is
spent on content marketing?
The average proportion of total marketing budget allocated to content marketing last year was also 28%.
There is a correlation between effectiveness and the amount of budget allocated. The most effective B2B marketers allocate 42%, on average (up from 37% last year), whereas the least effective allocate 15% (down from 16% last year).
B2B marketers whose content marketing maturity level is sophisticated allocate the most (46%).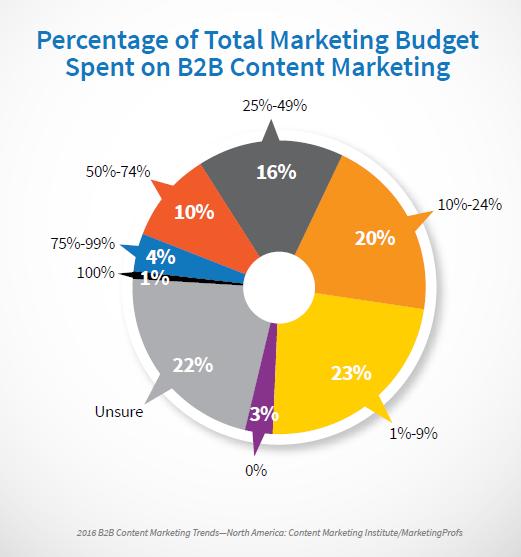 B2B Content Marketing Spending (Over Next 12 Months)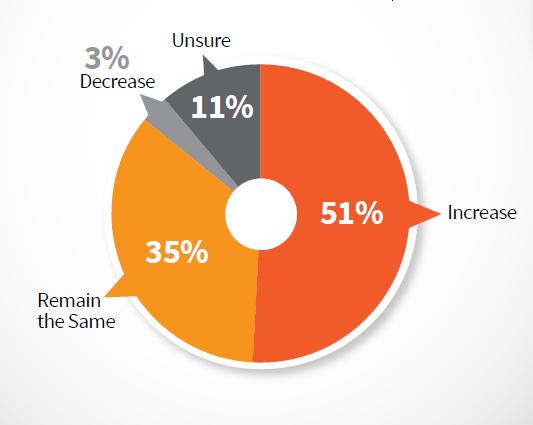 More than half of B2B marketers plan to increase their content marketing budget.
Even 57% of those who are least effective at content marketing plan to increase their budget.
Source: Content Marketing Institute B2B Report
Get better results with faster planning and better execution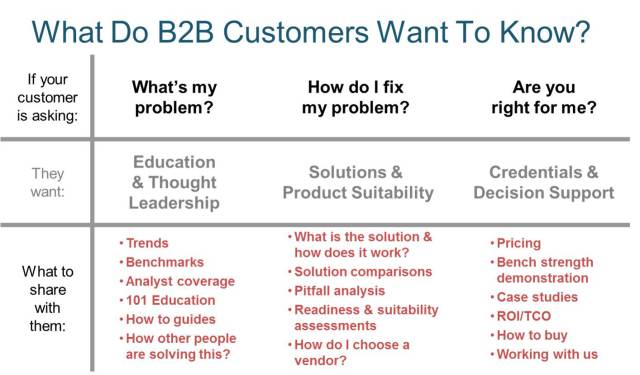 Image: Brainrider
FINAL THOUGHTS
Content is the single most powerful and most versatile tool in the bag of B2B marketing tricks.
Content marketing works because it starts with what your prospects need to know instead of what you need to tell them.
That's why content is the way you succeed in lead nurturing, search, social media, email and outbound marketing. It's what works.
3 Mistakes to Avoid
Content doesn't help sellers gauge purchase progress
Even good content can fail to provide a view into customers' progress along their purchase path, as it's not designed to reveal, through how customers engage with it, where they are on a purchase journey.
The best marketers design content so the timing of customers' engagement with it indicates their location on the purchase path.
2. The content focuses on "thought leadership"
Only content that teaches customers something new about their business and provides a compelling reason to change their behavior proves sufficient to influence the decision process.
3. The content overdoes personalization
In short, personalizing content for each of a group of diverse stakeholders, often with differing priorities, amplifies disconnects rather than overcoming them. Thus, an effective B2B content marketing strategy must anticipate those disconnects and present a broader vision that allows purchasing group members to see their role in a collective solution.
About Blair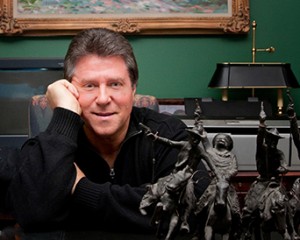 Blair Evan Ball is a Social Media Coach and founder of Prepare1, a company that works with businesses, individuals and non-profits. He is a former executive with a Fortune 50 company, and his national division did $1Billion+ in sales annually.

Blair has written three e-books: Facebook for Business Made Easy, Facebook Pages for Business Made Easy, and WordPress Blog Setup Made Easy.
Blair also educates, trains entrepreneurs and business professionals how to amplify their brand, increase revenues, and raise more funds.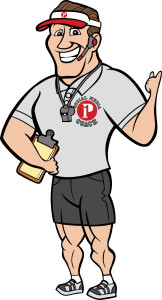 The Race is ON! | PREPARE | Get into the Game and WIN!