7 Successful B2B Content Marketing Tactics
by Blair Evan Ball on June 1, 2017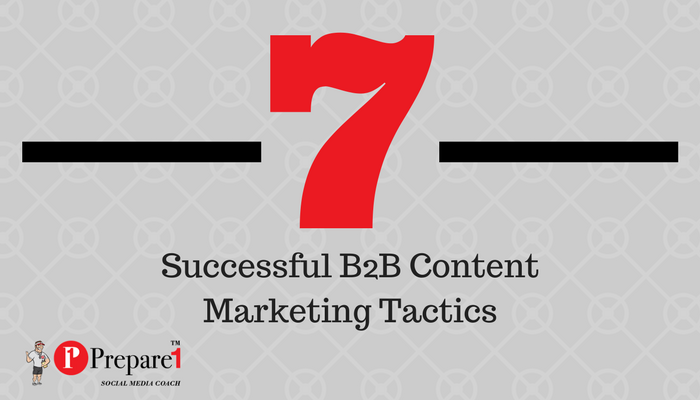 Do you know where the B2B content marketing industry is moving or why?
Which channels does your organization use to distribute content?
How will you adjust your own B2B content marketing strategy for growth?
Without a doubt, content marketing, done correctly, can produce dramatic results for your business.
But, it takes time and focus to become effective at it. 42% of B2B marketers report that they're effective in their content marketing efforts.
If brands can develop an effective strategy for creating content based on proper understanding of their target audience, they'll not only drive leads but will also increase sales.
Unlike other lead generation strategies, content marketing gives to prospects, instead of asking them for something.
With content marketing, you're giving valuable information away before asking people to buy anything. Even when you sell a product through content marketing, your ideal customers will be happy you did, because they feel more valued and understood.
For B2B marketers, content marketing can take time to show real results. But, it's a strong, long-term approach to improving your brand's visibility online.  It also helps you nurture a stronger relationship with your customers.
While you can see quick returns on traditional or native advertising, content marketing will help your business continue to thrive in the future because today's customers will continue to depend on you for great information.
Let's take a look at the most recent study conducted by Content Marketing Institute about B2B Content Marketing.
B2B Marketers' Content Marketing Tool Usage
Which content marketing tools does your organization currently use?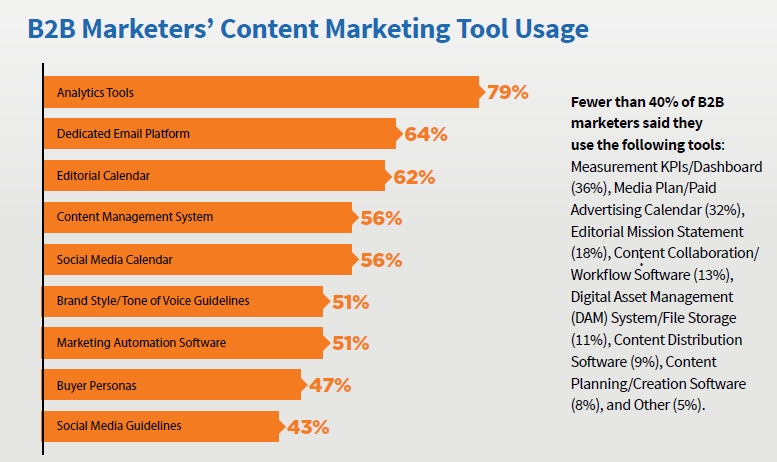 The number one tool is analytics tools. Check out these top 29 web analytic tools for B2B.
Techniques B2B Marketers Use to Learn About Audience(s) for Content Marketing Purposes
Which techniques does your organization use to gain knowledge about its target audience(s)?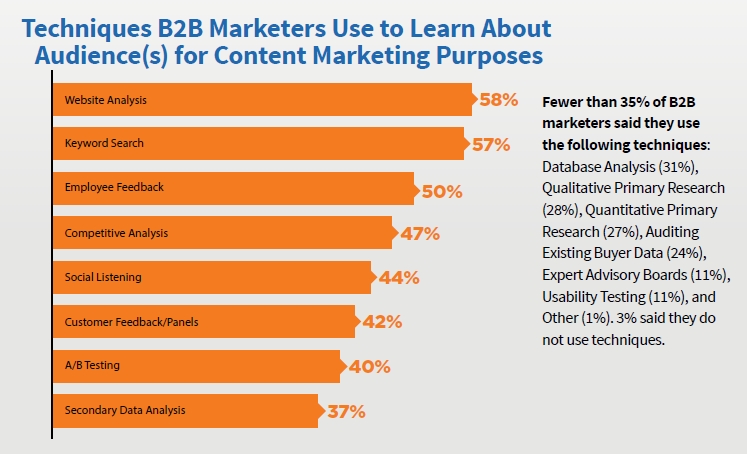 Website analysis and Keyword search were statistically tied for number one. What are you doing about keyword research and then using that in your content marketing strategy?
Keyword research can be overwhelming for businesses. In its most basic form, keyword research will almost always consist of a spreadsheet of hundreds, of words and phrases, or "key phrases."
Mapping keywords to B2B buyer behavior
There will always be a set of keywords that a client wants products, solutions and the organization to be aligned towards.
Mapping keywords to steps in the buyer's journey makes SEO more important in ongoing marketing initiatives and also shows leadership that there are steps in the process for achieving results in the most critical keyword opportunities.
Starting with defining core sets of keyword opportunities, next are two phases of keyword prioritization:
Assessing objectives in search intent on a per-keyword basis.
Confirming applicability based on client-specific sales objectives and procedures.
Keyword-related search objectives need to be defined to understand the type of content marketing assets that resonate best for users and through Google search.
Once marketing has reviewed and agreed upon direction, this information needs to be brought back to sales for perspective and further review and agreement.
Expected Change in B2B Content Creation (2016 vs. 2017)
Compared with 2016, do you expect your organization to produce more, the same amount, or less original content in 2017?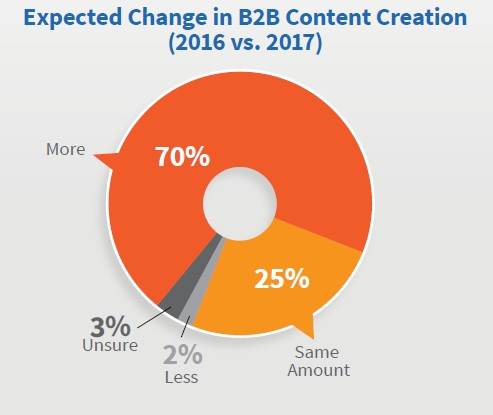 Consumers aren't looking for more content – they're looking for better content. With so much content out there, you need to find ways to stand out.
With over 2 million blog posts published per day, it's easy for your content to get buried. And that's something you seriously want to avoid.
A whopping 70% of marketers are producing more content than they did the previous year. It's good news, but only if your content is more helpful and of higher quality.
To make a difference, you have to create more in-depth and visually-appealing long-form content. This type of content will not only impact your search rankings, but also get shared more.
B2B Marketers' Content Marketing Tactic Usage
Which content marketing tactics does your organization use?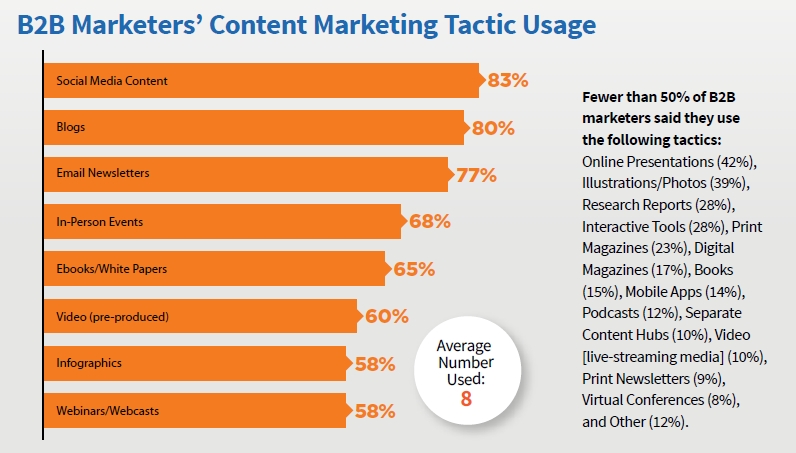 Tactics Used That B2B Marketers Say Will be Most Critical to Content Marketing Success in 2017
Which content marketing tactics that your organization uses will be most critical to its overall content marketing success in 2017?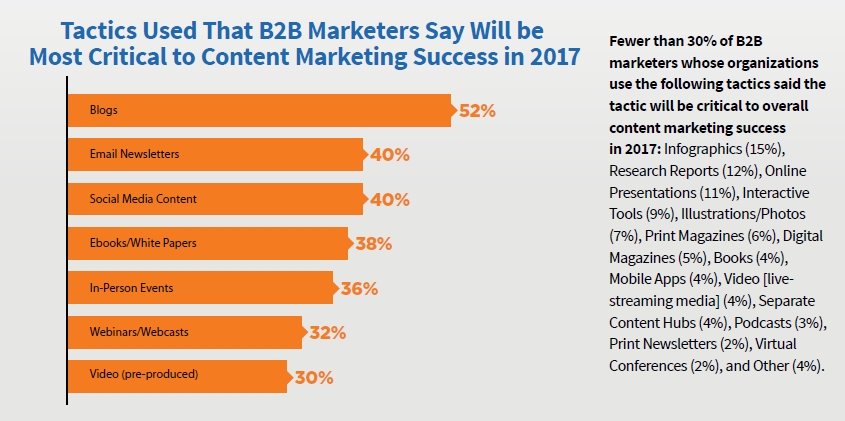 The answer may lie in your B2B blog content. A reported 80% of B2B marketers include blogging in their marketing strategy. Yet, there is still massive room for growth and improvement in the sphere of B2B blogging.
When asked about the future of their marketing efforts, another 52% of B2B marketers admitted that they expect blogging to be their most critical tactic for success in the coming year.
Choose Quality Content Over Quantity
With such a big push toward filling that content calendar, the quality of B2B blogs and other content can quickly go downhill. While it's important to keep that content flowing, you never want to lose sight of the quality of your content.
Don't give them a reason to seek content from your competitors — always strive to give them consistently high-quality content that keeps them coming back for more.
Channels B2B Marketers Use to Distribute Content
Which channels does your organization use to distribute content?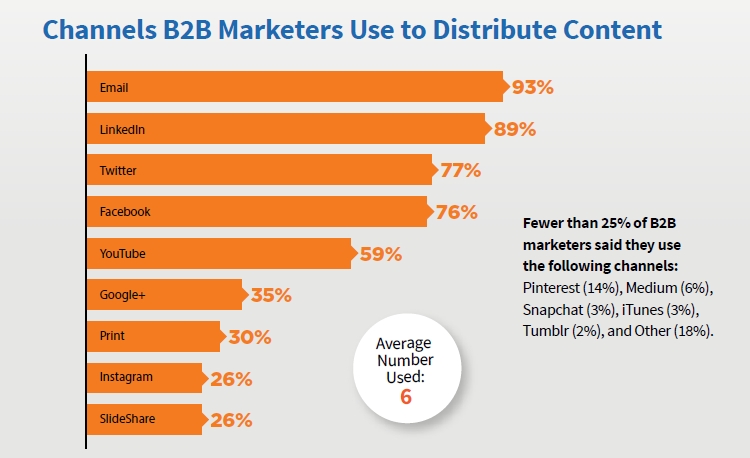 Channels B2B Marketers Use to Distribute Content Rated by Importance to Overall Content Marketing Success
How important is each channel your organization uses to its overall content marketing success?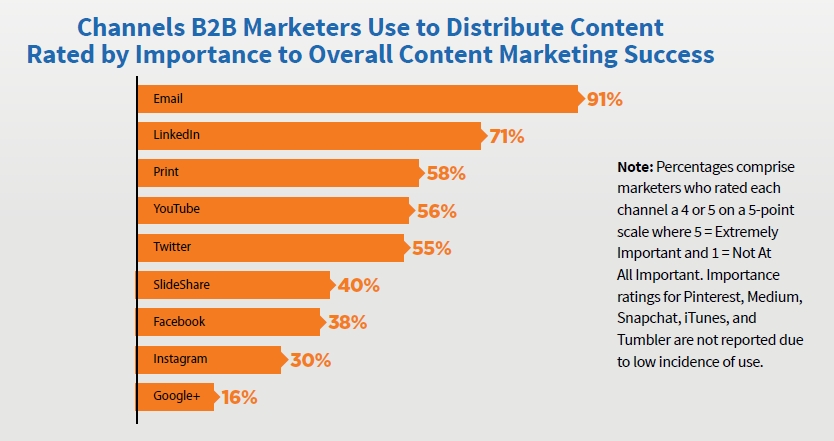 If you're looking to make an impact with B2B email, don't expect to break through with just one punch.
A strong series of messages, with clear calls to action and a sense of urgency, is the best way to connect with prospects.
"Do two or three emails—you need the repetition to break through," says Nancy Harhut, chief creative officer, Wilde Agency.
And in those emails, make the call to action simple and clear. "We're still seeing clients trying to force two or three different calls to action in one email. Sure, you have lots of great content, but don't try to get them to download the whitepaper and view the video in one email. A single call to action is the way to go—multiple calls to action decrease response."
What works in B2B email creative?
Simple straightforward messages with a certain amount of urgency work well, says Harhut. Often, in a series, the third email with a "final notice" tone drives the message home.
FINAL THOUGHTS
B2B Content marketing, and particularly the increasing adoption of visuals, customization and interactivity as ingredients in content, continue to change how prospects and customers receive and consume content. A good content marketer knows this–and knows how important it is to stay on top of trends.
If you want more leads and customers, it's not a question of where to find them. They're everywhere, from social media platforms to just down the street.
Key Points to Remember…
Show a more human, emotional side to your company
Showcase your company's culture and personality
Be more transparent in your pricing, and simplify the buying process for your clients
Don't be afraid to take risks in your marketing plan
The real question is, how do you create the right content with the right tactic that will inspire them to click on your site link, visit your site and subscribe to your list?
This is the ultimate dilemma faced by most people working in content marketing.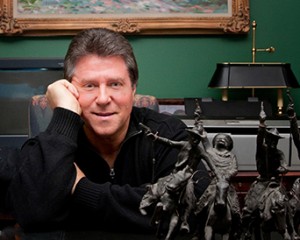 Blair Evan Ball is a Social Media Coach and founder of Prepare1, a company that works with businesses, individuals and non-profits. He is a former executive with a Fortune 50 company, and his national division did $1Billion+ in sales annually.

Blair has written three e-books: Facebook for Business Made Easy, Facebook Pages for Business Made Easy, and WordPress Blog Setup Made Easy.
Blair also educates, trains entrepreneurs and business professionals how to amplify their brand, increase revenues, and raise more funds.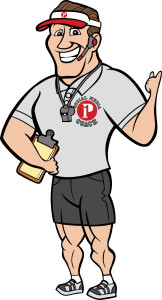 The Race is ON! | PREPARE | Get into the Game and WIN!
{ 0 comments }