5 Tips for a Successful B2B Content Marketing Strategy
by Blair Evan Ball on May 18, 2017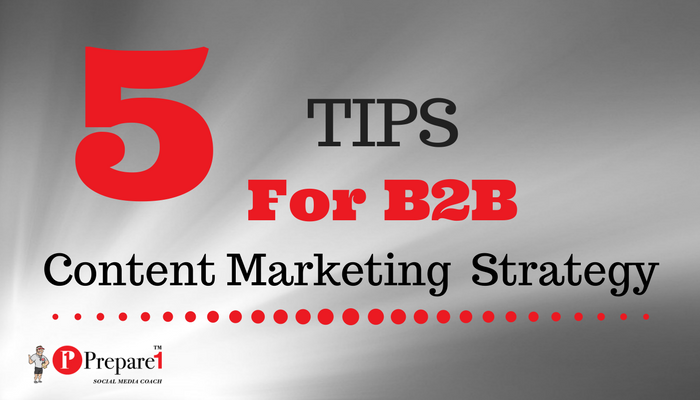 Does your organization have a content marketing strategy?
Would you like to know what other B2B companies are doing?
What elements should I include in a content marketing strategy?
There is an increasing demand for content among marketers, but how can you ensure that your content marketing strategy is effective?
It's impressive that 89% of B2B marketers use content marketing this year, but only 30% of them rate their efforts as effective.
How do you bridge such a big gap then between the planning and the implementation and what makes your content marketing successful?
The problem: Most of us B2B marketers — I'm looking at you — are doing content marketing without a strategy. That's a problem.
The solution: We need strategy to guide our B2B content marketing. Strategy is the solution.
The point: I'm going to tell you how to develop a strategy. It's not hard.
If you're not doing content marketing, you're in an awkward and kind of lonely position.
But it's not good enough to simply be doing content anymore. If that were the case, then everyone would be succeeding at content marketing. Quite obviously, that's not happening.
Here's a few holistic stats when it comes to content marketing:
‌• 60% of marketers create at least one piece of content each day.
• Content marketing costs 62% less than traditional marketing and generates about 3 times as many leads.
‌• 78% of CMOs believe custom content is the future of marketing.
B2B MARKETERS OPINIONS ABOUT CONTENT MARKETING
88% of marketers' believe content marketing is an important component of their organization marketing program.
Yet only 52% of the marketers believe that leadership gives them the ample time to produce high quality content.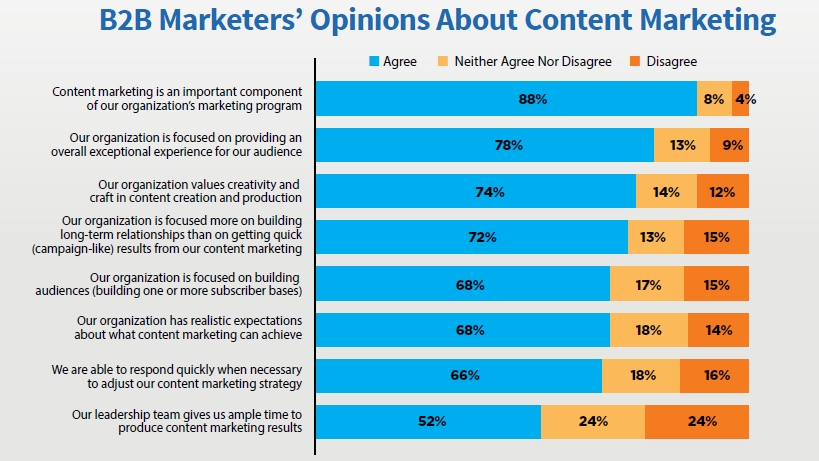 WHAT IS STRATEGY IN B2B CONTENT MARKETING?
"Strategic" is one of those business buzzwords that become part of our everyday business speak. The problem is that we've lost touch with what strategy really is, and what it looks like.
In content marketing, strategy is about going back to the basics while at the same time looking ahead to the ultimate objective of content marketing
We've got a pretty good grasp on the big idea of content marketing. What we need more is a way to pull it all together into a cohesive and focused strategy.
What's in a strategy?
Strategy is about going back to the basics.
Answer the Big Questions
Why do you do what you do?
Who are you?
Who are you reaching?
What are you trying to accomplish?
From these questions, you'll be able to develop a strategy that will get results.
Identify your buyers
A great content marketing strategy starts by taking into consideration its audience, understanding the expectations it has to meet.
It may be a good idea to answer these questions first:
Do you know your target audience?

What do they expect from your content?
How should you interact with them?
How do they interact with each other?
What motivates them for their buying decisions?
Identify topics
It's not always easy to come up with a consistent flow of creative ideas, but an analysis of your target audience, the success of your existing content, or a closer look at your analytics may help for numerous content ideas.
The first tip is to think like your target audience, in order to be able to produce the right content for each stage.
What would your audience like to read?

What topics are useful for each stage of the purchase path?
Does your content answer the right questions?
Are your topics aligned with your company's wider strategy?
You may get many useful answers by asking the right questions and both your co-workers, your audience and many online tools may be extremely helpful.
CREATE CONTENT
What is Content?
In web marketing, "content" simply means a piece of information that's available electronically. As a rule of thumb, good content should be interesting, challenging, entertaining and worthwhile. Otherwise, the producer (writer) has wasted his or her time.
Content creation is concerned with the research and production of different types of content that will attract a definite audience.
On the other hand, content marketing is also about using the best tools out there (like the social networks) to promote your valuable content, in order to attract and retain customers.
Content curation is an integral part of content marketing too, which is why you need a great editorial calendar. Hundreds of thousands of great pieces of content never get seen and read. If you can find those great types of content and make it easily accessible to your target audience, while adding your own unique flavor to it, you'll stand out.
Once you have analysed your audience and have identified the best ideas, it's time to proceed to the actual creation of the content.
A great content is a combination of value, relevance and visual appeal, along with proper formatting and length, depending on the stage of your B2B content marketing strategy, your audience and the expectations.
It is also important to prepare a good mix of content, including..
Blog posts

Videos, including LIVE Video

Infographics

eBooks

Visual quotes

GIFs

White papers

Podcasts

Behind the scenes
Various types of content ensure that your audience maintains its interest in exploring your new content.
In fact, experimentation with new content types may lead to surprisingly good results, which may even make you reconsider your content strategy, adding new creative directions that may turn out to be more effective.
B2B EFFECTIVENESS OF CONTENT MARKETING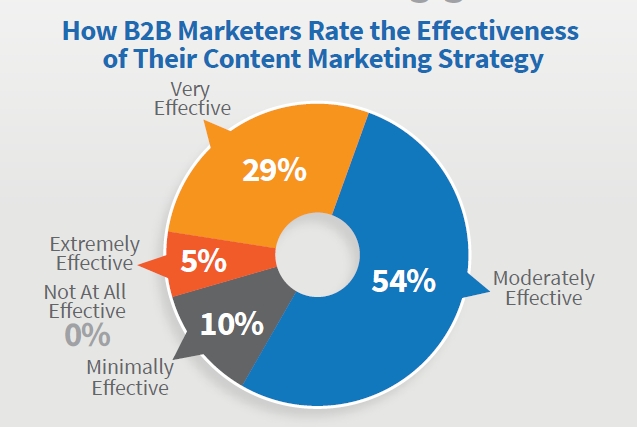 Let's start with some ups as in increases in percentages YOY ( 2016 to 2017.)
70% of B2B marketers say they will produce more content in 2017 than they did in 2016.
39% of B2B marketers say they will increase spending on content marketing over the next 12 months.
62% of B2B marketers say their organization's overall approach to content marketing is somewhat or much more successful compared with one year ago.
37% of B2B marketers reported they have a documented content strategy (a 16% increase over the 32% reported on in the 2016 report).
One of the biggest mistakes I see with businesses are marketers who aren't committed to content marketing. Like many things in life, you can't be "kind of in" and expect good results.
One of the best ways to commit is to write down your strategy – and refer to it often. And, part of your strategy should include how you are going to help your customers in a way that no one else can (this is your content marketing mission).
PRIORITIZING B2B MEASURABLE OBJECTIVES
The first step in building a B2B content marketing strategy is committing to measurable marketing objectives and prioritizing their importance against your business objectives.
B2B marketing plans often include both qualitative and quantitative objectives. Planning against these measurable strategic objectives allow you to report on marketing results instead of just tactical activities.
Comparison of tactical activities vs measurable results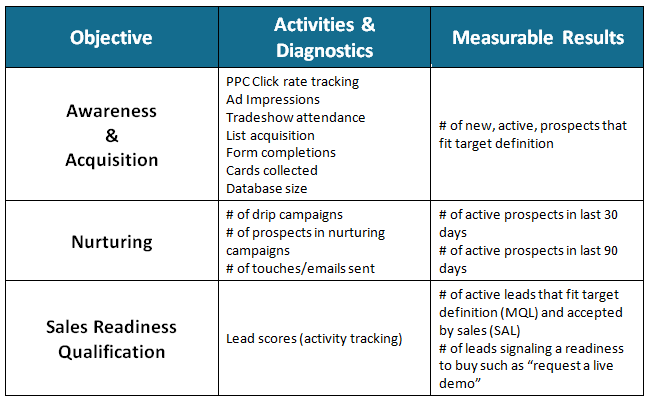 Because content marketing is resource-intensive, you must prioritize your resource allocation to achieve better results. For example, if you are attracting and opting in lots of active prospects than you priority should be:
Qualifying their sales readiness.
Nurturing their engagement with your subject matter expertise.
Attracting and acquiring new prospects.
If you have the opposite priority of attracting more leads, then your investment priorities will be reversed. Either way, it is crucial to prioritize your marketing objectives. Otherwise, your campaign will be trying to accomplish too many things at once without focusing on your objectives.
Conclusion
Preparing your B2B marketing strategy is about optimizing time and time again.
Furthermore, when your business grows your needs are going to change. Any strategy you come up with should have the capacity for scaling. Effective scaling will ensure that you can continue to increase revenues while meeting the needs of your target market.
Strategy. It's elusive. It's mysterious. And it's all but disappeared from many B2B content marketing initiatives.
It's time to bring strategy back.
Content marketing is all about strategy and trends. Strategy can go beyond the three basic questions. The best content strategies that I've seen are those that are innovative, different, and evolving with a shifting audience.
At the very least, I challenge you to create and define a strategy. The current state of content marketing is such that you're not going to succeed by just doing it. You're only going to succeed by strategizing.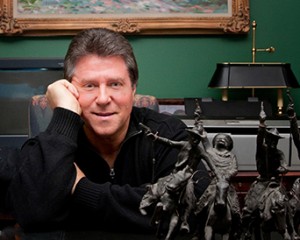 Blair Evan Ball is a Social Media Coach and founder of Prepare1, a company that works with businesses, individuals and non-profits. He is a former executive with a Fortune 50 company, and his national division did $1Billion+ in sales annually.

Blair has written three e-books: Facebook for Business Made Easy, Facebook Pages for Business Made Easy, and WordPress Blog Setup Made Easy.
Blair also educates, trains entrepreneurs and business professionals how to amplify their brand, increase revenues, and raise more funds.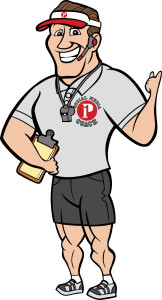 The Race is ON! | PREPARE | Get into the Game and WIN!