How to Maximize Your Time in Social Media
by Blair Evan Ball on June 7, 2013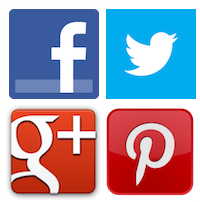 Social Media Marketing is not totally free. It takes time devoted by you or someone on your staff which does cost money. However, like anything else in business, you need to have a goal, a strategy, be committed, and be flexible because these platforms are changing all the time. What does your Social Media Footprint say about you?
62% of marketers are using social media for 6 hours or more weekly.
36% for 11 or more hours weekly.
17% of marketers spend more than 20 hours each week on social media.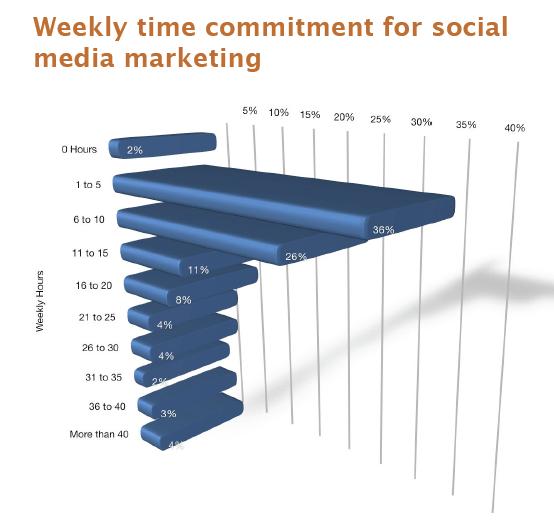 This is an INCREASE over 2012, when 59% reported 6 or more hours a week and 33% reported 11 or more hours weekly. It's interesting to note that nearly 17% of marketers spend more than 20 hours each week on social media.
How the time commitment varies with business size

Develop a Daily Regimen
Decide how much time I'm going to devote daily to Social Media Marketing.
Most businesses post in the morning and the afternoon. Find out what time works best for you. Experiment with these times and monitor the results.
Your daily regimen is to check the messages for sentiment and get back to people.  Simply put this means: thanking them for positive comments and taking actions to address the negative comments.
Social media is full of interesting information waiting to be shared.  There is content that is created by you but most is really created by others.  Sharing content from others can help you create visibility and position you as a valuable resource for your network.
Continue to gather content from blogs, RSS feeds, comment and share from other Social Media Platforms. You want to engage.
Age Factor
There's a direct relationship between the marketer's age and time spent marketing with social media. The younger the marketer, the more time he or she spends on social media. Remember when we first got the Internet in business? Then email came along and we learned to adapt this technology and incorporate it into our daily work flow.
Social Media is no different in the sense that we have to adapt it to our daily work routine, the younger group grew up in the Internet age. Children less than 10 are growing up in a totally different technology era than the millennial's.  However, one thing is certain, no matter what our age, we are all impacted by the Internet, and Social Media Marketing. Remember all the Social Media Platforms are less than 10 years old. It's our choice to embrace it or ignore it at our peril. The longer we are on the sidelines and not in the Social Media Game, the harder it will be to catch up and win against our Competition.
Notice the green and blue segments taking up a significant portion of the bar in the higher weekly hours below.
Of those spending more than 40 hours per week doing social media marketing, 63% are under the age of 40. However, be sure that your Social Media Marketing efforts are tied to your business goals and objectives. Too much Social and not enough business will end in frustration.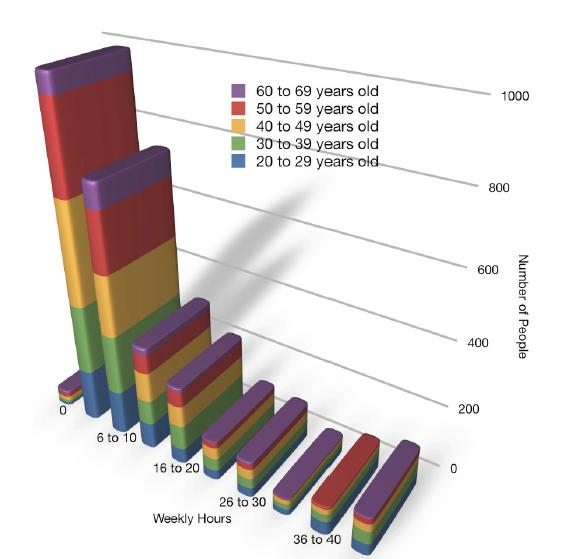 Phases of Social Media Time Management
Important – Urgent | Items that need to be dealt with immediately. Customer responded negatively on one of your Social Media Platforms. Potential customer has a question, or a problem that needs to be solved that they are asking about.

Important – Not Urgent |Items that are important but do not require your immediate attention, and need to be planned for. Set up weekly scheduled post's on your various Social Media Platforms.
Urgent – Not Important | Items which should be minimized or eliminated. Reading what someone posted on your site about what they had for dinner.

Not Urgent – Not Important | Items that don't have to be done anytime soon, perhaps add little to no value and also should be minimized or eliminated.  These are often trivial time wasters, such as playing games on Social Media like Farmville, etc.
Charts and figures | Source: 2013 Marketing Report Social Media Examiner
Now's the right time to ramp up your Social Media Marketing efforts. Prepare1 can guide you through the Social Media Maze. So let's get you off the bench and into the game!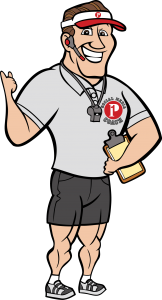 Join us for one of our upcoming Social Media Marketing Workshops. Learn first hand, how to succeed in business and life using these tools.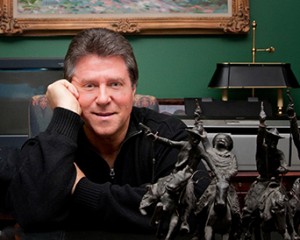 Blair Evan Ball
   Founder/CEO Prepare1