6 Seconds to Make Your First Impression on LinkedIn
by Blair Evan Ball on May 28, 2014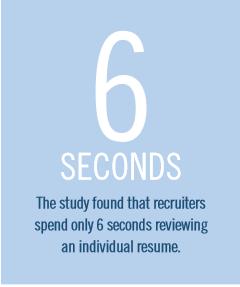 How does your LinkedIn profile stand out?
What are you doing to gain more views now that LinkedIn is ranking you against your peers?
TheLadders a recruitment and resume writing firm conducted a study tracking the eye movements of recruiters when looking at resumes (online and off) and LinkedIn profiles. Besides revealing that recruiters only look at resumes for about six seconds, the study also points out the most important areas job seekers should focus on.
PHOTO #1
Your photo gets more attention than more vital career information. In the 21st century, it's no different. How you look, are your professional, are you dressed appropriately, how's the lighting, the background. All are being judged by others including recruiters. No 2nd chance to make a good first impression.  In fact, according to the study the recruiters spent almost 20% of their time looking at your profile photo! Here are some Photo Tips.
ORGANIZATION
Recruiters rated resumes with a clear organization (e.g., even formatting and prominent section headings) about 60 percent higher than others.
Recruiters tend to follow a consistent visual path when reviewing both resumes and online profiles, so an organized layout is crucial. According to the study professionally written resumes have a clear visual hierarchy and present relevant information where recruiters expect it, these documents quickly guide recruiters to a yes/no decision.
In fact, the study found that, using a Likert-like scale** ranking of 1 to 7, recruiters gave professionally re-written resumes an average rating of 6.2 for "usability ."
Your online resume gets the same amount of minimal attention as your paper one.
I would agree that organization is important, however TheLadders business is to do professional resumes which makes one skeptical about the Likert scale of ranking for professional resumes. I've seen some excellent resumes that were not professionally done. I've also seen some that are professionally done and on LinkedIn get virtually no response.
6 SECONDS
I'm not so sure how they came up with the 6 seconds, however we do make judgments pretty quickly.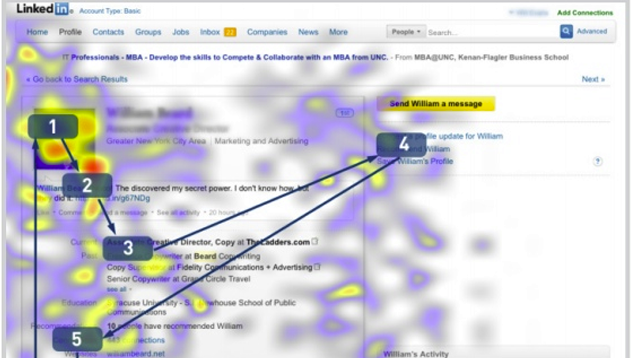 The study's "gaze tracking" technology showed that recruiters spent almost 80% of their resume review time on the following data points:
Name/photo
Current title/Company
Previous title/Company
Previous start and end dates
Current position start and end dates
Education
After these six data points, recruiters did little more than scan for keywords to match the open position, which amounted to a very cursory "pattern matching" activity.
SUMMARY
I agree that your photo is #1, and if it's not professionally done, your chances go way down. I also agree that people scan more today, so organization and flow are important components. Not so sure about the eye scan 6 seconds to make a decision.
What I also find interesting is endorsements are not mentioned. Is this study bias towards TheLadders and their services as to the results? Endorsements are a way of validating your skills and expertise. Is it probably overused…yes. However, that should not detract from the numbers of people who have given you a thumbs up for the skills and expertise you've worked so hard to acquire and brand.
What's your take on the survey?
Resource: TheLadders Survey
The race is on, and you are in it.
GET IN THE GAME
Join us for one of our upcoming Social Media Marketing Workshops. Learn first hand, how to succeed in business and life using these tools.
We are working on some new exciting workshops for 2014.
Let us know if you have some compelling needs that need to be solved.
Contact us if you need coaching, SEO or putting together a Social Media Strategy or policy for you or your business.
SEO on a Consulting only Basis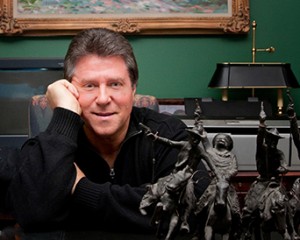 Blair Evan Ball – Founder/CEO Prepare1