Will Google+ Collections Be The New Pinterest
by Blair Evan Ball on May 15, 2015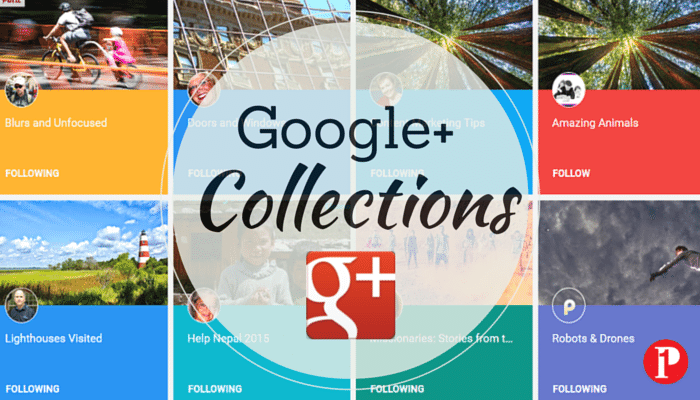 What is Google+ Collections?
How will this impact my brand?
What do I need to know?
Google+ recently unveiled a new feature, called Collections, that allows users to start categorizing their posts, photos and videos by topic.
This new feature is Google's version of Pinterest Boards
Brands and publishers will now have the ability to create topic-based feeds for users to follow
Collections differ from Pages or Communities, in that you are the only person modifying the content, and the posts will appear in your profile stream for followers.
*This feature is currently available for Android and the Web only, with iOS to follow later, according to Google.
Every collection is a focused set of posts on a particular topic, providing an easy way for you to organize all the things you're into. Each collection can be shared publicly, privately, or with a custom set of people. Once you create your first collection, your profile will display a new tab where other people can find and follow your collections.
Posts in collections you follow will appear in your Home stream, with a link to easily jump right into the collection so you can get to similar content from that author. Collections give you a great way to find more of the stuff you love from the people you follow.

For inspiration on interesting topics, check out the Featured Collections page here:g.co/collections
Create your collections today and share what you love.
Ready to check out Google+'s new Collections feature? Here's how to start your own, and a few tips to help you understand how they work.
FIND GOOGLE+ COLLECTIONS
Where to find Collections?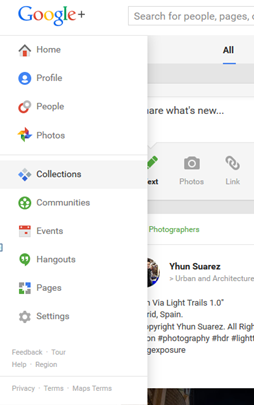 You will see the Collections icon on the side bar on Google+ for your Profile or Pages.
Just click to bring up the overview page for Collections.
You can then enter a Collection to see that content.
On other people's profiles you will see it as a tab.
CREATE A GOOGLE+ COLLECTION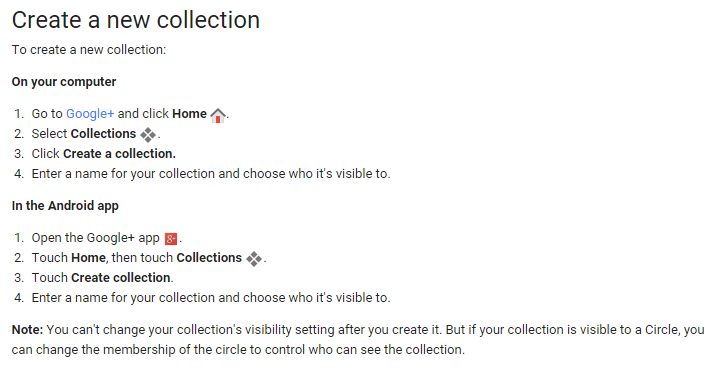 Any Profile or  Page on Google+ can create a Collection.
Simply click on the collections icon on the side bar, or on the selections tab on your profile.
Then click the + sign:
How does following a Collection work?
People who are already following you will be following your public Collections by default.
NAMING YOUR GOOGLE+ COLLECTION
You can NAME them just about anything your want.
The title can be 50 characters in length.
Can have 50 collections
Can either be Public, Your Circles or Private (only you)
Can you switch a Collection from private to public?
No, once you decide on the setting it is fixed.
How will people share content into a Collection?
Option 1
You can create a post and send it into the collection:
Simply choose the name of the collection and click!
Option 2
On an 'already shared post', there is a small arrow on the post box that will bring up the menu – simply select the Collection in one click and you are away. However, you won't be able to add a comment to it, but you can edit it.
Collections content will show up in the stream!
Do Collections get indexed by Google Search?
Yes, just in the same way as individual Google+ posts are indexed, a whole Collection will be indexed too.
NORMAL POST SHARING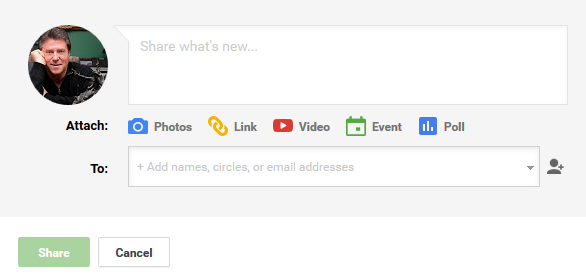 You can easily share to your Google+ collections just as you would a normal post on Google+. You can use the post box found in your streams, the '+' box found next to your profile picture in the top right corner of Google+ or by resharing someone else's post.
It works exactly the same as normal Google+ posting. All you need to do is start typing the name of your Collection into the To: field just as you would if you were sharing it to circles or to a Google+ Community.
Your Collection name will pop up and you can select it from the drop-down list. You'll recognize that the items on the list are a Collection when the have the collections icon next to them.
CUSTOMIZING GOOGLE+ COLLECTIONS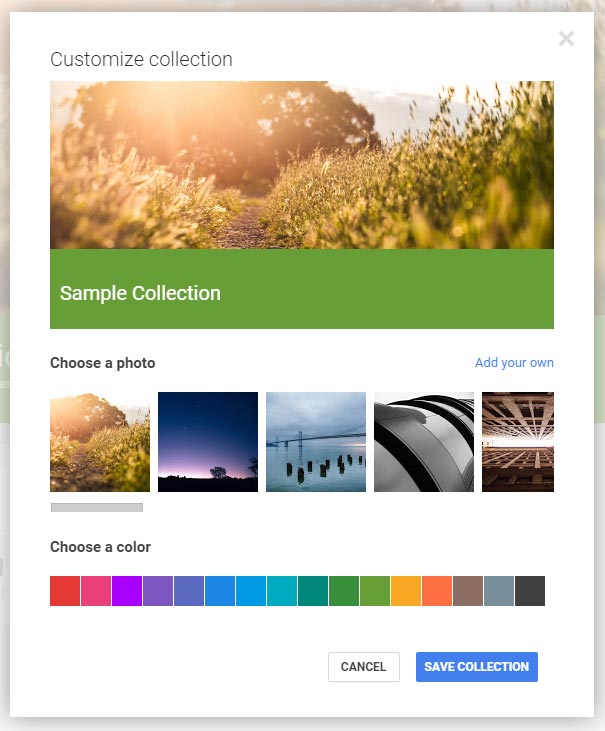 When viewing your collection you can see a Customize option on the bottom right of the cover photo. You can choose one of the photos Google has provided from the scrolling list or you can Add your own photo as the cover. This allows for branding you and your business with the right style and color.
Click on Customize option on bottom right of cover photo
Click that link and you are presented with a customization box
If you choose to add your own cover photo the photo size should be 1080px wide by 607px tall.
Be aware that the top and bottom of that image will be cropped out.
124px on top
123px on the bottom of the image will remain hidden until a user clicks on the cover to reveal the entire thing.
Don't you love keeping up with all these dimensions of photos on Social Media?
DELETE A COLLECTION
You can delete, however you cannot undo the deletion. ALL POSTS are DELETED!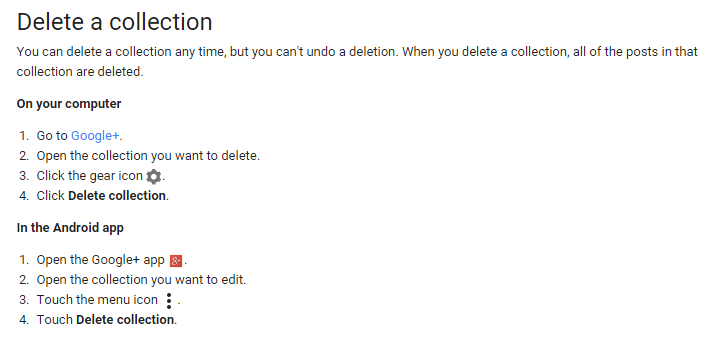 Business Collections
What will this mean from a Business perspective?
This is a great opportunity to focus attention on your brand and to build authority in your chosen field. Google may promote great Collections, thereby increasing the follower count and potential reach of your content.
Notice the 'Featured' tab on your collections Page. There may well be a 'Suggested List' of collections that will appear there. This gives you another opportunity to display your passion and niches. Time will tell whether Google will decide to give your content a boost, its worth experimenting!
TIPS
Now that you have a collection of your own, here are five tips for using this new feature:
Choosing a specific circle of people you can edit later. Since you cannot change the visibility setting for a collection.
If you have several posts you want to move to a collection, do them all at once so Google groups them and prevents you from spamming your followers.
You can share an entire collection by visiting that collection's page and copying the URL, or by clicking the share button (arrow) to post it on your stream.
Since you are automatically following the collections of people in your circles. Head to the Collections area on Google+ to manage which collections you follow.
Previous posts can be moved into new collections you have created by clicking the arrow to the right of the share icon. Only public posts can be moved to public collections.
What other tips do you have for Google+ Collections?
About Blair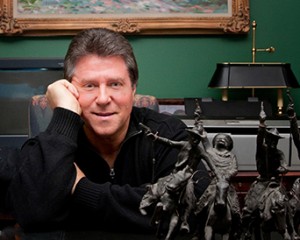 Blair Evan Ball is a Social Media Coach and founder of Prepare1, a company that works with businesses, individuals and non-profits. He is a former executive with a Fortune 50 company, and his national division did $1Billion+ in sales annually.

Blair has written three e-books: Facebook for Business Made Easy, Facebook Pages for Business Made Easy, and WordPress Blog Setup Made Easy.
Blair also educates, trains entrepreneurs and business professionals how to amplify their brand, increase revenues, and raise more funds.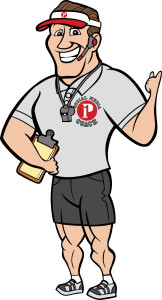 The Race is ON! | PREPARE | Get into the Game and WIN!