Facebook Turns 10… What's the Future?
by Blair Evan Ball on February 7, 2014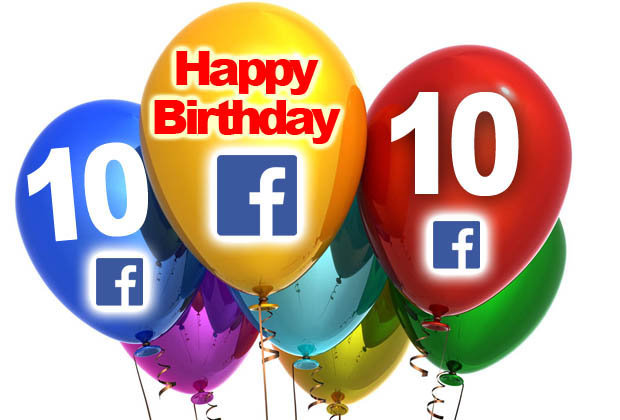 Did you realize that Facebook turned 10 on Feb. 4th?
How did Facebook get started?
Facebook was founded on February 4, 2004 by Mark Zuckerberg with his college roommates and fellow Harvard University students Eduardo Saverin, Andrew McCollum, Dustin Moskovitz and Chris Hughes. The founders had initially limited the website's membership to Harvard students, but later expanded it to colleges in the Boston area, the Ivy League, and Stanford University. It gradually added support for students at various other universities before it opened to high-school students, and eventually to anyone aged 13 and over. Facebook now allows anyone who claims to be at least 13 years old to become a registered user of the website.
In late 2007, Facebook had 100,000 business pages (pages which allowed companies to promote themselves and attract customers). These started as group pages, but a new concept called company pages was planned.
As of January 2014, Facebook had 1.23 Billion Users from around the world.
Facebook went public on May 18th, 2012.
What does the future hold for Facebook?
Let's take a look into the future to see where they might go.
PRIVACY
Privacy has long dogged Facebook. Facebook has made privacy changes that befuddle users worried about broadcasting too widely. Facebook has turned some people into advertisements for products based on their "likes," a move that can turn friends into unknowing product shills.
Mark Zuckerberg has not been a big fan of privacy, and have had several pushbacks from advocacy groups about using customer data to sell to brands. One of the little known secrets is a privacy setting already allowing them to do so, but you must uncheck the box.
TIP – Go into your personal profile, click the little gear at top right, choose setting, then choose Apps on left column, scroll down and look for Instant Personalization. Uncheck the box if you do not want them to share your personal information. When FB first started there were 4-5 companies, now it is up to 16 companies.
Future – Expect less privacy, especially with the new Graph Search feature.
MOBILE
Four out of five of its monthly users access the service on a smartphone or tablet. They now have a camera app, and free text messaging right inside the app. Eventually the West will taper off in growth, enter the Asian market for future potential, but harder to break into.
More mobile phones to become preloaded with Facebook.
Future – Expect more ADS and more apps around mobile.
ADS
That comes as traditional spending on ad budgets is coming into question as brands and agencies ramp up discussions about the merits of social advertisements. "It's easier in social and digital to attract ROI in a lot of ways just because more data is there," says DJ Saul, chief marketing officer at iStrategyLabs, a marketing firm.
Future – Expect to pay more as Brands to reach your audience. Facebook's new change to their algorithm has severely hampered organic reach for brands. As Mark Zuckerberg said in a recent press release, basically pay to play for brand reach. Ouch.
SOCIAL TV
Twitter has its aim on TV-like video advertising that would compete for television ad budgets and Facebook's own video advertising tests, aligning the two for future skirmishes over social television.
Future – Facebook's "second-screen play – Going directly after TV ads with video ads."
MEDIA MOGUL – NEWS
While Facebook has firmly established real identity-based sharing, its next chapter will be about personalization. The company has launched an effort called Creative Labs to pump out new apps as it moves forward.
Media distribution powerhouse could be the next big area. Zuckerberg made those ambition clear with the unveiling last week of a new app called Paper, focused on photo news sharing and lengthy story updates from people in a magazine-like format.
Future – Expect more NEWS
PAPER
If you want to get a glimpse of Facebook's future, download Paper, the social network's new mobile news reader.
The app for the iPhone is part of what Facebook says is its big push to deliver "the best personalized newspaper in the world."
Future- Expect more design changes around PAPER to compete with the likes of Flipboard. News Magazine style.
SUMMARY
Facebook has also made no secret of ambitions to connect the world. But mobile social apps with giant audiences are already all over the world, posing growth challenges. In Japan messaging giant Line commands over 300 million users. In China, where U.S. Internet companies struggle to enter, messaging giant WeChat has more than 500 million users. YouTube has surpassed 1 Billion users, and so has Google+. Google has integrated into all it's platform Google+ the fastest growing social media platform ever. Google controls search, let the battles continue.
*Photo Credit Daily Star UK
The race is on, and you are in it.
GET IN THE GAME
Join us for one of our upcoming Social Media Marketing Workshops. Learn first hand, how to succeed in business and life using these tools.
We are working on some new exciting workshops for 2014.  Social Media Marketing for Realtors.
Let us know if you have some compelling needs that need to be solved.
Contact us if you need coaching, SEO or putting together a Social Media Strategy or policy for you or your business.
  SEO on a Consulting only Basis
  Founder/CEO Prepare1