Facebook Manipulates Users Emotions With News Feed Experiment
by Blair Evan Ball on July 1, 2014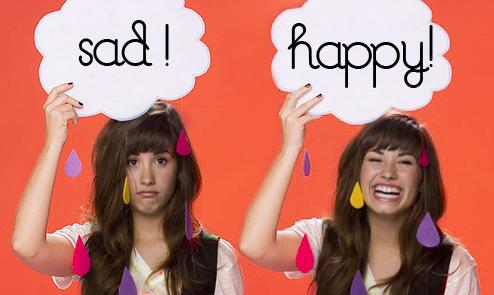 Have you heard about Facebook's experiment on it's users?
Did you realize that they have been manipulating your emotions?
All without the knowledge of the users!
Right now, what are you feeling?
Manipulation
Website's and apps manipulate the look,  feel, buttons, and widgets all the time.  Trying different calls to action to get us the consumer to take some action. So from a users point of view we expect this from time to time.
On Facebook, though, we expect to see our friends' lives – the good and the bad in equal measure. Showing only positive posts or negative posts just to see what will happen oversteps a line of what many of us are comfortable with. Still, affecting users' emotions over the space of a week feels different.
Facebook's Edge Rank to Now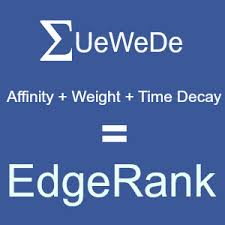 Facebook continues to tweak their algorithm that measures certain data of which Facebook controls.
The company advanced from in the beginning "turning knobs" to EdgeRank, the algorithm that
Determined which of the thousands of stories (or "edges" as Facebook called them) qualified to show up in a user's News Feed.
Ranked them for display purposes. EdgeRank had three primary pieces:
Affinity —How close is the relationship between the user and the content/source?
Weight — What type of action was taken on the content?
Decay — How recent/current is the content?
EdgeRank made it possible for Facebook to give users a more personalized NewsFeed.
Have you ever had a situation where your friends or customers were showing up in your NewsFeed on a regular basis only to go away? Sometimes you lose news on what's going on with them and cannot respond since you weren't in the know.
Sometimes its important news, but we are not the ones in control.
With Facebook passing 1 Billion users, it's expanded the criteria to filter the News Feed. So much so, in fact that business pages have seen their organic reach down to around 2%. So if you had 1000 likes, only around 20 of those fans would see what you post. Pay to Play is here, so paying to have people who liked your page see less is rather an interesting tactic. How does works for ADS now?
Are you algorithm-savvy?
All the Social Media Platforms have algorithms. Google has an algorithm for search based upon keywords and location. Foursquare a popular app for Geo location based businesses serves up what's around you such as restaurants, retail outlets, etc. If the business owner is savvy enough to offer a discount, it will show up on the app.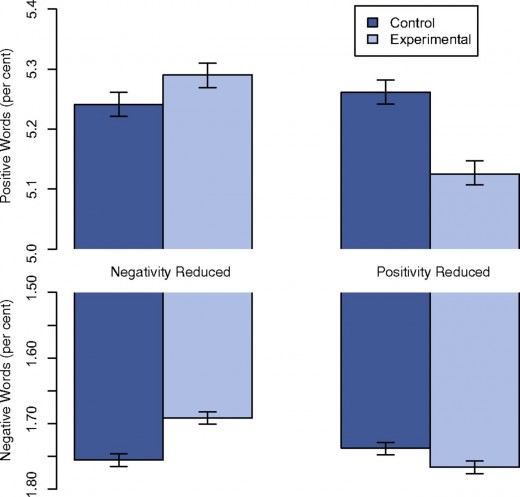 What the Facebook experiment shows us is that algorithms can be tweaked to affect us in ways that are against our interests. Feeling low because you only see negative status updates isn't very nice but I'm sure those who would like to manipulate us in other ways are very interested in this research.
The politician who wants to get people to vote a certain way.
Advertisers who might want us to feel a certain way.
The activist who wants to sway people to his or her cause by exposing them to more of certain opinions.
Being algorithm-savvy amounts to little more than knowing that any app or website could be trying to manipulate you in undesirable ways through what it selects to show you versus what you expect it to show you, but at least that's a start.
SUMMARY
Facebook believes that this study is one of the first of its kind to show these kind of results, and certainly one of the largest-scale to date, but users may well be upset to hear about it.
Facebook points out that it didn't breach its terms – users give permission for experiments, among other things, when they sign up — but testing theories on people without any warning could be seen as an abuse of the social network's popularity and position.
What's your take using the psychology experiment on it's users?
About Blair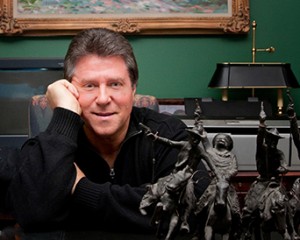 Blair Evan Ball is a Social Media Coach and founder of Prepare1, a company that works with businesses, individuals and non-profits. He is a former executive with a Fortune 50 company, and his national division did $1Billion in sales annually.

Blair has written three e-books: Facebook for Business Made Easy, Facebook Pages for Business Made Easy, and WordPress Blog Setup Made Easy.
Blair also educates, trains entrepreneurs and business professionals how to amplify their brand, increase revenues, and raise more funds.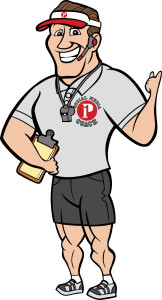 The Race is ON! – Get into the Game and WIN!