Commonly Used Content in Social Media Marketing
by Blair Evan Ball on July 23, 2014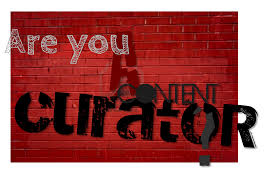 Have you thought about your content for Social Media Marketing?
Have you given consideration to a strategy that is effective? If so, do you know what that strategy is?
What's your biggest challenge in producing content?
Content marketing has proven to be essential in today's marketing world. Yet many marketers struggle to understand it or use it.
Creating content – its planning, development, production and measurement – can feel like a treacherous journey into unknown territory. And it's true; content marketing is more reminiscent of the publishing world than the advertising world.
Your customer's journey has changed. The rapid evolution of social and digital technologies has made information abundant, and your customers are turning to these channels first.
COMMONLY USED CONTENT
According to a recent study, the overwhelming majority of marketers:
(94%) use original written content as part of their marketing efforts.
Curation of other people's content is also popular (73%) among marketers.
B2C marketers are more likely to use original videos (63% B2C vs. 56% B2B) and original visual assets (63% B2C vs. 56% B2B).
B2B marketers were more likely to use curated content (78% B2B vs. 69% B2C).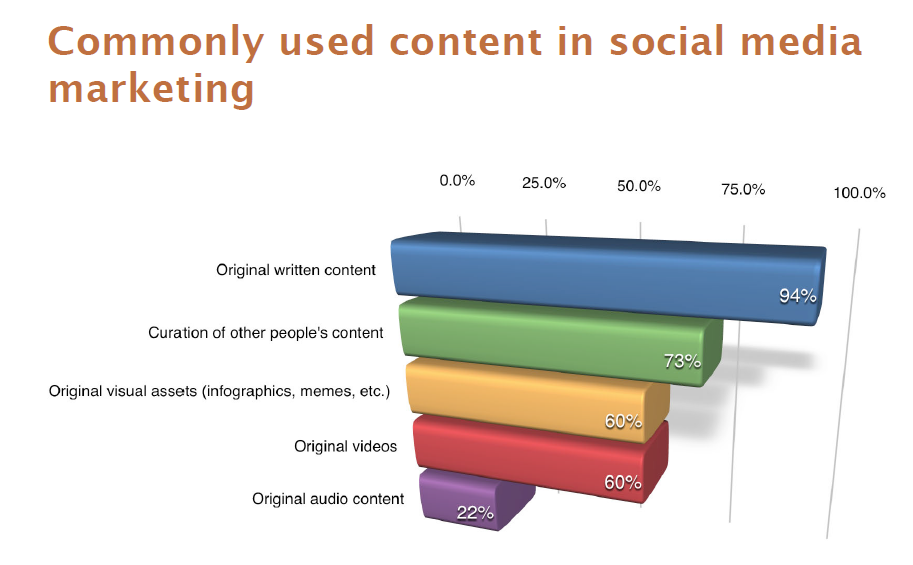 BIGGEST CHALLENGES
In today's informational world we have an over abundance of content. Yet, the challenge becomes where to get the content, and what content works best for my targeted audience.
A documented strategy makes a difference, as 84 percent of marketers who say they are ineffective at content marketing said they have no documented strategy.
The great thing about content marketing is that it works. The bad thing about content marketing is that almost everyone else has figured that out, and now, there is a deluge of worthless content on the internet.
Jumping on the bandwagon and creating content for the sake of it isn't going to cut it.
So it's no surprise that the number-one challenge enterprise marketers face is producing content that is…
Compelling
Engaging
Breaks through the clutter
When you create a piece of content, ask yourself, "Would my audience want to pay for, share, or give up their contact information for this?" If the answer is yes to one or more of those three factors, then you might have yourself a valuable piece of content.
MOST IMPORTANT CONTENT
Recent study shows of Social Media Marketers:
(58%) selected original written content as their most important content
Original visual assets (19%)
Original Videos at (12%).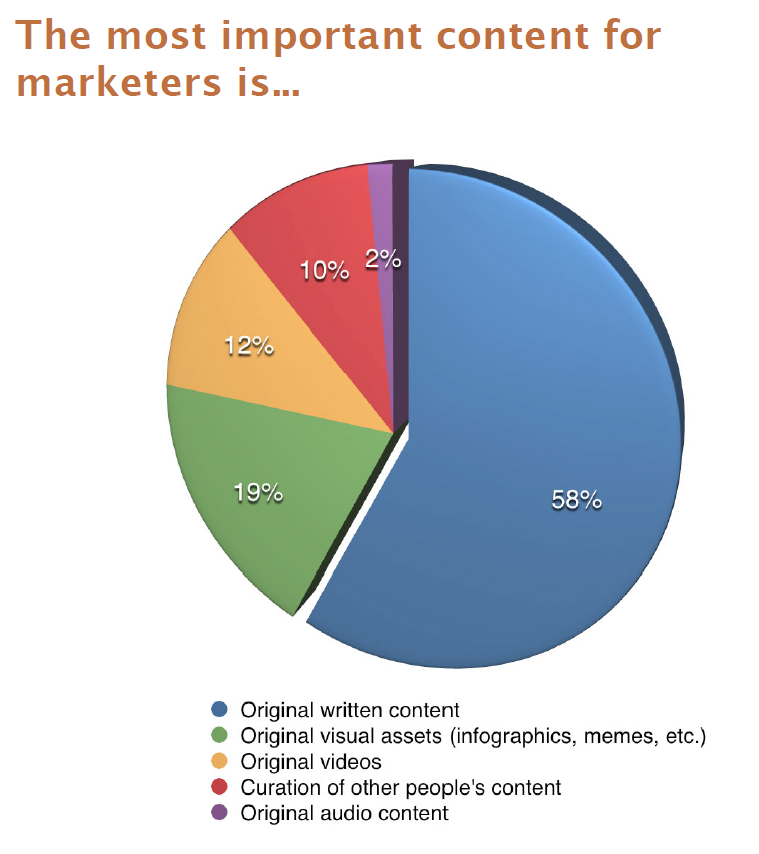 This chart clearly reveals the importance of the written word and blogging.
Original written content is more important for B2B marketers (65% say it is the most important) than B2C marketers (52% claim it is most important). B2C marketers place more importance on original visual assets (24% say it is the most important) than B2B marketers (only 12% claim it is most important).
BUILD YOUR SOCIAL STORY
Review all your content pieces you have scheduled in your content marketing calendar.
Does it have a storyline written for it on social.
Plan to have at least 3-5 different tweets for each piece, released the week it goes live.
Ask for feedback on Facebook.
Add an excerpt to your Google+ page and engage subject matter experts to create a discussion.
Add it to your company page on LinkedIn. Share it with your colleagues, and let them share it through their social networks too.
Leverage your employees as advocates, it will increase your reach exponentially.
The more touch points out there you have to reach people with, the more successful your content marketing will be.
CONTENT MARKETING TAKES TIME & MONEY
In today's business environment, everyone wants things better, faster and cheaper, but the reality is you can only ever have two out of the three. This is especially true for content marketing. It takes effort. Don't be fooled on that front. If it's going to be good, you either need to invest time or money.
Social Media Marketers know that the landscape is changing rapidly, and my prediction is that it's not settling into a new norm, change is the new norm.
Content marketing is not a silver bullet.
It works because it takes a considerable amount of information and effort.
It creates value for your audience.
Helps them make decisions around whether to buy from you, or use your services, or whatever your mission is.
Put simply, content marketing is a tool that works. Why wouldn't you use it?
PRODUCE A VARIETY OF CONTENT
Content takes many forms. It can be written, visual, interactive, or audible. It can be short or it can be long. It can be still or animated. In the world of marketing, content takes any form you want it be.
That flexibility gives marketers a multitude of options when developing a variety of forms of content. Variety, after all, keeps things interesting and enables you to transform content for different channels and people.
Here are numerous content formats you can create:
Reports
Newsletters
Ebooks
Videos
SlideShare
Whitepapers
Blog posts
How to lists
Survey results
Case Studies
Infographics
Study Results
SUMMARY
Effective content marketing attracts, entertains, captivates, teaches, and builds trust. In the content marketing world, content takes many forms from visual, audible, written and interactive.
Content can be one of the best sales tools in your social media world. Remember context is just as important as good content. Producing content is not an accident, but a carefully laid out strategy with tactics and motivation to execute.
Always create more value than you capture, make it compelling, engaging and throw in an occasional humor.
Above all, make a commitment to be consistent day in and day out, lest your fall behind…way behind, making it harder to catch up.
What are some tips about content that you can share?
Source for Graphs: Social Media Examiner
About Blair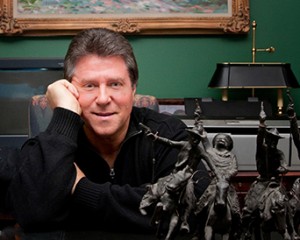 Blair Evan Ball is a Social Media Coach and founder of Prepare1, a company that works with businesses, individuals and non-profits. He is a former executive with a Fortune 50 company, and his national division did $1Billion in sales annually.

Blair has written three e-books: Facebook for Business Made Easy, Facebook Pages for Business Made Easy, and WordPress Blog Setup Made Easy.
Blair also educates, trains entrepreneurs and business professionals how to amplify their brand, increase revenues, and raise more funds.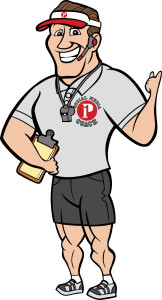 The Race is ON! – Get into the Game and WIN!