How Businesses Can Leverage the New Facebook Graph Search
by Blair Evan Ball on November 15, 2013
How are you using Facebook Graph Search to leverage your business?
What can the new Facebook Graph Search do for you and your business?
Graph Search opens up a whole new world of Social Media Marketing opportunities for businesses.
Facebook Graph Search allow businesses to:
Identify your current fans
Identify future fans
Identify your current fans likes, interests and friends
Learn about their hobbies
Identify competitors
Identify photos and types of engagement
Target certain demographics, such as location, age, and gender
Build Your Fan Base
From your Facebook personal profile, go to the top of the page where the search box is located.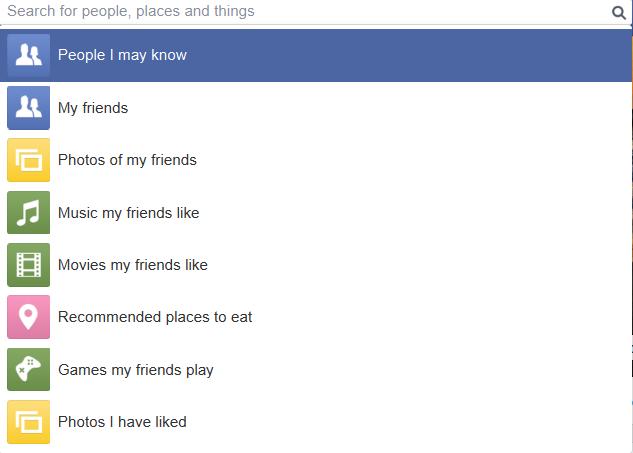 You can start your search by choosing one of the default topics or you can start typing what you want to search for. The power is in your ability to accurately search and drill down for the information you seek. *Remember that no matter what the privacy settings are, ALL information in Graph Search is now PUBLIC!
If you're wondering how to protect your privacy because of this change, here is a thorough guide explaining things users can do to prevent unwanted attention.
Restaurants in Germantown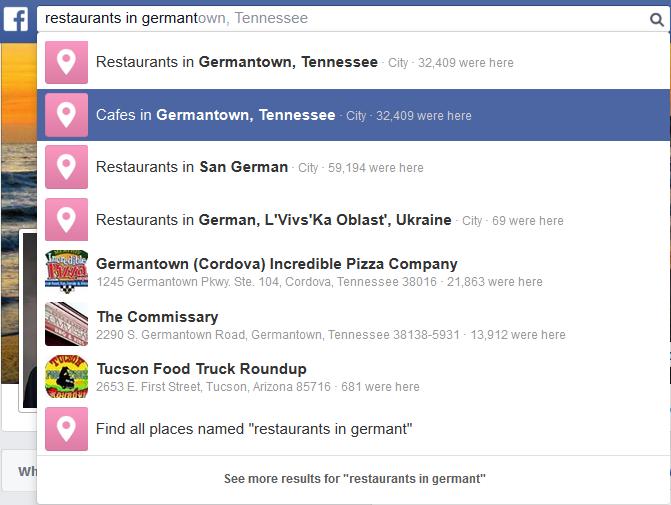 Restaurants in Collierville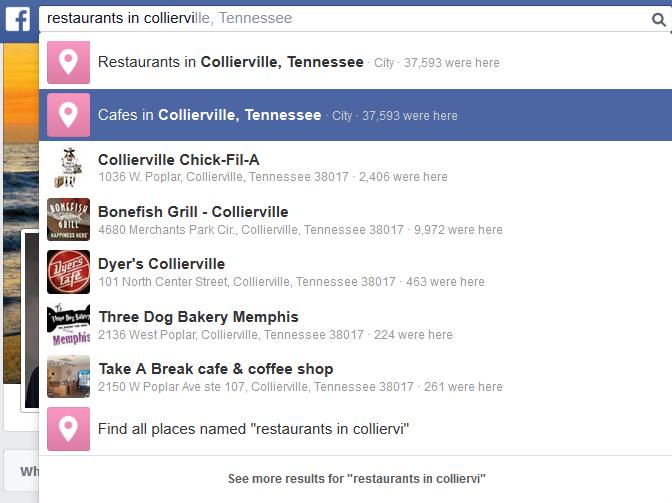 Examples of Search Query's
People who are not my friends and who like 

Collierville Chamber of Commerce

My friends who like PAGE NAME
Groups of people who like TOPIC and like PAGE NAME
Favorite interests of people who like PAGE NAME
Pages liked by people who like PAGE NAME
Identify other pages your fans like to learn about new types of content you could share to keep fans coming back to your own Facebook Page.
Compare the results of this query with your friends list to target friends who haven't liked your Page with a personalized message to invite them to check your Page out.
Attract New Customers
If your business is in close proximity to a company or business, you can use Graph Search to find out which employees of that business like services or products related to yours.
Facebook Pages that fans of Prepare1 like
Use the commonalities that are revealed to run a Targeted Facebook ad
Create Facebook check-in deals to entice them to try out your establishment
Facebook Search Query: People who work at PLACE and like SOMETHING
Identify Your Competitors
Find out where your customers do business when they aren't doing business with you so you can focus your loyalty campaign.
Facebook Search Query: TYPE OF BUSINESS in LOCATION visited by people who like PAGE NAME
Optimize for Location
If your business is located near museums and places that get lots of visitors such as the Rock N Soul Museum, Memphis Zoo, , make sure your business shows up when someone searches for businesses near them.
If you don't show up under this query…
Offer a check-in special that will draw visitors in who are close by
Run a Facebook ad that mentions the landmark
Facebook Search Query: Places near PLACE visited by people who like SOME ATTRACTION
Summary
While Facebook search queries will identify traits of fans and Pages, there are a few things to remember.
You can't sort the results of a search query
Facebook Graph Search doesn't work on mobile (yet)
Experiment with different Facebook Search Queries to get the information you need
Have a search strategy on Facebook, and implement the results
Continue to refine and test. Even the big brands are testing daily
Have some engaging fun along the way
The race is on, and you are in it.
GET IN THE GAME
 Join us for one of our upcoming Social Media Marketing Workshops. Learn first hand, how to succeed in business and life using these tools.
Contact us if you need coaching, SEO or putting together a Social Media Strategy or policy for you or your business.
 SEO on a Consulting only Basis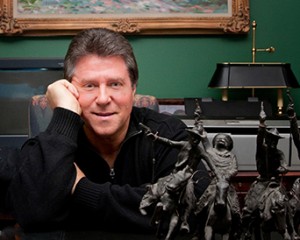 Blair Evan Ball
  Founder/CEO Prepare1