How B2B Marketing Will Change in 2016
by Blair Evan Ball on December 3, 2015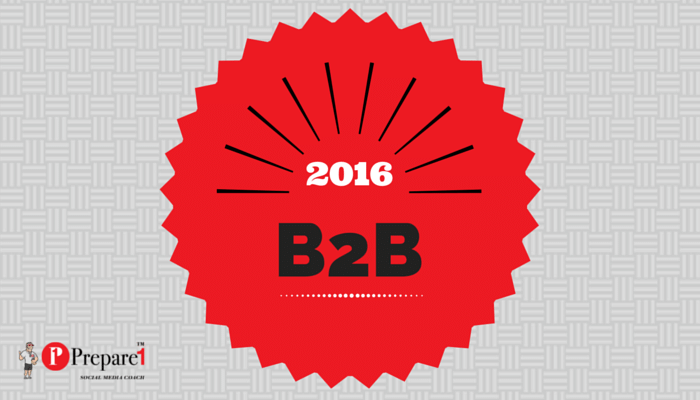 How will your B2B content marketing change in 2016?
Will it match up with what the leading industry marketers are saying?
Approximately 76% of B2B marketers plan to produce more content in 2016 vs. 2015, regardless of their organization's effectiveness, size, documentation of content marketing strategy and editorial mission, clarity around success, or communication frequency. This is according to a recent study done bythe Content Marketing Institute.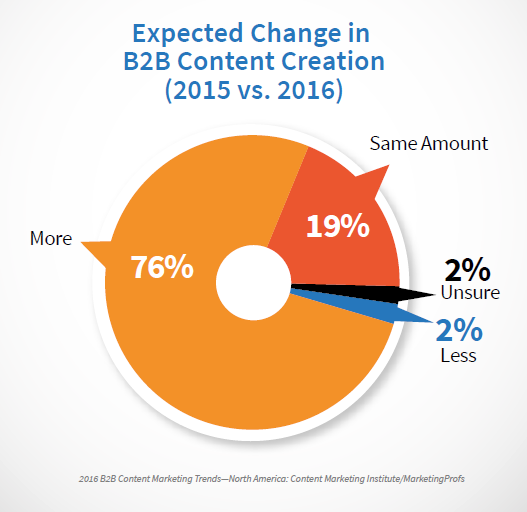 30% of B2B marketers say their organizations are effective at content marketing, while the trend has been down, expect it to rise in 2016. Brands are realizing that they need content to drive their marketing engines to compete, especially when the economy slows.
Effectiveness levels are greater among brands with documentation, clarity around success, good communication, and experience.
■ 44% of B2B marketers say their organization is clear on what content marketing success or effectiveness looks like; Still a significant number 55% are unclear or unsure. Most are still winging it hoping that something will stick.
■ 44% of B2B marketers meet daily or weekly—either in person or virtually—to discuss the progress of their content marketing program; however, the more effective the organization is at content marketing, the more often they meet (61% of the most effective meet daily or weekly).
■ Content marketing maturity levels were roughly equally apportioned this past year: approximately one-third were in the early stages; one-third, in the adolescent stage; and one-third, in the sophisticated/mature stage. In general, marketers become more effective as they gain experience, expect more brands to mature in 2016.
■ B2B marketers allocate 28% of their total marketing budget, on average, to content marketing—the trend has been flat. The most effective allocate 42%, and the most sophisticated/mature allocate 46%.
■ Lead generation (85%) and sales (84%) will be the most import ant goals for B2B content marketers over the next 12 months.
■ Over the last six years, B2B marketers have consistently cited website traffic as their most often used metric. However, more brands are looking at metrics. The most important metrics are sales lead quality (87%), sales (84%), and higher conversion rates (82%).
■ B2B marketers, as in years past, continue to be heavily focused on creating engaging content (72%), citing it as the top priority for their internal content creators over the next year.
B2B CONTENT MARKETING TACTIC USAGE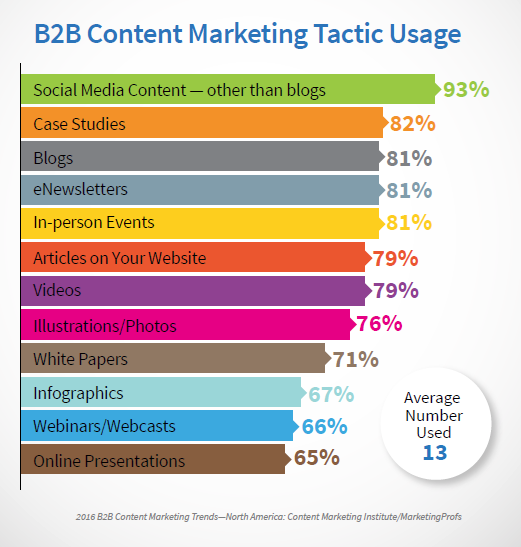 B2B marketers are using 13 tactics versus their B2C counterparts who are using 12. 93% use social media content.
B2B marketers are upping their game and will be using more tactics.
The use of the following tactics increased most:
Illustrations/photos was the tactic with the biggest jump in usage (from 69% last year to
76% this year). Expect the use of videos to rise.
Note: Fewer than 50% of B2B marketers said they use the following tactics:
Research Reports (49%)
Microsites/Separate Website Hubs (47%)
Branded Content Tools (42%)
eBooks (39%)
Print Magazines (36%)
Books (30%)
Digital Magazines (29%)
Mobile Apps (28%)
Virtual Conferences (25%)
Podcasts (23%)
Print Newsletters (22%)
Games/Gamification (12%)
EFFECTIVENESS RATINGS FOR B2B TACTICS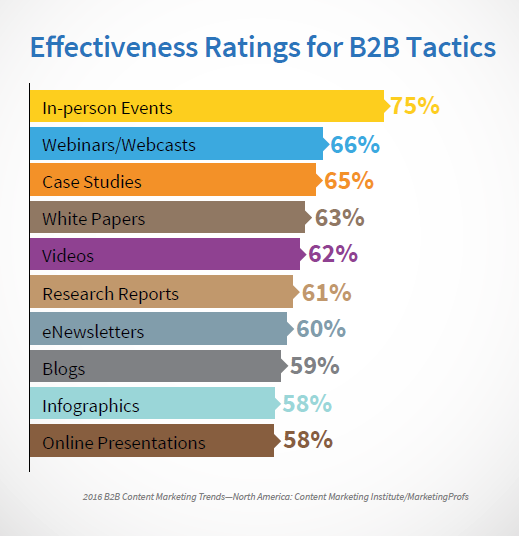 In-person events, which has been rated the most effective tactic for the last six years. This still shows the importance of face to face. In the B2B space trust is more important than their B2C counterparts.
Continue to see it increase. Effectiveness ratings increased for all the other tactics shown here as well, except for blogs (60% last year vs. 59% this year). The biggest increase was for infographics (50% last year vs. 58% this year. Infographics will continue to trend higher, however quality will outpace quantity.
LinkedIn, Twitter, Facebook, and YouTube remain the top 4 social media platforms. Compared with last year, there haven't been major increases or decreases in their use. LinkedIn ranks 4th in the B2C world which many find interesting.
LinkedIn has most Fortune 500 CEO's on the platform. It's considered the most professional of all the social media platforms. Has the highest education as well as the highest income for the user base.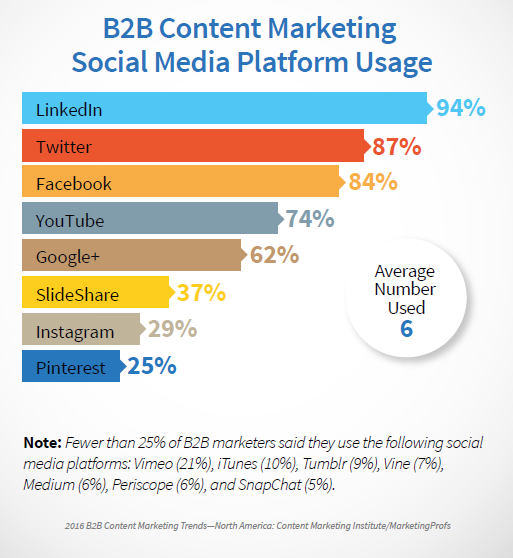 Regarding other leading platforms:
Last year, the use of Google+ had risen 9 percentage points from the previous year. This year, it decreased slightly (from 64% to 62%). The transition Google+ is going through was the major contributor. G+ is not dead, and yet it's still a bonus for those brands who use it to get better search results.
SlideShare and Pinterest use decreased (by 4 and 8 percentage points, respectively).
Instagram use increased from 24% to 29%. Expect more increase for brands and brands to advertise more. Utilizing more of their parent company Facebook ad knowledge.
EFFECTIVENESS RATINGS FOR B2B SOCIAL MEDIA PLATFORMS
B2B marketers continually rate LinkedIn most effective platform. Expect that trend to continue. The effectiveness ratings of YouTube and Instagram also increased slightly, and Twitter's rating stayed the same. As more brands figure out how to use YouTube and video for marketing, expect that to increase.
The effectiveness rating of Facebook continues to decrease with the change in their News Feed algorithm showing now 1% or less to their following. As Facebook continues to hone their targeted ad platform, then more B2B brands might come back.
The ratings of Pinterest (-5%) and Google+ (-7%) decreased most.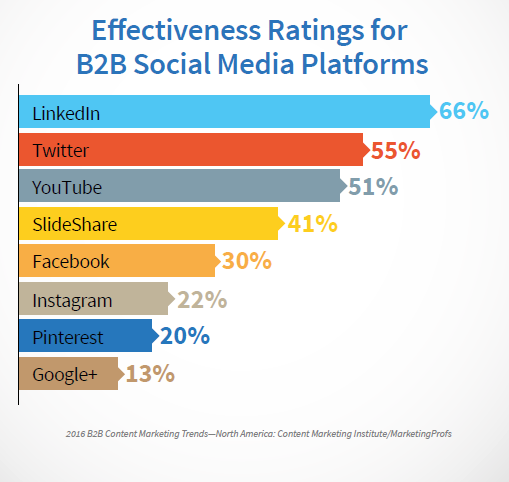 B2B PAID ADVERTISING USAGE
For the second consecutive year, search engine marketing (SEM) is the paid method that B2B marketers use most frequently. The use of all of these methods has increased over the last year. SEM marketing is a moving target with Google making multiple changes yearly to their search algorithm. Yet, it is the most used by both B2B and B2C.
However, the key seems to be in the engagement or lack thereof of photos. Key is to create engaging photos and one of the top sites to design and create engaging photos is Canva.
The next largest increases were for:
Promoted posts (42% last year vs. 52% this year).
Search Engine Marketing continues to grow in an online world. More small businesses are going to come on board with this, and replace advertising dollars allocated elsewhere.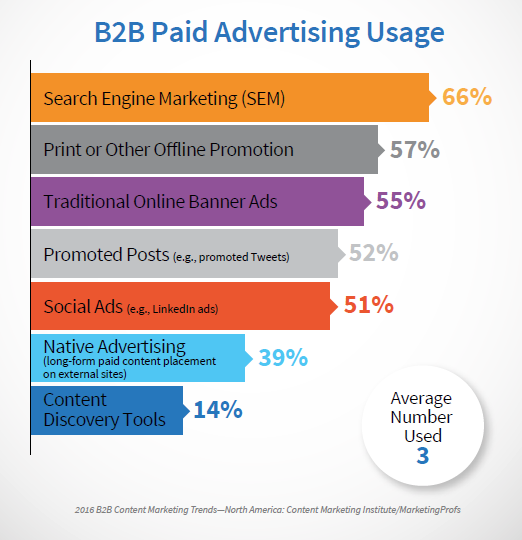 EFFECTIVENESS RATINGS FOR B2B PAID ADVERTISING METHODS
Once again, B2B marketers say search engine marketing (SEM) is the most effective paid method for promoting/distributing content.
The effectiveness ratings for all of these paid methods have increased over the last year. The largest effectiveness rating increase was for content discovery tools (36% last year vs. 45% this year). Surprisingly content discovery tools was not even on the B2C radar.
Interesting B2C marketers say search engine marketing (SEM) is the most effective paid method for promoting/distributing content.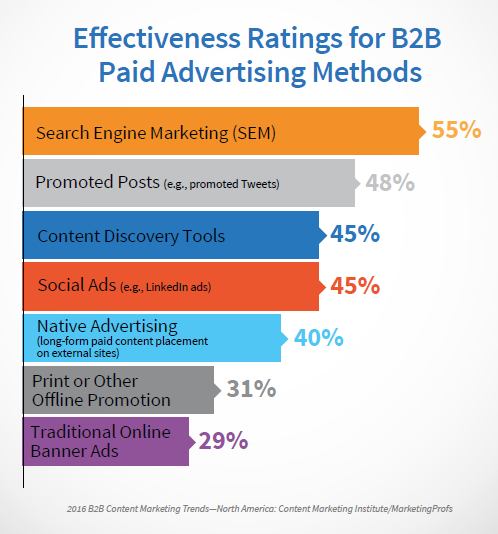 CONTENT OFFERS FOR B2B AUDIENCES
87% of respondents extend at least one offer. Even the most effective marketers and those whose content marketing level is sophisticated/mature tend to focus most on eNewsletters and blogs.
Most B2C marketers, regardless of effectiveness, company size, or other factors, focus mainly on eNewsletters and blogs, the same as their B2B counterparts. Email is not dead, and quite frankly is growing. Most companies have strategies and tactics to gain a wider audience in their email campaigns.
It is still one of the most trusted methods of communication, albeit without the spam.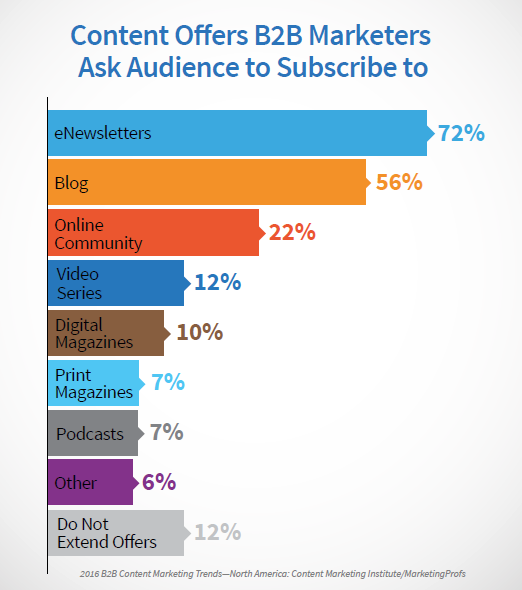 ORGANIZATIONAL GOALS FOR B2B CONTENT MARKETING
Lead generation and sales, in that order, are the two most important content marketing goals of most B2B marketers, no matter what their effectiveness level is or whether they have a documented strategy and editorial mission statement.
The exceptions:
• Organizations that are in the first steps of their content marketing program place greater emphasis on sales (85%) than lead gen (78%).
• Enterprise marketers (1,000+ employees) say engagement is their most important goal (82%), followed by sales (81%), and lead gen (79%).
Many B2C marketers are focused on sales, the most effective among them place more importance on brand awareness (91%), followed by customer retention/loyalty (86%), engagement (86%), and sales (82%).
Most people misunderstand the 1st step in content marketing is brand awareness. You can have the best product, the best service, and yet go unnoticed in a noisy world.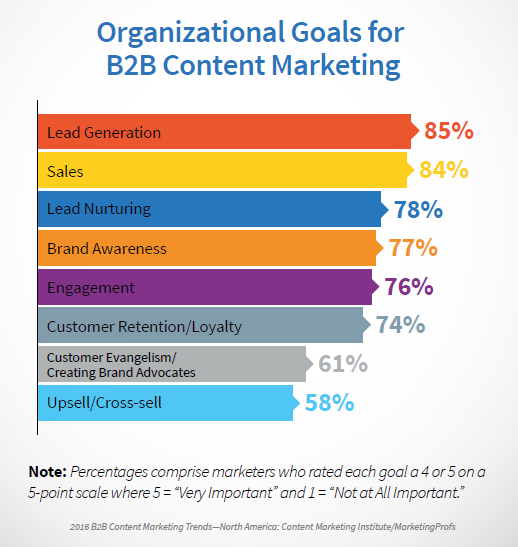 As B2B marketers enter 2016 five key areas rose to the top in terms of priorities.
Content optimization
Content curation
Content personalization
Becoming stronger writers
No priorities this year
What do you see for 2016?
Sources: Content Marketing Institute | Marketing Profs  | TrackMaven
About Blair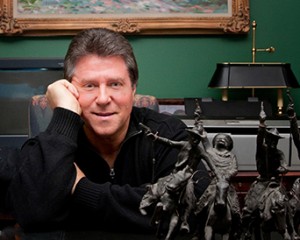 Blair Evan Ball is a Social Media Coach and founder of Prepare1, a company that works with businesses, individuals and non-profits. He is a former executive with a Fortune 50 company, and his national division did $1Billion+ in sales annually.

Blair has written three e-books: Facebook for Business Made Easy, Facebook Pages for Business Made Easy, and WordPress Blog Setup Made Easy.
Blair also educates, trains entrepreneurs and business professionals how to amplify their brand, increase revenues, and raise more funds.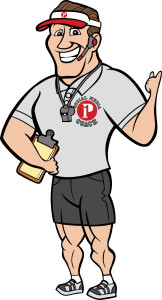 The Race is ON! | PREPARE | Get into the Game and WIN!