8 Powerful Trends That Will Shape 2016
by Blair Evan Ball on December 30, 2015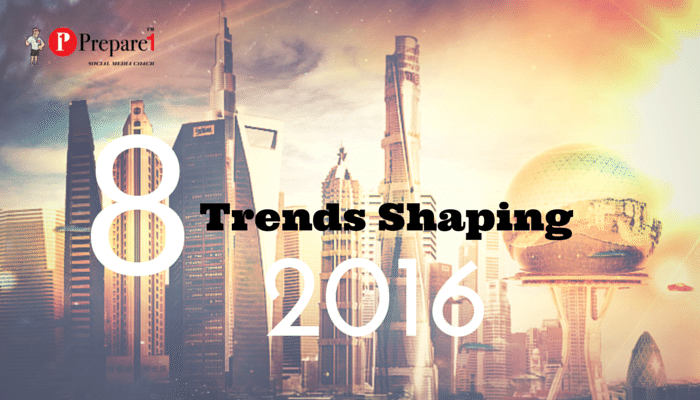 Was 2015 a memorable year for you in Social Media?
Are you prepared for a great 2016?
What changes are you going to make in the New Year?
Businesses are changing, and marketers will have to change along with them. As businesses evolve and new businesses spring up, there will be dozens of new marketing trends that will take over in the New Year. Here are a few things marketers should keep in mind when getting ready for 2016.
1. BRAND MANAGEMENT
Brand management in today's social world is everything. Especially in 2016, in a world where consumers make split-second decisions on their opinion of a company based on whatever information is immediately accessible. Social has an influence.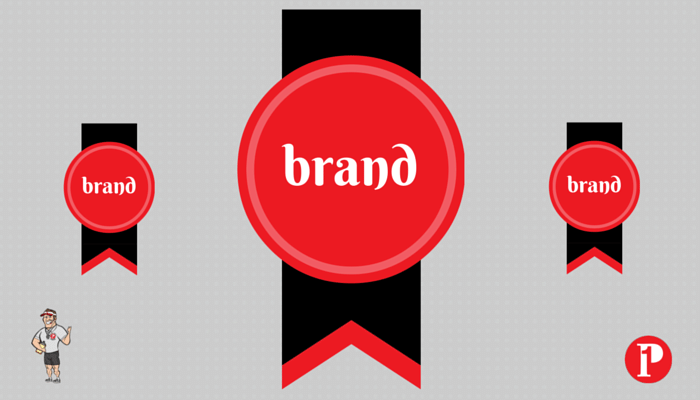 How you portray your company to the public will greatly influence the public's view of them. In fact, in many cases brand and image are equally (if not more) important than product. It has been shown that a company's ability to successfully market itself effects sales more positively than product quality or any other asset.
In 2016, many businesses will fail or succeed depending on their ability to successfully brand themselves.
Reviews Matter
Customer reviews are huge, especially when it comes to brand management . In fact, 89% of consumers believe that service and product reviews online are reliable and trustworthy. To reinforce this point, 80% of consumers have admitted to neglecting to purchase an item because of a bad review they read about it.
85% of people interviewed claimed that they would more likely purchase a product if other customers had provided good reviews. This exemplifies the power of the unbiased opinion. Customers are getting smarter than ever before, and thus marketing and advertising don't have nearly the power that they used to have.
In 2016, however, consumers will continue to be more aware and skeptical of advertisements. Buyers are well aware of companies' intentions, and are less nave than they used to be. Buyers don't trust companies, and they especially don't trust the fabricated claims that companies make about their products. Consumers trust, other consumers. When a consumer posts a review or statement about a company's product, the assumption is that the claim is unbiased and therefore truthful.
The first step is to care about your customers, and then follow to make sure your receive positive reviews.
Image Matters
If your branding is bad, you have poor sales, poor client retention, and weak growth. Branding defines how you are viewed by customers and by the industry. The true value of your product or service is unfortunately hidden underneath misguiding layers of press, media, word of mouth, publicity–all which make up your unique brand.
So how do you stand out in the market in 2016?
If the feedback is good, the company will want it posted on Yelp or Facebook. If it's bad, the company will want to keep it internal. If it's somewhere in the middle, the company may want the consumer to connect through social media. If you have good reviews, business will improve and so will revenue.
The platform provides customers with a survey to rate their experience and then deliver their feedback to the ideal location for the company.
In effect, the platform helps small businesses improve customer experience.
Look at tools like RepRevive to boost your brand. Companies like this are hugely helpful for building brand and establishing consumer trust by enabling businesses to manage online reputation before review sites.
Consumers Trust Consumers Not Businesses
If you want your customers to love you, there is no substitute for quality products and services. This will help your ratings increase initially. For service businesses in particularly, ratings are especially important.
The difference of one-star in a restaurant rating can impact the company's revenue by up to 10%. You don't need to be an expert market to understand the importance of online reviews, but you do need to do everything you can do to improve them and keep them positive.
2. SOCIAL MEDIA ADVERTISING (really) TAKES OFF
Haven't you noticed the exponential increase in ads on your social media feeds? That probably means they're working.
In contrast to old-fashioned banner ads, the new generation of "native" social media ads like Facebook and Instagram sponsored posts and Twitter promoted Tweets look and act a lot like normal social media updates from friends and followers.
They're also targeted with an uncanny degree of precision:
Advertisers are able to drill down not just by age and gender
By interests
Location
Company affiliation, role and more.
So the ads you get are probably the ones you actually want to see.
For all those reasons, companies ramped up social media advertising in 2015, with spending increasing 33.5 percent to nearly $24 billion (especially impressive because a few years ago that number was $0). Expect to see those trends continue
3. VR – VIRTUAL REALITY
Digital marketing has exploded, and marketing on new platforms like virtual reality is creating new trends in the industry. The Internet is practically overloaded with content, which means that any posts you release will have to compete with a plethora of existing content available. Plus, lots of the information available look and sound the same.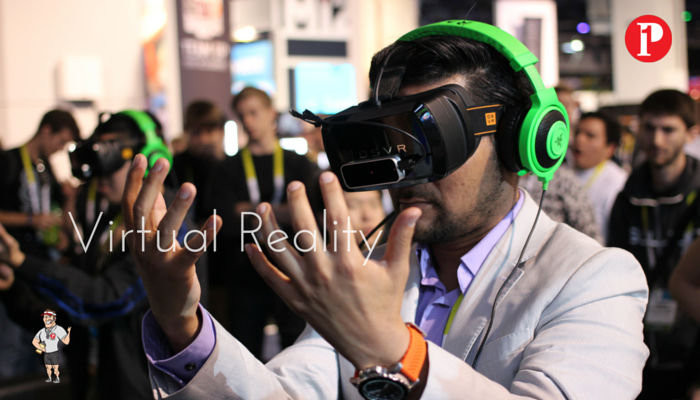 So, to establish yourself and solidify an online presence means that you define and broadcast a unique value proposition to your viewers.
One of the struggles of marketing is to engage the viewer in a quick and effective manner. By engulfing the viewer in the advertisement or commercial, virtual reality has developed an entirely new way to engage viewers.
One of the benefits of virtual reality is that it demands the viewer's attention. An ad that's show with virtual reality will maintain the viewer's attention for much longer than a traditional advertisement.
Direct competition is no longer your only competition. Platforms and businesses that have nothing to do with your own can still act as competition, because they are stealing your viewers' attentions and directing them elsewhere.
Digital marketing in 2016 needs to entail more than a few posts on social media every week. It needs to be more than just small conversation, and article posts.  Marketers must utilize newsletters, contests, social posts, and market on every channel available to maintain a presence and a following. In addition to virtual reality, video ads will be a key element of marketing in 2016.
Those premium VR headsets from Oculus (as well as the growing list of others, including behemoths Samsung, HTC and Sony) are coming in Conehead-inspired mass quantities in early 2016.
We will see millions of those premium headsets (not just Google Cardboards) sold in 2016 (much like what we saw in the early days of game consoles) — which means that 2016 will see mass adoption and the early mainstreaming of VR.
4. BOOMERS TURN 70
As the first wave of baby boomers turns 70 in 2016, the Davy Crockett/Mickey Mouse Club/Vietnam War/Woodstock generation will be forced to make life-and-death decisions, choose misery or joy, and expand or retract lifestyle choices many put off for most of their lifetime. Quality-of-life factors loom large: Living longer, unable to retire as planned, no savings in the bank, pensions in peril for those that had them, and coping with a variety of health and physical ailments. But products and services supporting the "coping" and "artful aging" needs of boomers-now-turning-seniors are already expansive and growing rapidly.
A wide range of value-packed trends for boomers who want to keep booming will be found in products, services and experiences that support living healthier and longer with grace, dignity and purpose.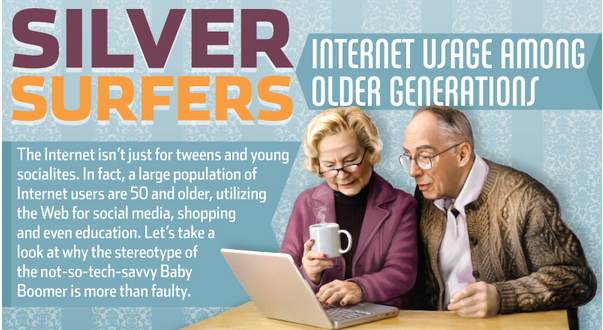 Trend Forecast: The Boomer Boom trend is wide open. Big businesses, established industries and wide-eyed/on-trend entrepreneurs are positioned to create products, services, media and facilities for keeping aging boomers vibrant throughout old age. Among the many: Special emphasis will be on holistic, natural-health remedies and activities as a comforting alternative to harsh medications, outpatient surgeries and coping products that treat but do not heal.
MARKETING COMMUNITY SERVICE EFFORTS
Marketing is going to shape the way that businesses grow or fail to grow in 2016.More and more, community service is being seen as a valuable and praiseworthy asset for a company to have.
For businesses, trust is everything.
When a customer is deciding on which business to go with, how much they trust the business will play a huge role in this decision. More than product quality, service quality, or reputation, a company's level of trust and rapport with its customers is critical for the buyer's decision.
If a company can illustrate itself as charitable and caring, customers will have a higher level of trust. A key part of executing community service efforts for client acquisition and retention is marketing.
Without marketing, community service efforts can be wasted. Once you have planned and participated in a community service event, make sure that you take photos, write articles, and gain content that you can show to other people. Post the content on social media, in newsletters, and in emails. This is a great way to let your clients know that you are taking your own time and money to help other people.
Ultimately, if marketers can embrace and adapt to the new changes in 2016, they can succeed at gaining new market share.
5. LIVE STREAMING
1. In-the-moment updates will prevail
The obsession with live streaming and instant updates will continue to grow exponentially. Think SnapChat, Periscope and Blab. Virtual Reality is close to going mainstream, meaning more and more apps will battle for users' full attention and struggle to satisfy their crave for full immersion in the event. Sure, Facebook still does good job with keeping users updated on the latest news, however the platform cannot offer in-the-moment content that live steam apps offer.
What does it mean for marketers?
Unless you have already jumped on the visual marketing bandwagon, it's a high time to do so.
Get ready to show the human face of your business and start thinking of how you can leverage your brand with instant updates. Here are some ideas to get you started:
Team at work and behind the scene snaps.
Product updates and exclusive product sneak peeks.
Time sensitive discounts and special offers.
Short tutorials and webinars.
Sweepstakes and collaborations with influencers.
Real time Q&A sessions
6. SOCIAL MEDIA GAINING MORE STEAM
According to recent studies, social media is the number one online activity surpassing entertainment.  This surge clearly parallels the increase in mobile device usage.
For many brands, social media is turning into one of the top referral traffic sources and, at the same time, dominating advertising spending. As an example, social media powerhouse, Facebook, launched in March 2015 an entire new array of advertising options for brands including dynamic product ads and a carousel style display (both native and on Instagram), as a response to the growing trend of social media consumption.
In 2016 and beyond, social media will continue to dominate the online world, so marketers must put more of their efforts in integrating social media into their overall marketing strategies.
7. LONG FORM SOCIAL CONTENT
Social media has often favored short messages over long but things are beginning to change. LinkedIn has been ramping up its option for long form content publishing, social blogging platform Medium is increasing its influence, and perhaps most importantly, Facebook Notes, is being brought back and revamped to improve long form publishing on social.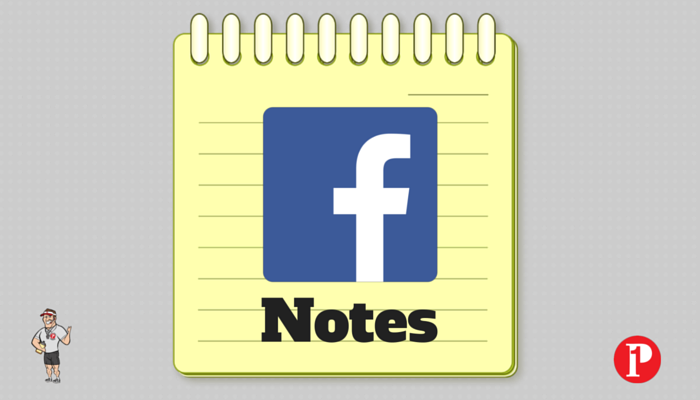 "There will be a shift in content marketing, especially for blogs. In 2016, more blogs will shift towards long form content that will allow readers to find answers to their struggles faster.
We've even seen Facebook rewarding these types of content. Facebook determines the amount of time readers spend on an article. The longer people stay on a particular piece of content, the more likely that post will be shown on their newsfeed."
The increasing use of mobile to access social networks – 78% of US Facebook users access the site by mobile at least once per month – is having a big impact localized marketing. Social media users are posting on the go and are often happy to share their location publicly. This kind of real-time hyperlocal data gives marketers previously unthinkable opportunities to provide extremely localized offers and understand customer behavior at a very precise level.
"A rising trend, one that I expect will continue, is the development of hyperlocal private social networks, such as NextDoor, Alignable, and Townsquared. The latter two enable businesses within a local community to connect to one another for collaboration, idea sharing, and neighborhood updates while NextDoor fosters connections between residents in a given neighborhood. Expect to see more of the same in 2016."
"Google in particular has got Local in its sites. With Google Maps becoming a much more 'social app' – you can add photos, create reviews, and even add new business listings right from the app e.g. when you are 'in a location'.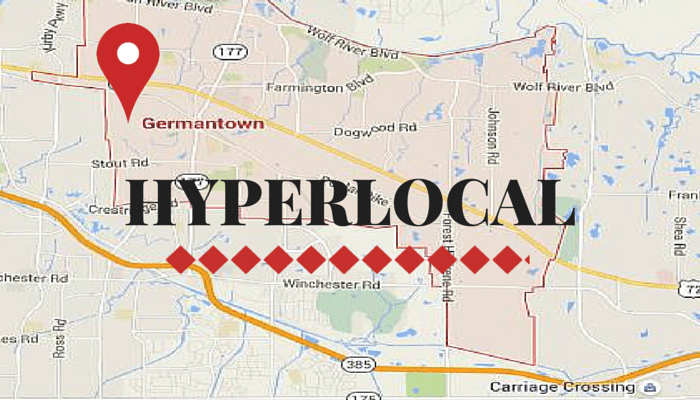 I really think this online eco-system is going to get built out socially through these changes, especially when you connect up the new Google+ as the Stream, where people will share 'locations' as well as images. It is as if Google wants us to be more mobile, more in the world, exploring and mapping one location at a time."
What trends do you see in 2016 and how will you adapt?
JOIN US FOR OUR UPCOMING
Facebook Ads – How to boost sales and leads – Jan. 28th
YouTube & Video – How to create engaging videos that boost sales – Feb. 11th
Visual Content for Business – How to get your business to stand out – Mar.10th
About Blair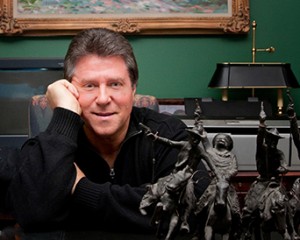 Blair Evan Ball is a Social Media Coach and founder of Prepare1, a company that works with businesses, individuals and non-profits. He is a former executive with a Fortune 50 company, and his national division did $1Billion+ in sales annually.

Blair has written three e-books: Facebook for Business Made Easy, Facebook Pages for Business Made Easy, and WordPress Blog Setup Made Easy.
Blair also educates, trains entrepreneurs and business professionals how to amplify their brand, increase revenues, and raise more funds.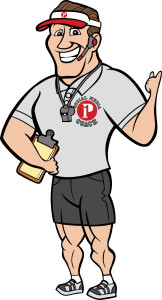 The Race is ON! | PREPARE | Get into the Game and WIN!